When it comes to BMW odometer correction, having the right tools is crucial to ensure accurate and reliable results. In this article, we will explore two recommended tools for this purpose: the Digimaster III and CGDI CG Pro. Both of these tools have gained recognition within the automotive industry and offer advanced features that make them suitable for BMW odometer correction tasks. Let's delve into their capabilities and benefits.
1. Original Yanhua Digimaster 3 Digimaster III Odometer Correction Master:
The Digimaster III is a powerful and versatile tool designed specifically for mileage correction and programming purposes. Developed by Yanhua Tech, this tool is widely regarded as one of the best options for BMW odometer correction. Here are some notable features:
a) Extensive Vehicle Coverage: The Digimaster III supports a wide range of BMW models, including older and newer generations. Its database is regularly updated to ensure compatibility with the latest models.
b) Easy-to-Use Interface: The tool features a user-friendly interface with clear instructions in English, making it accessible to both experienced technicians and beginners.
c) Advanced Functionality: Apart from odometer correction, the Digimaster III also allows users to perform key programming, module adjustment, and other related tasks, making it a comprehensive solution for BMW owners.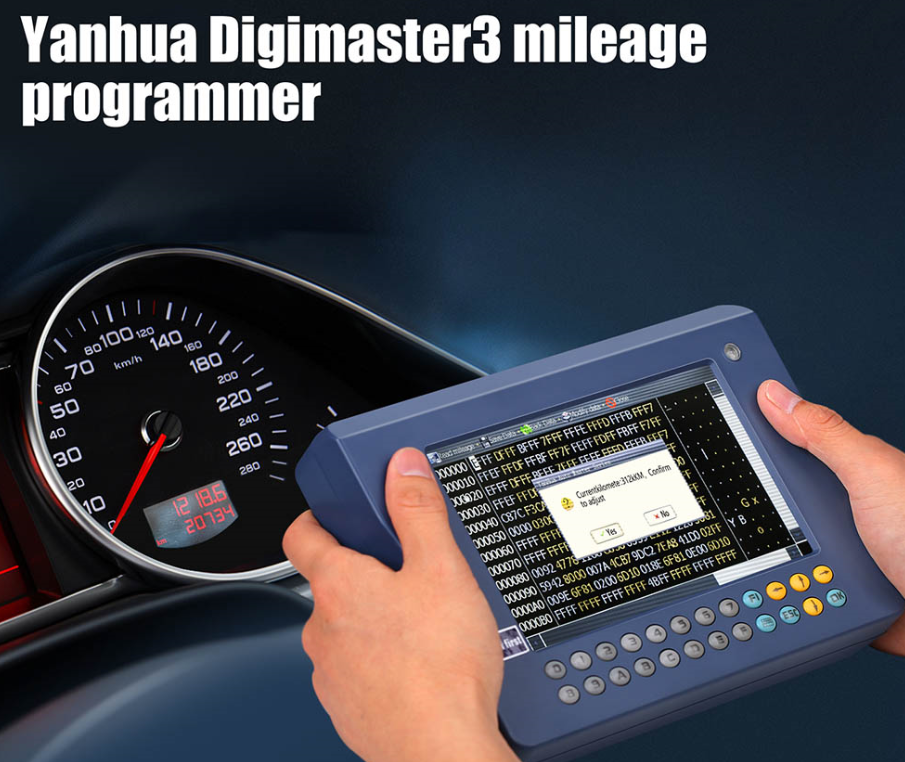 The main Features of Digimaster 3 Odometer Correction Master:
1. Latest Version: 1.8.2203.30 (Update on 2022.4)
2. Support Language: English
3. Update: Online Update
4. Original Yanhua Brand. with High Quality
5. No Tokens Limitation, and we will offer Extra 200 Tokens Coming for Newer and High-End Cars for you to Update Free
6. It contains a high performance hardware platform which takes high-speed CPLD and the ARM11 processor as the core technology
7. It works with various types of adapter you can easily achieve odometer correction, Audio decoding, airbag resetting, engine ECU resetting, IMMO, programming key for Benz &BMW etc
8. It contains the advanced technology of programming new keys for BMW and Benz, CAS-BDM reading/writing and resetting; 35080V6 erasure etc. large numbers of pictures and particular description makes your operation pleasant
2. CGDI CG Pro:
CGDI Prog For BMW MSV80 3 IN 1  Function  Auto Key Programmer + Diagnosis Tool+ IMMO Security Add for BMW FEM/EDC With 8 Foot Chip Clip Optional
Top Reasons To Get CGDI Prog BMW MSV80:
1.High technical tool which mainly support  Auto diagnose, programming and security maintenance 3 in 1.
2.Support Key Programming for BMW CAS1/CAS2/CAS3 ,and Support Key Matching and All key lost for CAS4 /CAS 4+;
3.Support BMW Key Programming with OBD Functions
4.Software response fast, short time programming, and new breakthrough in operation safety and technical support.
5.Supported Languages: Chinese, English
6. Certification: CCC,CE,GS, CCC,CE,GS,ISO
7. Supports FEM/BDC Key Matching
The CGDI CG Pro is another reliable tool that has gained popularity among BMW enthusiasts and technicians for its exceptional performance and versatility. Here are some key features:
a) All-in-One Solution: The CGDI CG Pro offers a wide range of functions, including mileage correction, key programming, coding, and more. This makes it a valuable tool for BMW owners looking for a comprehensive solution.
b) Enhanced Compatibility: The CGDI CG Pro supports various BMW models, from older E-series to the latest F-series. It also covers other popular car brands, expanding its usefulness beyond BMW.
c) Continuous Updates: The developers behind CGDI CG Pro regularly release software updates to enhance its functionality and ensure compatibility with the latest BMW models. This allows users to stay up-to-date with the latest advancements in the automotive industry.
When it comes to BMW odometer correction, having the right tools is essential for accurate and reliable results. The Digimaster III and CGDI CG Pro are two highly recommended options that offer advanced features, extensive vehicle coverage, and user-friendly interfaces. These tools provide technicians and BMW owners with the necessary capabilities to perform various tasks, including mileage correction, key programming, and module adjustments. Whether you choose the Digimaster III or CGDI CG Pro, you can rest assured that you are investing in a reliable and efficient tool for BMW odometer correction.