Free Shipping LAUNCH X431 PRO MINI is a Android-based vehicle trouble diagnostic tool,it achieves full car model and full system vehicle trouble diagnosis, which includes Reading DTCs, Clearing DTCs, Reading Data Stream, Actuation Test and Special Functions.
Moreover, x431 pro mini at CnAutotool.com supports Wi-Fi connection, which enables you surf the Internet, update the diagnostic software online and perform remote diagnosis etc, getting your job fixed faster and easier.
LAUNCH X431 PRO MINI Support one-click update online for 2 years free, more than 150 European, American and Asian models like Maserati, Ferrari, Rolls Royce, Bentley, Mercedes-Benz, BMW, Audi. Diagnose the electronic control system of prevailing vehicle models covering Asian, European, American and Chinese. It achieves full car model and full system vehicle trouble diagnosis.
User registration
Tap "Login" on the upper right corner of the main menu screen: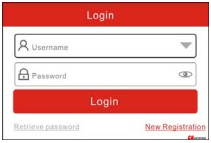 If you are a new user, tap "New Registration". See below picture.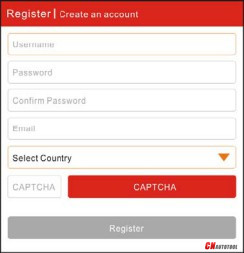 Note: To obtain better service, you need to provide real information.
Create App account: fill in the information in each field and then tap "Register", a screen similar to the following will appear: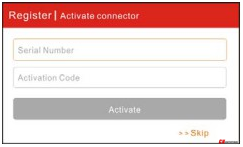 Activate the VCI module:
In the above figure, input the Serial Number and Activation Code, which can be found in the password envelope.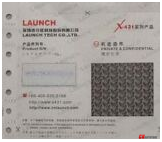 Note: To exit and activate it later, tap "Skip". In this case, you can activate your connector by tapping "Activate Connector" in "Personal Center".
Tap "Activate", a dialog box pops up saying congratulations! You have successfully completed your registration; the next step is to download the diagnostic software.
X-431 PRO MINI whole set: X-431 PRO MINI is mainly composed of an X-431 PRO MINI handset, and a DBSCar II VCI module.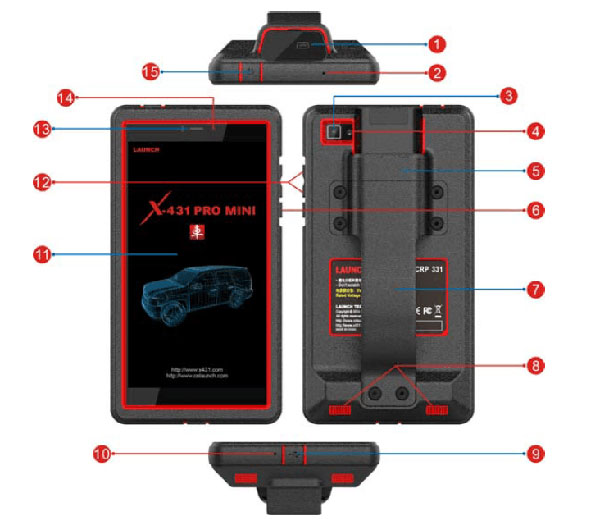 Launch x431 pro mini Diagnostic Tool
1 VCI module
2 Reset hole
3 Rear camera
4 Camera flash
5 Slot for VCI module For housing the VCI module.
6 POWER/Screen lock key In Off mode, press it to turn X-431 PRO MINI on; In On mode, turn X-431 PRO MINI off with long press or lock screen with short press.
7 Carry strap
8 Air intake vent
9 USB/Charging port To connect to the power adaptor for charging.
10 Microphone
11 LCD screen
12 VOLUME +/- Key  To adjust the volume. To print the screen, hold and press the POWER and VOLUME – key until a snapshot pops up on the screen.
The captured snapshot is saved in the "Screenshots" folder.
13 Speaker
14 Front camera
15 Earphone Jack
X-431 PRO MINI Technical Parameters:
Operating system: Android 5.1
Processor :Quad core 1.3 GHz
Memory: 2GB
Storage:16GB
LCD screen: 6.9 inch with a resolution of 1280 x 720 pixels
Camera :Front-facing 2MP camera + rear-facing 5MP camera
Battery :3.7V/3000mh rechargeable polymer lithium battery
Connectivity : Wi-Fi: WLAN 802.11b/g/n ,Bluetooth: Bluetooth 4.1
Working temperature: 0℃ ~ 45℃
Storage temperature: -10℃ ~ 50℃
VCI module:
Working voltage 9 ~18V
Average working current About 85mA
Standby current About 55mA
Working temperature -10℃ ~ 55℃
Storage temperature -20℃ ~ 70℃
Relative humidity 20% ~ 90%
DBScarIII adapter parameters:
The brand-new DBScarIII adapter is small size and can be easily plugged into the handset to diagnose and matching, it tests car models stably, it supports
CAN diagnosis also USB data transfer.
Size: 69 × 40 × 18 mm
Operating voltage: 9V DC – 18V DC
Test voltage: DC12V
Typical power consumption: ≤2W
Bluetooth distance: 100 m
Connectivity: Bluetooth + wired
Operating temperature: -10℃to 50℃
Red Indicator: Turns red when connected to power supply;
blue Indicator: Turns blue then wireless Bluetooth work;
USB work: Turns green when the connector is connected to the USB cable
Launch X431 Pro MINI Obd2 Scan Tool Package Includes: 
1pc x X-431 PRO MINI tablet
1pc x Password envelope
1pc x VCI module (For connecting OBD II vehicles)
1pc x OBD II extension cable
1pc x OBD I adaptor (For connecting the non-16pin diagnostic connector and the
VCI module)
1pc x Battery clamps cable
1pc x Power adaptors
1pc x Non-16pin connectors (For connecting non-OBD II vehicle)