How to Solve CAT ET Error 142 Communications Adapter Error?
Some users will get 142 error when connect their CAT ET and communication adapter at first time.So here car-auto-repair.com show you guide on how to solve CAT ET 142 error.
Related Contents:
Caterpillar ET 2022A 2019C 2018A Electronic Technician Software Free Download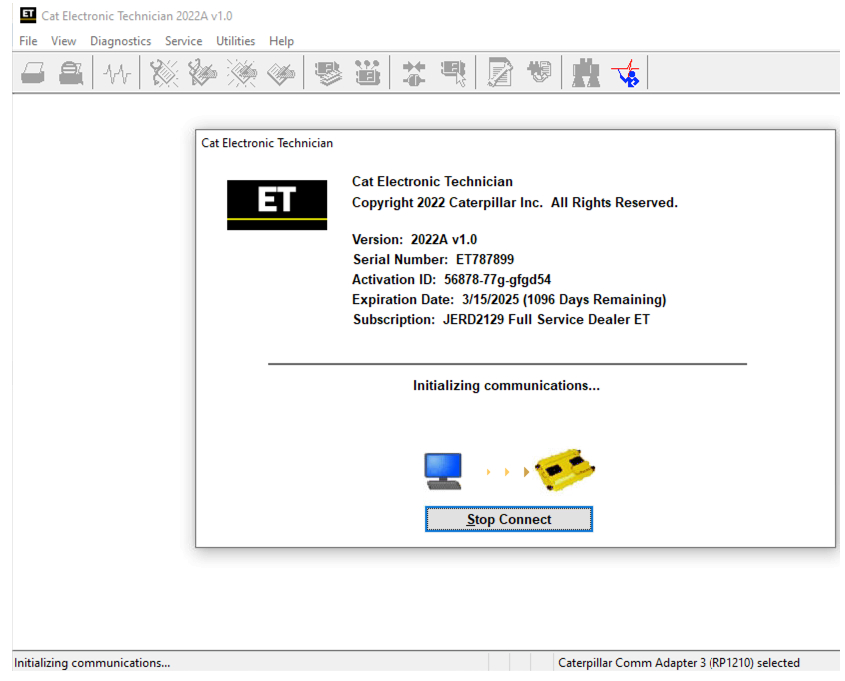 142 Error – Communication Adapter
Please perform the following steps:
Confirm that the communication adapter is connected to a power source (e.g. ECM). Verify that the vehicle key is turned on and that the communications adapter is powered. NOTE: If the communications adapter is connected, but is not receiving power, then the communications adapter is faulty.
Confirm that changes register on the Communications Adapter's status lights when attempting communication.
Verify that all cables are securely plugged into the computer, the communications adapter, and service connector.
Verify that all Preferences are correctly set. If changes are made, connect again.
If the Communications Adapter II (CA2) is being used, verify that the Caterpillar Communication Adapter II Toolkit is installed on the PC.
Confirm that the COM Port that is associated with the Communications Adapter is working. Reset the COM Port if necessary.
If Palm Pilot software is installed and active, disable that software.
If an infrared port is active, disable that port.
If there is a modem, or another device, on the same COM Port, or a counter COM Port (i.e. 1 & 3, 2&4) then disable that device or move it to another port.
Verify that the COM Port is set up correctly in the Device Manager in the Control Panel as well as in the PC's BIOS. Note: Standard COM / LPT port settings are as follows:
COM1 = 03F8 IRQ 4
COM2 = 02F8 IRQ 3
COM3 = 03E8 IRQ 4
COM4 = 02E8 IRQ 3
LPT1 = 378H IRQ 7
LPT2 = 278H IRQ 5
WORKAROUND: Use the printer port.
If the printer port does not work, please perform the following steps:
Access the BIOS.
Note the current parallel port setting.
Change the setting to bidirectional/ECP/EPP until a setting is found that resolves the issue.
NOTE: If using an IBM Thinkpad laptop, access Thinkpad Configuration in the Control Panel to change parallel port settings. Try EPP setting first.
Some users feedbacks:
User 1:
You need to match between cat adapter communication port and ET software preference
Go to device manger to know which port is used by cat adapter
then go ET software to mach it in utilities
User 2:
This adapter, in fact, is not 3, but 2.Original adapter does not have USB type B output and bluetooth
This is a Chinese fake, for it to work, you need a special patch
User3:
Some version adapter 3 can not work with CAT ET new version (2022,2021 or 2020)