Q:  What is the difference between Autel MaxiSYS Elite and MaxiSys Pro?
A: MaxiSys elite comes with upgraded Hardware, Docking station, Better resolution screen, overall quicker unit..
The elite model offers more features than the pro version.
You can check detail Autel automotive scanners comparison table below: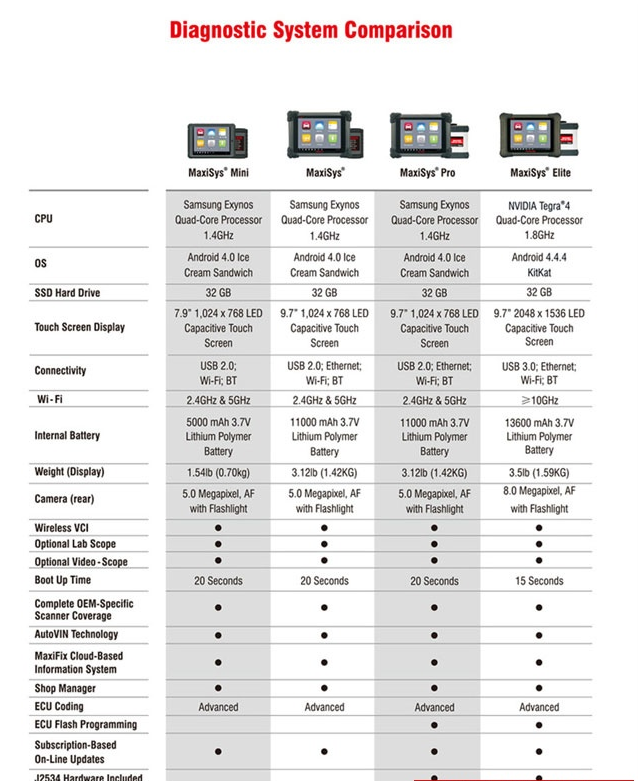 Q: It is original? Do you have warranty?
A:One year quality insurance. you can contact us at any time.
Q:  How about coding keys?
A:Yes, Maxisys elite can do key coding.This is the most advanced tool in automotive market.
Q: Does it come preregistred?
A: No, you should register it with your own ID and password. It only takes a few minutes, very easy to do it.
Q:HOW MANY FREE UPDATES COME WITH PURCHASE OF MAXISYS ELITE.
WHAT WILL HAPPEN IF I DO NOT UPDATE IT,OR IF I WANT TO UPDATE IT AFTER A YEAR OR TWO
A:It comes with one year free update. And you can still use it if you do not wanna to upgrade it.
Q:Which J2534 ECU Programmer the Pro or the Elite?
A: The J2534 programmer for the Pro and the Elite have no function difference. There are 2 versions of the MaxiFlash Pro. The original unit has an antenna and new unit (MaxiFlash Elite) is smaller without the antenna.