microPod does not appear in the device discovery or unable to perform the ECU flash
|
Issue Summary:
microPod does not appear in the device discovery or unable to perform the ECU flash
Description:
If the microPod does not appear in the device discovery or you are unable to start the ECU flash, please update your Chrysler Diagnostic Tool wiTECH Diagnostic Application to the most recent version 17.04.27.
Please click on the link below to review the instructions on how to update the wiTECH Application software to the latest version:
How to update from wiTECH Application Software
Once you have updated your wiTECH 2.0 to version 17.04.27 and the microPod is updated to 2.1.2 version, please follow the steps listed below:
1.Start wiTECH Diagnostic Application.
2.Select the microPod from the Discovery.
3.Login to DealerCONNECT.
4.Wait for the Topology to load.
5.Wait for additional 3 minutes on the Topology Screen before starting the ECU Flash.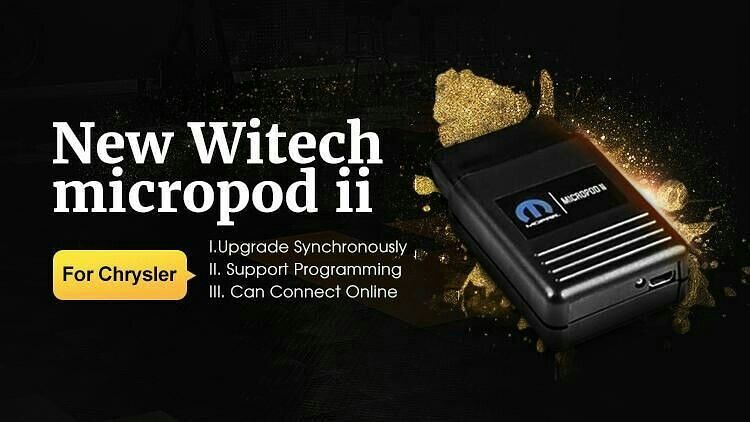 How to Solve Chrysler Diagnostic Tool wiTech MicroPod 2 registration issues ?
Multi-language wiTech MicroPod 2 Diagnostic Programming Tool V17.04.27 for Chrysler
MADE BY MOPAR (CHRYSLER) and OEM, the microPOD II is small in stature but  offers 100 percent CAN coverage for Chrysler, Dodge, Jeep, and Fiat (North America), including  latest 2014 Dodge Ram ProMaster, 2015 Jeep Renegade  and 95% of non-CAN.
This tool is the Next Generation Chrysler Scan Tool for "CAN" Bus Models and is a direct replacement for wiTECH VCI POD, StarMobile, StarScan, and wi-TECH POD.
The wiTECH diagnostic system is designed to work on Chrysler, Dodge, Jeep, and North American Fiat vehicles equipped with CAN BUS technology. It provides the latest technology and significant hardware and software performol provides  cutting edge technology will enable technicians to increasance enhancements over the current StarSCAN and StarMOBILE tools. This toe their productivity and provide world-class diagnostic services to your customers.  This tool is very easy to use .The MicroPod 2 is a great OEM dealer diagnostic tool that will give you full access to the vehicles that you are working on.