In today's fast-paced automotive industry, staying ahead of the competition requires more than just skilled technicians and quality service. Auto shop software has become an essential tool for businesses, enabling them to enhance efficiency, improve customer service, and streamline operations. In this blog post, we will explore the top auto shop software options available in the market and highlight their key features and benefits.
1. CNH EST 9.8 2023.03 Diagnostic Software:
Designed specifically for New Holland equipment, this diagnostic software provides comprehensive diagnostics and troubleshooting capabilities. With its user-friendly interface, technicians can quickly identify and resolve issues, leading to reduced downtime and increased productivity.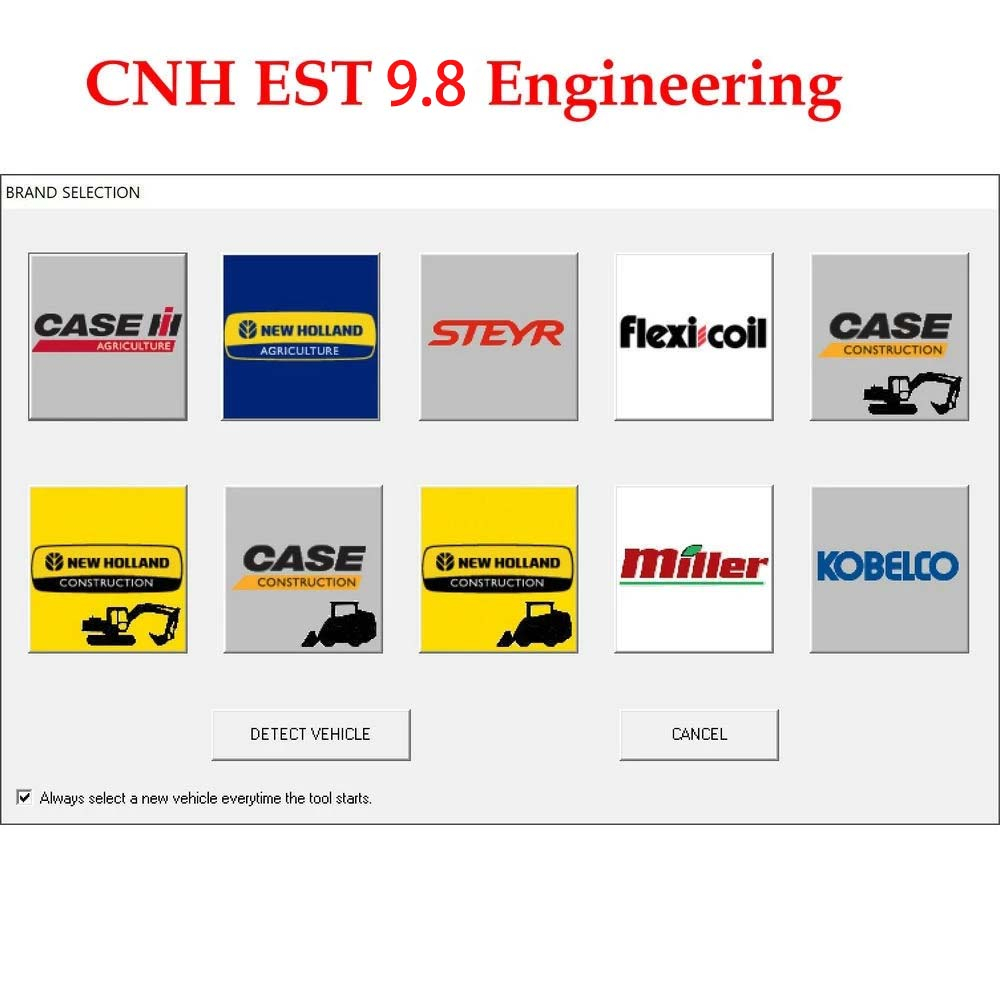 New Holland Electronic Service Tool allows you to:
• Check the status of parameters;
• Retrieve faults;
• Run diagnostic tests;
• Make ECU and parameter programming;
• Monitor active and logged diagnostics;
• View and change ECU configuration;
• View diagnostic procedures and schematics.
• Troubleshoot problems;
• Run scope diagnostics;
E.A.S.y – additional engine diagnostic and download tool for connection directly to ECU to perform diagnostic, programming and ECU reload by K-Line protocol.
2. ALL Auto Repair Software:
As the name suggests, this software encompasses a wide range of auto repair functionalities, catering to various vehicle makes and models. It offers features like fault code scanning, service history tracking, parts inventory management, and scheduling, all in one integrated platform. Its versatility makes it an ideal choice for auto repair shops of all sizes.
we have more information for Auto repair software, PLZ contact with our sales if you have any needs!
Languages: English
Mobile hard disk: 1000GB
Support System: Windows XP 32 bit, Windows7 32 bit
Auto repair software list :
1.2014 ALLDATA 10.53 575GB
2.2015 Mitchell 165GB
3.Autodata V3.38 1.33GB
4.WorkShop Vivid 10.2 3.25GB
5.ELSA 4.0 45.5GB
6.ROVER 470MB
7.WIS 0911. 3 11.1MB
8.StarFinder_v3. 4 1.75GB
9.Tolerance_data_2_2009 3.55GB
10.OPEL TIS 2011.3 3.87GB
11.BMW TIS. 5 3.23GB
12.ATSG2005. 6 3.94GB
13.OnDemand5 Transmission. 6 12GB
14.AAMCO DirecTech. 7 10.7GB
15.ZFAT. 8 777MB
16.BMW WDS13.0. 8 1.26GB
17.VOLVO WDS. 10 16.9GB
18.BMW KSD1008 5.75GB
19.BOSCH ESI. 11 17.4GB
20.20.NYO4 FULL 109MB
21.HY ESIS. 12 592MB
22.HY EFLASH. 12 265MB
23.FSMD. 12 5.16GB
24.TachoSoft21.5 14.2MB
25.KIA TIS. 2008 7.29GB
26.BENTLEY IETIS. 15 2.77GB
27.GMDW TIS. 15 436MB
28.ARTIS TECHNIK. 15 1.56GB
29.NISSAN&INFINITI ESM 6.75GB
30.GM ESI 0409 4.15GB
31.Chevrolet TIS 1102 3.88GB
32.BMW ETK_08_2013 3.67GB
33. Mitchell truck 1.67GB
34.ImmoKiller_V1.10 12.8MB
35.otocheck immo 20.3MB
36.Nissan SuperCode 9.59MB
37.DAS_KEYGEN_FOR_SRS_AC_INSTRUMENTS 192KB
38.xentry developer 415KB
39.ECM2001 6.3 25MB
40.IMMOTOOL V26.12.2007 59.4MB
41.AD100 T300 SBB MVP Incode Outcode Calculator 1.22MB
3. MB SD Connect C4 C5 Engineering Software:
Mercedes-Benz owners and technicians can benefit from this engineering software, which provides advanced diagnostics and programming capabilities. With access to detailed vehicle information, coding options, and component testing, users can efficiently diagnose and repair Mercedes-Benz vehicles, ensuring optimal performance and customer satisfaction.
MB SD Connect C4 / C5 Main Features :
1.Including Super Engineer Software:DTS monaco V9.02 + V8.16 And Vediamo V5.01.01 Support Offline Programming
2.Support Wireless
3.Software Version: V2023.09
4.Support Multi-Language: (Default language is English, if you want other languages, please leave message)
English/ Bulgarian/ Danish/ Greek/ Spanish/ French/ Italian/ Korean/ Polish/ Romanuan/ Serbo-Croatian/ Turkish/ Czech/ German/ Finish/ Hyngarian/ Japanese/ Dutch/ Portuguese/ Russian/ Swedish/ Chinese
5.Support Both Mercedes Benz Cars and Trucks
6.Support Mercedes Benz Cars After Year 2000
7.Support Offline and Online Programming, If You Want to Do Online,you must have an account online.
Software list:
DAS 2023.09: the automatically Diagnosis Assistance System.Support 213/257 new vehicle diagnostic
4. BMW ICOM Latest Software:
Specifically designed for BMW vehicles, this software offers comprehensive diagnostics, coding, and programming features. Technicians can easily identify and rectify issues, update software modules, and customize vehicle settings, resulting in improved vehicle performance and customer experience.
Main Features :
V2023.06 BMW ICOM Software SDD
Compatible with BMW ICOM, ICOM A2, ICOM A3, ICOM PRO+A3, ICOM NEXT
BMW ICOM V2023.09, With free Software:
1. Get engineer version, INPA 5.06,winkfp 5.3.1,NCS 3.5.1, E-sys PLUS 3.81,e-sys 3.35.3,data V71.0
2. Get Chinese software DR.GINI B022
3. Get count code navigation tool software FSC operator code
4. Get one-clik hidden brush tool BMWAi V4.6
5. Add DIS Software for Old cars, DISV57 and DISV44,diagnosis and programming for BMW virtual machines
6. Support Vehicles: For BMW Cars,For BMW Motorcycle,For Rolls-Royce, For Mini Cooper
5. 2023A Perkins EST:
Catering to the needs of Perkins engine users, this software provides advanced diagnostic functionalities, including fault code reading, parameter adjustment, and real-time monitoring. With its intuitive interface and extensive database, technicians can efficiently diagnose and maintain Perkins engines, ensuring optimal performance and reliability.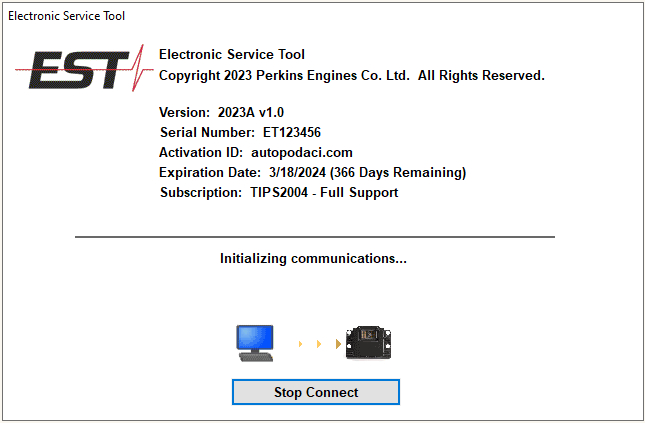 Update: 03.2023
Size: 400 Mb
Region: All regions
Type: Diagnostic Software for Perkins Engine
Language: English, Deutsch, Spanish, Italian, Dansk, French, Portuguese
OS: Win 7, Win 8, Win 10, Win 11
Perkins EST (Electronic Service Tool) is a software for dealer diagnostic tool for Perkins engines.
With this service tool, you can:
1.View active and logged diagnostics
2.View events where irregularities occurred and were logged by the ECM
3.View the status of a group of parameters (temperatures, pressures, etc.) simultaneously
4.Record and log performance data
5.Graph a group of status parameters
6.View the current configuration of an ECM
7.Change ECM configurations
8.Perform diagnostic tests
9.Perform calibrations
10.Print reports and diagnostic results
For some machine and engine products, additional functionality has been included with the service tool program.
6. JPRO Commercial Vehicle Diagnostics Software:
Ideal for commercial vehicle repair shops, this software offers comprehensive diagnostics for a wide range of heavy-duty vehicles. It enables technicians to perform advanced diagnostics, view live data, and generate detailed reports. With its extensive coverage and user-friendly interface, JPRO software simplifies the repair process, reducing downtime and increasing profitability.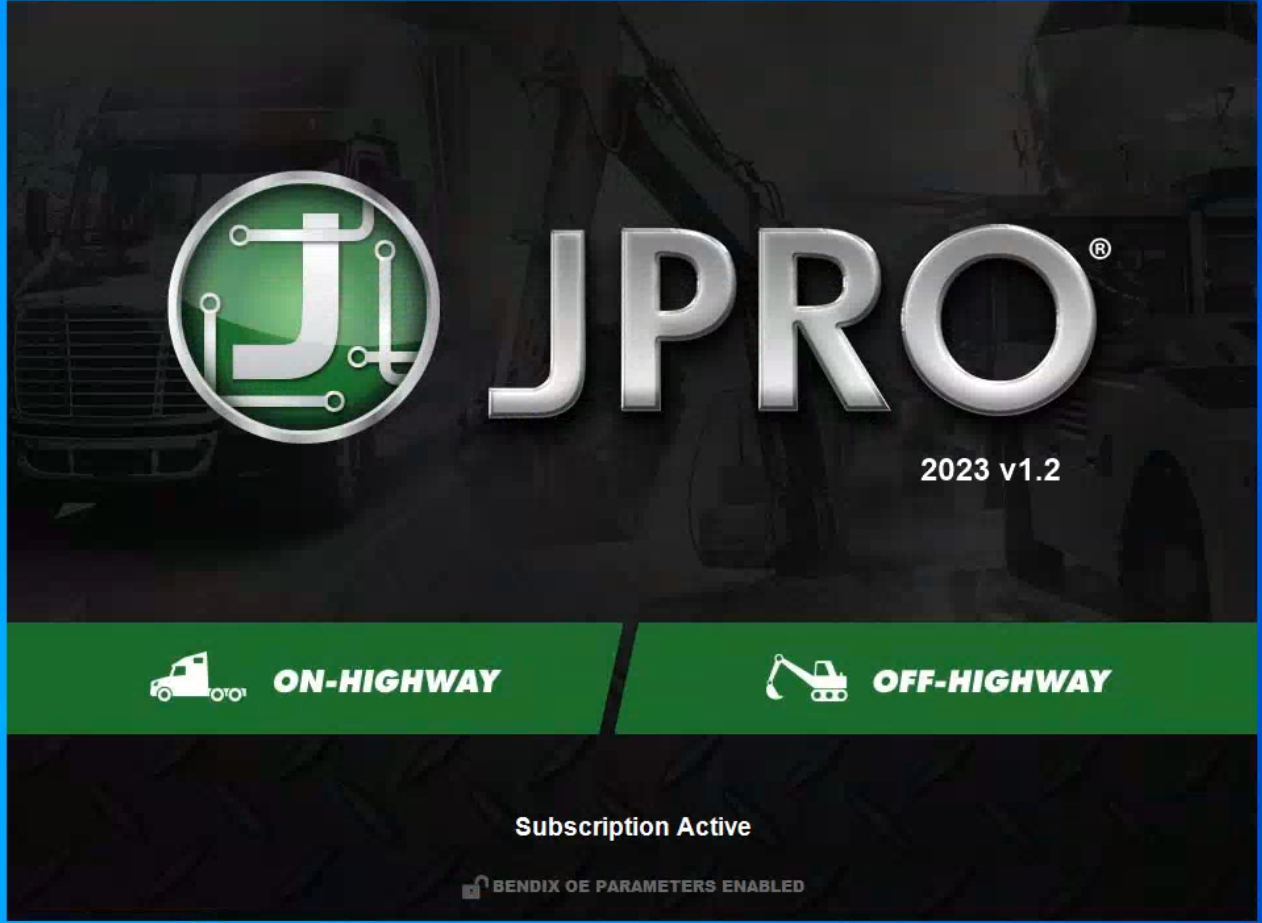 Investing in auto shop software can revolutionize your business operations, improve efficiency, and enhance customer satisfaction. Whether you specialize in specific vehicle brands or cater to a diverse customer base, there is a software solution available to meet your unique needs. Embrace the power of technology and drive your auto shop business to new heights.