Xtool X100 Pad3 Key Programmmer which is called X100 PAD Elite too, is a professional tablet key programmer which not only provides customers with key programming, but also supplies advanced special functions including Key programming, oil service light reset, timing belt service light reset, tire pressure warning light reset, EPB reset, throttle body reset, DPF reset, battery reset, steering angle calibration and OBD-II engine diagnosis, etc.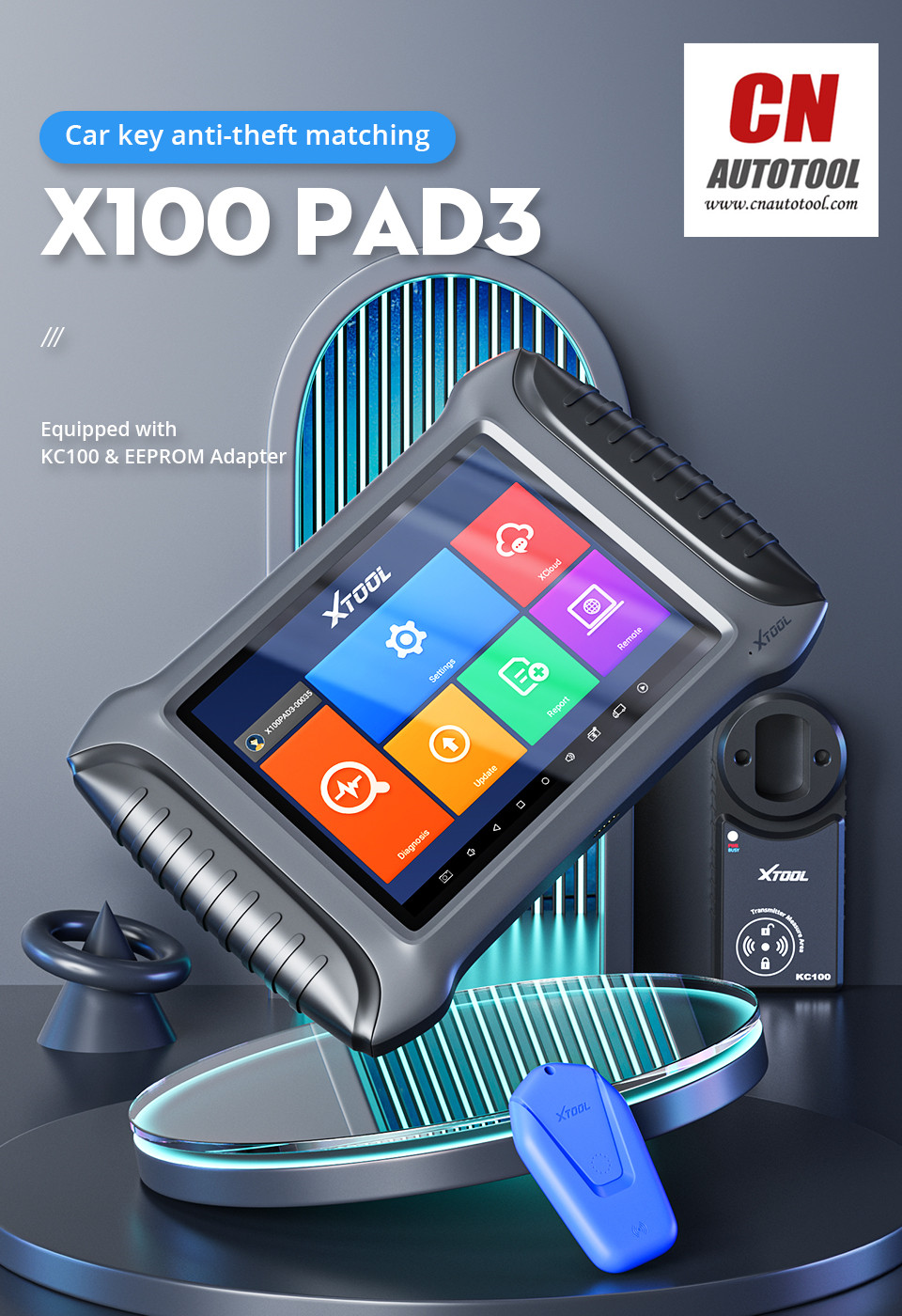 Multi-Language: English, Spanish, French, Russian, German, Polish, Portuguese
XTOOL X100 PAD3 Functions:
* Key programming
* Oil Reset/Engine oil light reset
* Odometer Adjustment
* Tire Pressure Warning Light Reset (Manual Operation)
* Timing belt light reset (Manual Operation)
* EPB Electrical Parking Brake Adaptation
* TPS Throttle Body Adaptation
* Steering Angle Calibration
* Battery Reset
* PIN Code Reading
* Hexadcimal editor(Win Hex)
* OBDII Diagnosis
* INJ Code
* Support the latest vehicles with CAN BUS and UDS protocol
* Update Via WIFI (always equip your device with the latest software)
*More….
XTOOL X100 PAD3 Key Programming Features:
1.New keys programming
2. PIN Code reading with EEPROM
3.Hexadcimal editor(Win Hex)
4.Reads keys from immobilizer's memory
5.New immobilizer programming
6.Vehicle Identification Number programming
7.Reset ECM & reset immobilizer
8.New remote controller programming
9.With full and strong database for the most important vehicle makes
XTOOL X100 PAD3 Key Programming Vehicle Coverage:
Asia: for Toyota, for Lexus, for Honda, for Acura, for Mazda, forNissan, for Infiniti, for Mitsubishi, for Subaru, for Suzuki, for Kia, for Hyundai, for Daewoo, for SSANGYONG, for Proton, etc
Europe: for Audi, for VW, for Skoda, for Seat, for Porsche, for Opel, for Citroen, for Peugeot, for Jaguar, for Land Rover, for Lincoln, for Renault, etc
America: forGM,for Cadillac, for Buick, for Chrysler, for Ford etc
China: for Great Wall, for Chery, for Brilliance-auto, for Geely, for LIFAN, for HAFEI, for CHANGAN, for LANDWIND, for BYD,for  BYD , for JAC, etc.