The automotive industry is constantly evolving, and with the advancement of technology, diagnostic tools have become an essential component for efficient vehicle maintenance. In this article, we will explore the newest commercial vehicle diagnostic tools that are revolutionizing the industry. From the JPRO Commercial Vehicle Diagnostics Tool to the John Deere Service Advisor SA V5.3AG+V5.3CF Software, these cutting-edge tools are enhancing the diagnostic capabilities of technicians worldwide.
1. Cat Caterpillar ET 2023A 2022A 2019C TOOL:
Caterpillar Electronic Technician (ET) software has long been a trusted name in the industry. The newest versions, including 2023A, 2022A, and 2019C, offer enhanced diagnostic capabilities and improved user experience. With one-time free activation, technicians can access a wealth of information and perform advanced diagnostics on Caterpillar equipment. This software is a must-have for any technician working on Caterpillar machinery.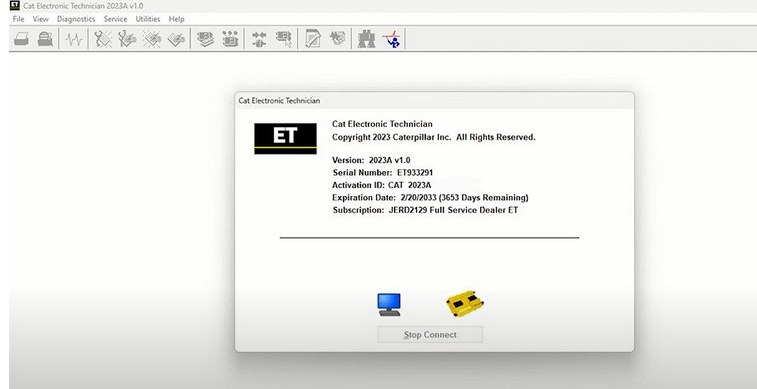 2023A Cat ET software as Cat Caterpillar ET 2018C 2019A 2019C 2021A 2021B Software update version, 2023A Caterpillar Electronic Technician software With CAT ET 3 Cat caterpillar adapter 3 support caterpillar diagnostic till 2023.
With the CAT Diagnostic Tool, you can:
View active and logged diagnostics
View events where irregularities occurred and were logged by the ECM
View the status of a group of parameters (temperatures, pressures, etc.) simultaneously
Record and log performance data
Graph a group of status parameters
View the current configuration of an ECM
Change ECM configurations
Perform diagnostic tests
Perform calibrations
Print reports and diagnostic results
For some machine and engine products, additional functionality has been included with the service tool program
Features
Display, graph and log status parameters.
Retrieve prognostic data including histograms, engine totals for fuel used and miles traveled.
View active diagnostics and clear logged diagnostics. View events where irregularities have occurred and have been logged by the ECM.
Perform calibrations to enhance performance of the ECM.
Customize the ECM with application-specific settings.
Over 100 custom Diagnostic, Information and Service features including:
– 2D and 3D Histogram plotting capability (engine software
support required).
– Custom Status screen groups
– Snapshots (Download and display snapshot data recorded by the
ECM)
– Configuration Aid that allows upload/download of same
configuration to multiple control modules
2.JPRO Commercial Vehicle Diagnostics Tool:
The JPRO Commercial Vehicle Diagnostics Tool is the latest addition to the market, offering a comprehensive solution for commercial vehicle diagnostics. With its user-friendly interface and advanced features, this tool allows technicians to quickly and accurately diagnose and troubleshoot issues with various vehicle systems. The JPRO tool covers a wide range of manufacturers, making it a versatile option for any commercial vehicle repair shop.
3. CNH EST 9.8 Diagnostic Software + 2022.04 eTimGo 8.6:
CNH EST 9.8 diagnostic software, coupled with the 2022.04 eTimGo 8.6 offline repair manual, provides a comprehensive solution for diagnosing and repairing CNH equipment. This software package covers all brands under CNH, including Case, New Holland, and more. Technicians can access a vast database of repair manuals, wiring diagrams, and troubleshooting guides, enabling them to efficiently address any issue that arises.
4. Cummins INSITE Newest 8.7 Software:
Cummins INSITE software is widely recognized as a leading diagnostic tool for Cummins engines. The newest version, 8.7, offers an extensive range of features, including advanced fault code diagnostics, parameter adjustments, and engine calibration capabilities. Unlike previous iterations, the 8.7 Pro Version has no time limitations, allowing technicians to perform in-depth diagnostics without any restrictions.
5. JCB Service Master 4 v22.4.2 Diagnostic Tool:
The JCB Service Master 4 v22.4.2 Diagnostic Tool is specifically designed for JCB equipment. With its intuitive interface and comprehensive diagnostic functionality, technicians can quickly identify and resolve issues with JCB machinery. This tool provides real-time data, fault code analysis, and system configuration options, ensuring optimal performance and reduced downtime.
6. John Deere Service Advisor SA V5.3AG+V5.3CF Software:
The John Deere Service Advisor SA V5.3AG+V5.3CF Software, compatible with the EDL V2/V3 Electronic Data Link Truck Diagnostic Kit, offers a complete solution for diagnosing and maintaining John Deere agricultural and construction equipment. This software provides access to extensive repair manuals, wiring diagrams, and other resources, enabling technicians to efficiently troubleshoot and repair equipment.
The latest commercial vehicle diagnostic tools, such as the JPRO Commercial Vehicle Diagnostics Tool, Cat Caterpillar ET Software, CNH EST Diagnostic Software, Cummins INSITE, JCB Service Master, and John Deere Service Advisor SA Software, have revolutionized the way technicians diagnose and repair vehicles. These advanced tools offer enhanced functionality, improved user experience, and access to comprehensive repair manuals, enabling technicians to efficiently and accurately address issues. As technology continues to advance, these diagnostic tools will play a crucial role in maintaining the performance and reliability of commercial vehicles.
Continue in chat