Requirements 7X1700
– Caterpillar Communication Adapter Group
Note:
You may use the 7X1701 Caterpillar Communication Adapter; however, it is no longer available for purchase from Caterpillar.
Also requires: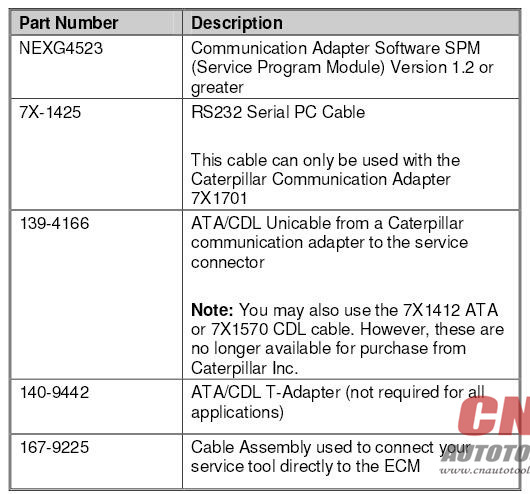 Instructions
To set up the Communication Adapter, perform the following steps:
Step 1
Connect the 7X-1425 RS232 cable to an available Serial Port on your PC and to the Service Tool connector on the Communication Adapter.
Step 2
Connect the 139-4166 Unicable to the Control connector on the Communication Adapter and to the service
connector on the product that you are servicing. You are now ready to start your Car Diagnostic Tool.
Note:
Caterpillar Communication Adapter (7X1701) does not support J1939 data link.
Requirements
MPSI Pro-Link? 9000 (only for On Highway Truck engines and certain commercial applications) This package also requires the following equipment:
Description
MPSI PC/Terminal Cable
MPSI Caterpillar Cartridge (version 1.07 or greater)
Note:
If programming a 3126 HEUI, it is recommended you disconnect the power to the Allison transmission and re-connect with Pro-Link.
Instructions
Perform the following steps to set up the Pro-Link 9000:
Step 1
Insert the MPSI Caterpillar Cartridge in the Pro-Link?9000.
Step 2
Connect the Pro-Link 9000 to your PC's serial port using the MPSI PC/Terminal cable.
Step 3
Connect the Pro-Link 9000 to the product and turn the ignition key of the vehicle on to power the Pro-Link.
Step 4
Select Pro-Link from the main menu or push the "Func" key to recall data if no engine data is received.
Step 5
Select the Com Adapter Link function from the Pro-Link menu, and push "Enter" to initiate the Com Adapter Link mode. The Pro-Link will display a screen showing that the Com Adapter Link is active. You are now ready to start the Caterpillar SIS.