OBDSTAR X300 DP PAD Plus X300 DP PAD2 Full Version Powerful IMMO with Diagnosis and Service Reset Function X300 Key Master DP Plus
 Product description
Size:X300 DP PAD PLUS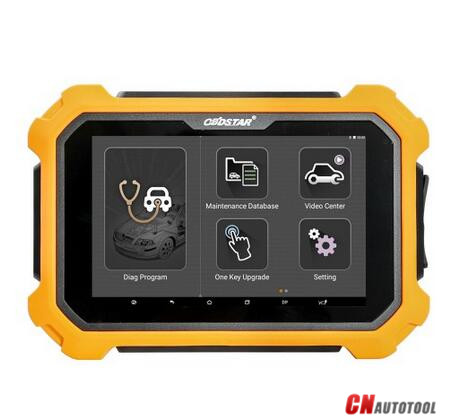 X300 DP PAD PLUS Software Advantages:
IMMO:
1. EEPROM
2. Renew Key
3. Key programming
4. Remote programming
Special Functions:
TPS/ABS/EPB/DPF/TPMS/SRS Reset/Fuel Injector/Gear Learning/Battery Matching/ECU Programming/Throttle Matching/Oil/service reset/Steering Angle Reset/Remote Manual Setting/Electronic Steering Reset/CVT Learning/value Reset
ECU Clone
1. ECU Clone, means ECU duplication. The device copies all the data from the original vehicle ECU, and then writes all data copied into ECU with the same hardware to realize the same ECU function with the original vehicle.
2. Clone directly when replacing a new or a used ECU! Without online matching in 4S store or removal of ECU bonding wire for reading and writing! Directly write without dismantling OBD!
3. Non-dismantling with zero risks: read and write data without dismantling ECU
Switch Activation Function
This function can allow you to test and verify the instrument or the audio, but also save an enormous cost for an auto technician to purchase a large number of startup platforms of various vehicles and wiring harnesses!)
TECHNICAL PARAMETER
Operation system: Android 5.1.1
CPU: Exynos4418 Dual Core ARM Cortex A9 1.4GHz
Battery: 3700mA, rechargeable polymer lithium battery
Extension memory card: 32G Micro SD (TF) card supported
Memory capacity:1GB
Storage capacity: 32GB
LCD: 8.0 inch
LCD resolution: 1280*800
Touch screen: Capacitive touch screen
Camera: 5 mega rear view camera
Wi-Fi: supported
Working temperature: -10℃ ~ 55℃(14℉ ~ 131℉ )
Storage temperature: -20℃ ~ 70℃(-4℉ ~ 158℉ )
Weight: about 1.0 Kg
Dimension: 254mm*174*mm*35mm
OBDSTAR X300 PAD2 Plus Hardware Features:
1. The built-in VCI box offers more stable communication.
2. The 8″ touch screen offers better vision experience.
3. Allow the user to charge by the OBD port of car. Not like the X300 DP 7″ Pad, which need to be 100% charged before use.
4. With specialized toolkit, high grade and practical.
5. Industrial -grade design, comes with the silicone sleeve
6. The back bracket allows the user to hang it on the steering wheel or stand on the table, which brings great convenience to the operator.
7. Comes with Toyota Lexus Emulators (The first 4 pieces are already released, and the 5th one is under development)
8. The following 3 adapters are integrated into the X300 PAD plus: EEPROM /PIC 2-in-1 adapter, RFID adapter (for VW/Audi 4th / 5th IMMO programming and other cars e.g Porsche, for BMW, Fiat etc.) and Renew Key PCF79XX adapter.
9. Adds the clip for reading SOP 8PIN EEPROM.
10. Adds the cables for reading ECU via OBD (Used to clone ECU and active the switch).
OBDSTAR X300 DP Plus Functions:
Reading DTCs
Clear DTCs
Read data stream etc.
Immobilizer system (Including Toyota Smart Key)
Cluster calibrate
OBDII
EEPROM Adapter
ABS
Battery Matching
CVT learning
EPB
Gear learnig
TPMS(low tire) reset
ECU programming
Steering angle reset etc.
Read post:  Why obdstar DP plus is a good investment even expensive
Package Includes
1pc x OBDSTAR X300 Key Master DP Plus Diagnosis and Auto key programmer