Launch X-431 Diagun IV Full System Automotive Diagnostic Tool is a new diagnostic tool release by Launch tech. It completely replace X431 Pro, it support one click online update, support full range car model from USA, European and Asian. Diagun IV X431 is perfect tool for car diagnose.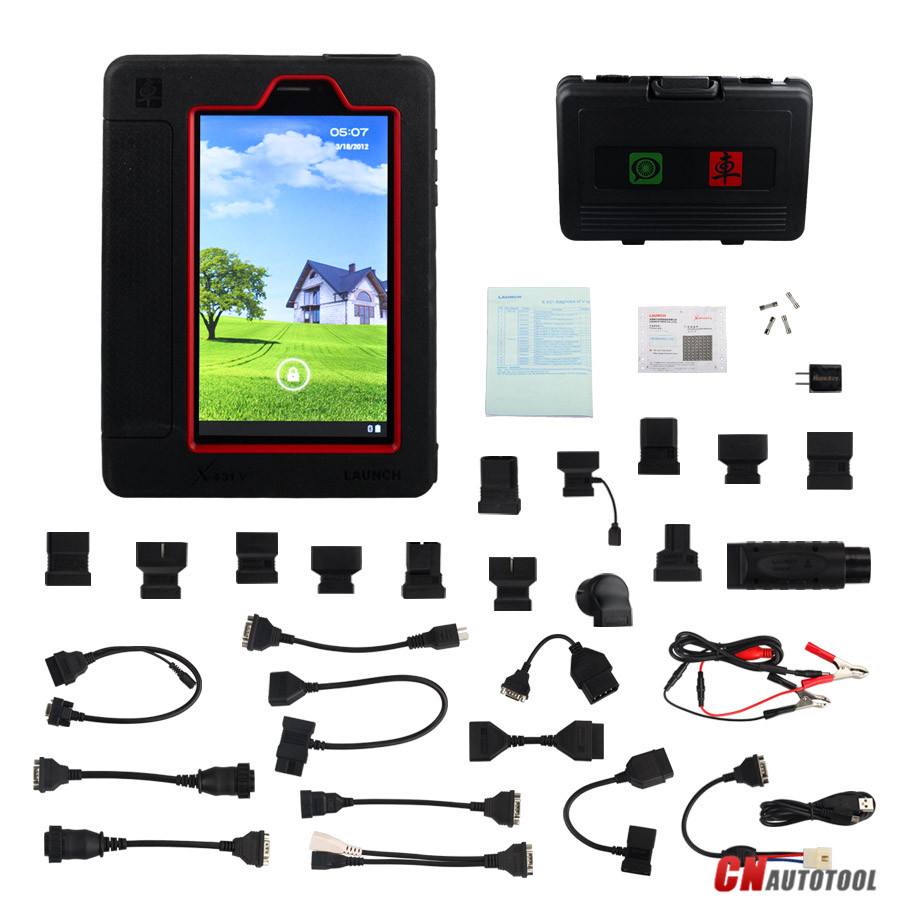 Top 7 Reasons to Get Launch X431 V:
1. Supported Languages: English, German, French, Italian, Spanish, Portuguese, Polish, Russian, Japanese, Traditional Chinese
2. Wi-Fi: Supported
3. Bluetooth: Supported
4. Dealer Code: 86A
5. Easy to Update: Support Online One-Click Update, No Need to Download Software to CF Card.
6. There is the Manual in the Multiplexer, you can check it when you use the device. it is in " cnlaunch" file.
7. Built-in battery 3000mha, Endurance 4 hours
Launch X431 Diagun IV with Bluetooth/Wifi based on Android system, is a new car malfunction diagnostic device developed by Launch Tech for internet application. X-431 V completely substitutes X431 IV and X431 Diagun III. It passes on Launch advantages in car fault diagnostic technology, such as vast car model coverage, powerful test function, special function and accurate tast data, etc.,  X-431 V achieves the full car model and full system fault diagnosis through the bluetoooth communication between DBSCar connector and intelligent mobile terminal. X-431 V taking the advantage of mobile internet, can share maintenance data and case library, provide instant maintenance information, and build public and private maintenance social circle,etc.,thus lead to wide car diagnostic community. It is a typical diagnostic device contributed by Launch to diagnostic industry concerning internet application.
X-431 V Original Supported Car Models:
Acura, Changan, Daweoo, Gaz, Hafei, Huachen, Jiao, Lexus, Xiali, Xinkai, Benz, Fiat, Holden, Maruti, Opel, Peugeot, Saab, Ssangyong, Tata, Changhe, Flyer, GMSA, Infiniti, Mahindra, Perodua, Proton, Qirui, Tlisuzu, Zhongshun, EOBD2, Euroford, GM, Jagar, Renault, Smart, Sprinter, USA Ford, VAZ, VW, Changcheng, Dacia, Ford, HaoQing, Jinlong, Liuwei, Rover, ZhongTai, ZhongXing, Bxfiat, HM, Isuzu, Jacty, JPIsuzu, Mazda, Seat, Skoda, Suzuki, BMW, Daihatsu, Mitsubishi, Porsch, Toyota, Volvo, Audi, Chrysler, Citroen, Hyundai, Kia, Lancia, Landrover, Nissan, Romeo and Subaru.