Why is the LAUNCH X431 V+ better than LAUNCH X431 V PRO? (LAUNCH X431 V+ is the Upgraded Version of X431 V PRO)
1. LAUNCH X431 V+ supports more advanced functions, like Guiding Functions (compatible with VW,AUDI,SKODA,SEAT), while LAUNCH X431 V PRO dose not.
2. The screen size of LAUNCH X431 V+ (10.1 inches) is larger than V(8 inches). One screen can display 15 data stream (Graphic and textual), three more than V, which is easy to navigate.
3. LAUNCH X431 V+ is based on Andoird 9.0, with 8-core 1, 8GHz CPU, while LAUNCH X431 V is based on Andoird 7.0 with 4-core 1, 4GHz CPU. Therefore, the V + runs faster, smoother and more stable than V.
4. LAUNCH X431 V+ is compatible with LAUNCH X431 heavy duty modules (need to be purchased separately). while LAUNCH X431 V PRO is not.
5. You can use LAUNCH X431 V+ longer and avoid frequent charging, because its battery is 7000mAh, which the V's is 4680mAh. The battery life is 1.49 times that of V.
6. The case of LANCH V+ is made up of a combination of plastic and rubber to protect it from drops. so the V+ is stronger and more resistant to fall
LAUNCH X431 V+ Product Description
2020 Newest Version LAUNCH X431 V+ 4.0 OVER 200,000 CAR REPAIR SHOPS & MECHANICS 's First Choice !!!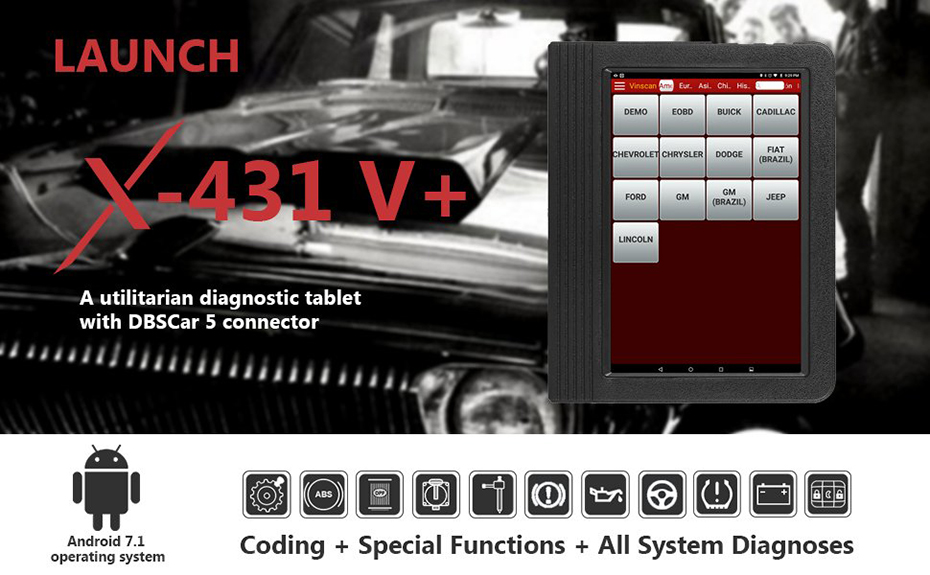 What Comes with LAUNCH X431 V+
X-431 V+ v4.0 host, QUICK START GUIDE, USER MANUAL, PIN envelope, Storage Case, CLIPPER, FUSE, BLUETOOTH ADAPTER (DBScar-4/DS301), SWITCHING ADAPTER, OBD 1 Adapter BOX, AIT I OBD16 Extension Cable, X-431 PRO5 USB A to Micro cable, Cigarette Lighter Line, Power Cable with Double Clamp;
24 special connectors for diagnosing different cars directly: AUDI-4, BENZ-14, BENZ-38, BMW-20, CHRYSLER-6, DAEWOO-12, DAIHATSU-4, FIAT-3, FORD-6+1, GAZ, GEELY-22, HONDA-3, KIA-20, MAZDA-17, MITSUBISHI/HYUNDAI-12+16, NISSAN-14+16, SSANGYONG-14, SSANGYONG-20, SUBARU-9, SUZUKI-3, TOYOTA-17, TOYOTA-22, UNIVERSAL-3, GM/VAZ-12;
24 languages supported: English, French, Spanish, German, Russian, Korean, Japanese, Portuguese, Italian, Polish, Dutch, Hungarian, Finnish, Simplified, Czech, Turkish, Greek, Arabic, Danish Persian, Romanian, Serbian, Swedish, Chinese Traditional.
Thus, if you feel more comfortable with your native language, you can switch back and forth as necessary without encountering any sort of language barrier.
Key reasons to buy LAUNCH X431 V+
Full Systems Diagnoses + Active Test (Bi-directional Control)
ADVANCED OE-LEVEL FUNCTIONS: Guided Functions +Online Coding +Setting & Changeover +Modification +Offline Coding + Customization + Personalization
MORE ADVANCED FUNCTIONS ADDED: Windows Calibration + Seats Calibration + Tyre reset + Language Change + A/F Reset A/F + Coolant Bleed + Transport Mode + Adblue Reset + NOx Sensor Reset NOx + Stop/Start Reset + SCN Coding(!!! only LAUNCH X431 V + has this function while V PRO does not)
Adaptation+ Matching+ 30+ Reset Services + Initialization + Coding + Key Programming
ECU Coding + Auto VIN + One Click Update + Diagnostic Report + Diagnostic Feedback
150+ Brands and 10000+ Cars supported + 24 Languages + 2 Years Free Update
Support Diagnosing Heavy Duty Trucks with Extra X-431 HD Module
9.0 Android LENOVO Tablet, 10.1 Touch Screen, 7000mAh Rechargeable Battery, 32 GB Storage Capacity (128GB extended TF Card)
Online Maintenance Resources: Operating skills, DTC Help, Automotive Technology handbook, Repair Case and How-to Videos.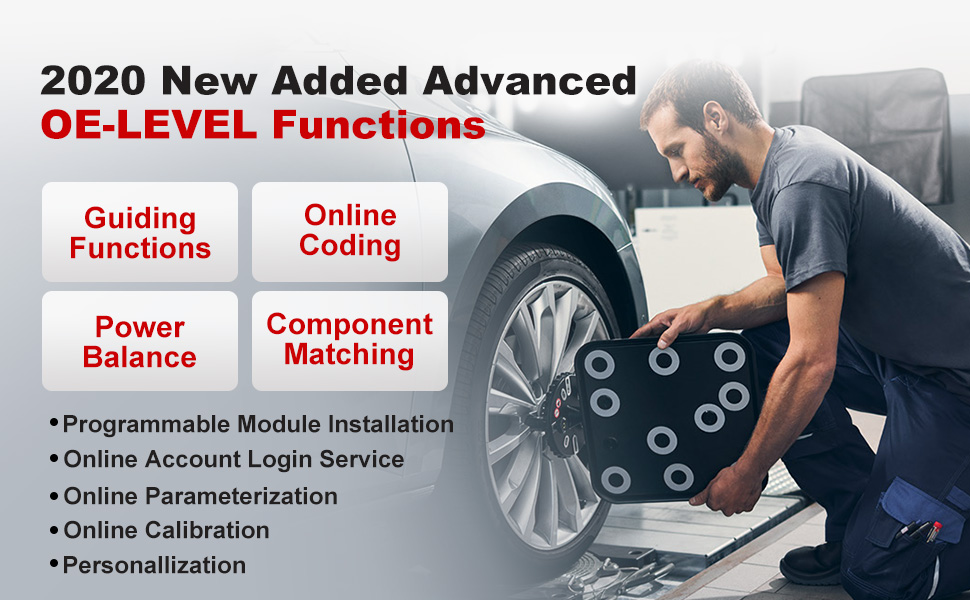 2020 New Added OE-LEVEL Advanced Functions of LAUNCH X431 V+
Component Matching: Compatible with Volkswagen / Skoda / Seat / BMW / GM / Ford / Opel / Mazda / Fiat / Honda / Nissan / Hyundai / Kia / Subaru etc.
Online Coding: Compatible with Volkswagen / Audi / Benz / BMW / Seat / Porsche etc.
Online Account Login Service: Compatible with Volkswagen / Audi / Skoda / Seat etc.
Online Calibration: Compatible with Volkswagen / Audi / Skoda / Seat etc.
Online Parameterization: Compatible with Volkswagen / Audi / Skoda / Seat etc.
Anti-theft IMMO Serivce: Compatible with Volkswagen / Audi / Skoda / Seat etc.
Guided Functions: Compatible with Volkswagen / Audi / Skoda / Seat etc.
Power Balance: Compatible with Chrysler / GM / Ford etc.
Programmable Module Installation: Compatible with Ford / Mazda etc.
Flash Hidden Functions: Compatible with BMW / Porsche / Toyota / Subaru etc.
SCN Coding: Compatible with BENZ