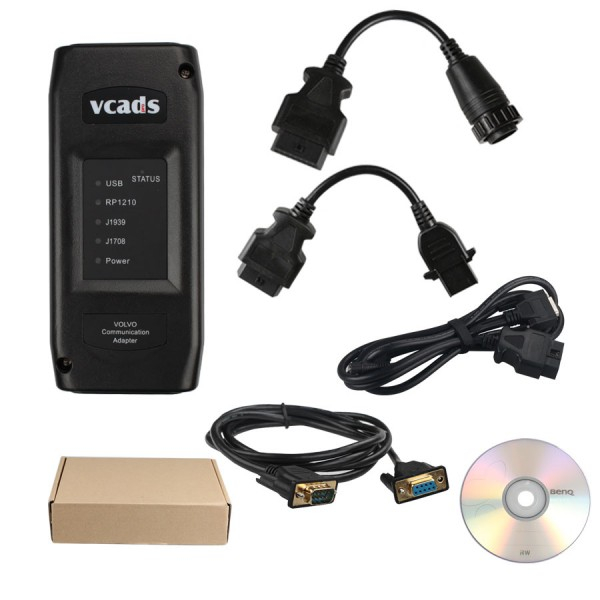 Top 3 Reasons To Get VCADS for Volvo:
1. Software Version: 2.40
2. Supported Languages: English, Spanish,French, Portuguese, German,Italian,Japanese, Korean,Czech,Danish,Norwegian,Lithuanian,Hungarian,Dutch, Polish,Romanian,Serbian,Finnish,Swedish,Turkish, Russian, Arabic,Latvian,Thai,Chinese
3. Update By CD
Notice:
It Only Supports Windows XP System
How to fix Volvo VCADS pro issues?
VCADS Pro 2.40 for Volvo offers an excellent software tool to assist customers and bodybuilders in performing their own diagnostic work on Volvo engines.
Here is some problems that our customers install the software meet, if you meet this problem, please follow the following solution to solve your problem. Hope it will be helpful to you.
There is the software installation video in the CD, follow the video to install the software step by step. Do not miss any steps, otherwise you may get error prompt:
1: After i install the software ready, i put in the user name and password, it prompt me "This user is not authorized to run this software on htis PC. Contact your local administrator.". How to solve this problem?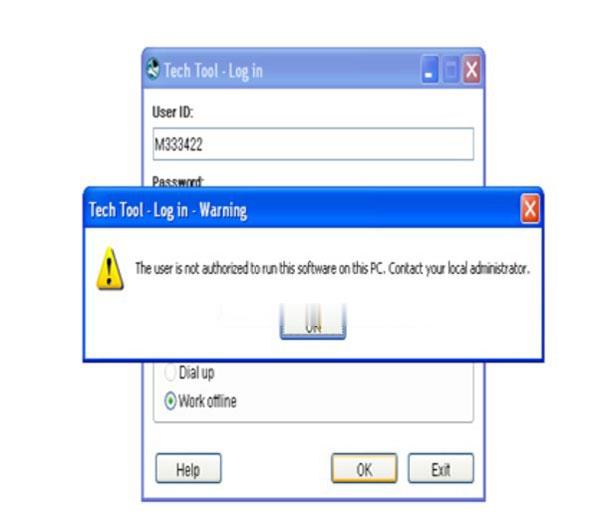 There is the TXT file in the CD, called "How to use". Find this file, open it, then you will see the user ID (m333422). Copy it and fill it in the blanks. For password, do not fill anything. Just ignore it. Then click "connectivity options", you will see other 3 options. Then tick in the option "Work offline". Finally click "OK" button.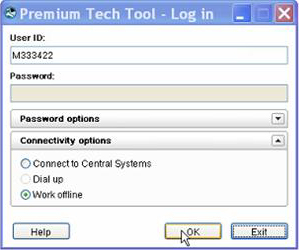 This installation is also shown on the video. Just follow the video to install the software.
2 I install the software on XP system. Use RS232 cable to connect the device with my computer. But i get ERROR prompt "10104". Just like this photo shown. When I plug the unit into the truck diagnostic port the power light is on and the blue USB light flashes very fast in a random sequence. Where is wrong? I check the connection, every place is right. But computer still cannot recognize the hardware.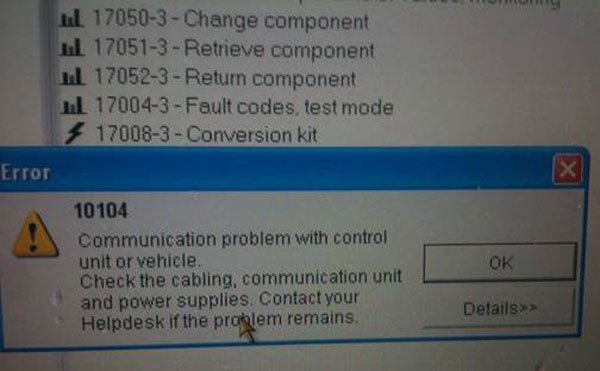 Your problem is that you do not setup the COM port. Although the connection is right. You still need to setup the COM port is the consistent with your computer. There is the guide on the video. Please follow the video do.