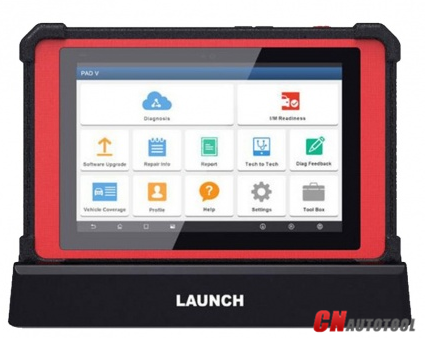 Technicians can gain a better understanding of the features and benefits the Launch X431 PAD 5 Throttle provides through these five tips.
1. Launch into diagnostics
Use the Launch "Smart Diagnosis" feature to access customer vehicle data through the Automatic Vin Scan as opposed to time-consuming manual input entries. The Smart Diagnosis VIN Scan recognizes the vehicle identification information in seconds and initializes the Launch X-431's software platform allowing you to begin the diagnostic process.
2. Consult and collaborate with the innovative Tech 2 Tech remote feature
Use this feature on complex repairs and issues by collaborating with another technician miles away via Tech 2 Tech connectivity. The Tech 2 Tech connectivity facilitates a seamless technical collaboration between technicians and scan tools working together to solve complex issues while saving time.
3. Ready, set, launch into the connected car wave
As vehicle ecosystems become more connected and secure, your scan tool must possess the capability and accessibility of interfacing with these elements. The Launch X-431 Throttle is equipped to prepare you for ADAS recalibrations and relearns, as well as gateway firewall access such as the FCA Secured Gateway.
4. Launch Wi-Fi updates
Launch Tech USA is committed to timely and no-hassle Wi-Fi software updates that can be done in seconds. Feel confident that you are always ahead of the curve with the latest updates.
5. Pre- and post-scan
Provide them with a comprehensive Health Report Scan that analyzes all of the vehicle's control systems and highlights all DTC's and potential future issues. This feature is performed in 1 to 2 minutes.