Chrysler's latest diagnostic interface
|
Chrysler's latest diagnostic interface fits in your shirt pocket and provides 100% CAN coverage for Chrysler, Dodge, Jeep, Fiat.
Although small in stature, this dongle-style device offers 100 percent CAN coverage for Chrysler, Dodge, Jeep, and Fiat vehicle platforms. This is the same diagnostic and programming tool the dealerships are using. It replaces your StarMobile, StarScan, and wi-TECH POD, and enables your technicians to increase their productivity and provide world-class diagnostic services to your customers.
MOPAR MicroPOD II Features
Supports all the latest technologies and vehicle platforms including the latest Chrysler and Fiat Vehicles.
Works as a direct replacement for the wiTECH POD.
Works with your current wiTECH software.
No Smart cables required.
Specifics
– PC-Based: Requires PC connection
– Model Year Coverage: 100% CAN equipped vehicle coverage to current
– PC Recommended: i7 Durabook Custom Laptop
– wi-TECH Diagnostic Application.
What's in the Box?
– MicroPOD II
– USB MicroPOD II connector cable
– wiTECH 2 Software License (1-year)
– Carrying case
– Tech Support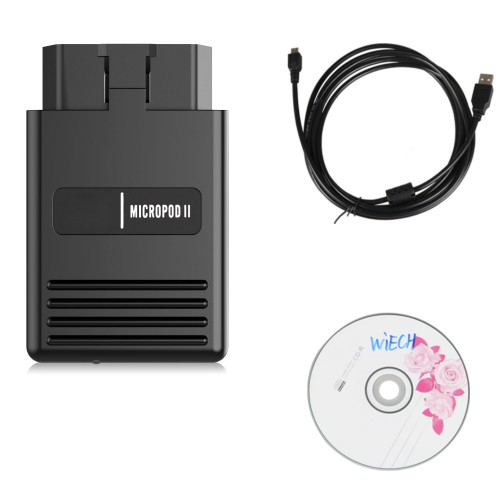 Notice : wiTECH Micropod 2 Chrysler diagnostic tool with V17.04.27 wiTECH software can work online and support Chrysler online programming ( But you should have an account )
The wiTECH Diagnostic Application (which includes programming and security functions) is used to interface with Dodge, Chrysler, Jeep and North American Fiat automobiles. The software connects to StarMOBILE devices, wiTECH VCI Pod and the microPOD II. This system is required in order to connect to all Chrysler CAN vehicles. The application also includes a DRBIII emulator for communication with earlier vehicles.