Launch X431 PAD V 5 Automotive Diagnostic Tool Support Coding and Programming
|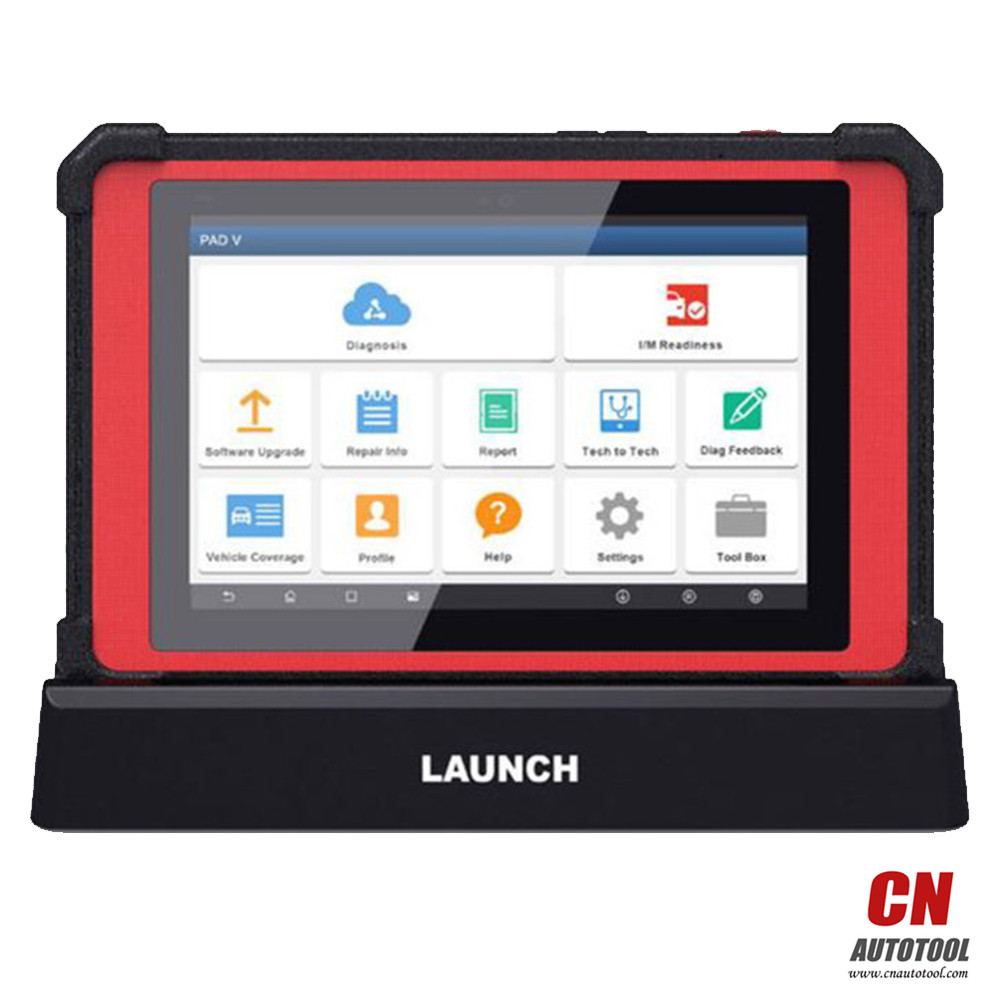 LAUNCH X431 PAD V is a brand-new high-end car fault diagnostic device developed by Launch. Integrating the launch excellent diagnostic technology and made many improvements and innovations.
Launch X431 PADV Automotive Diagnostic Tool Support Coding and Programming is Launch's latest top-end car comprehensive diagnostic scan tool based on the Android 7.1 system. It inherits Launch's many advantages in car fault diagnostic technologies, including large car model coverage, powerful functions, a large number of special functions, and accurate test data. With it's new advanced Smartbox 3.0 Launch X431 PAD 5 could diagnose the passenger and heavy duty vehicles (software and adapters are optional) with one single dongle. And to make it better, it also have the built-in J2534 adapter to make the Launch X431 PAD5 one of the most powerful scan tool in the market. X431 PAD V also supports LAUNCH's extension module applications for oscilloscopes, sensors, endoscopes, multi-meters, and battery detection etc.
Its operation is easier and more intuitive, Launch X431 PAD V includes a package of "Full" vehicle brands (more than 80 brands), with the most important European, Asian and American vehicle manufacturers, together with the full potential of LAUNCH diagnostic software. Able to diagnose cars, commercial vehicle and also industrial vehicle (12 and 24 V). The PAD V is compatible with the J2534 and ISO22900 (Pass Thru) communication protocols, in this way you can connect to the manufacturer's website and perform programming among many other functions.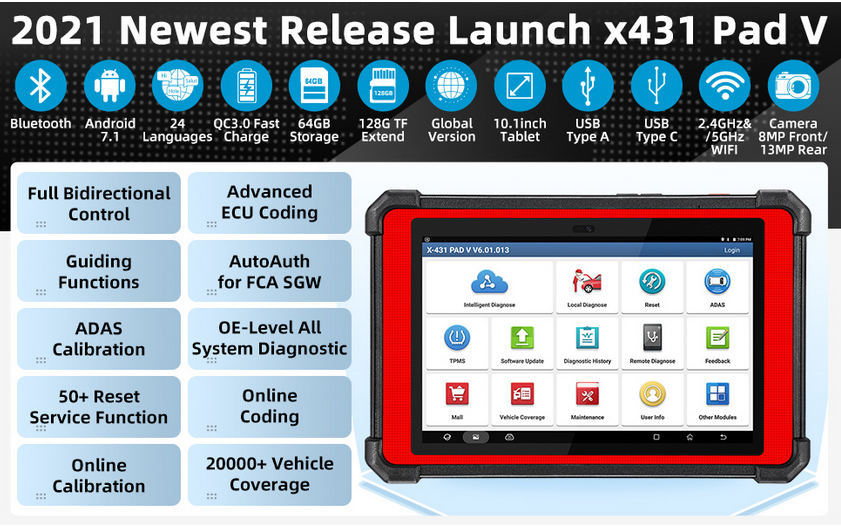 Launch X431 PAD V 5 Highlights:
1. Global Version No IP Limitation
2. Free Update Online for 1 Year. After 1 Year it will cost $399/year
4. Realtime Remote Diagnosis Function via WiFi
5. Support Commercial Vehicle and Passenger Car diagnose, Support J2534, CAN FD, DoIP
6. 8 core 2GHz CPU; 4G RAM, 64G memory; 10.1 inch full-fitting, sunlight readable screen (Gorilla Glass) and IP65 protection.
7. Special Functions Supported: Immobilizer/ Key, Injector, Reset Brake Bleed, Reset TPMS, Electronic Throttle Relearn, Reset DPF, Reset SAS, Reset Oil, Reset Brake, Reset BMS
8. Multi-Language: Italian English Chinese German Japanese Russian French Spanish Portuguese Polish Turkish Dutch Greek Danish Arabic Korean Persian Finnish Swedish Romanian Czech Hungarian
9. Online Programming till Year 2020: BMW, Mercedes, VW, Audi, Seat, Skoda, Porsche, Nissan, Infiniti, Subaru
Launch X431 PAD V Features:
Android 7.1 customized system, Qualcomm 8-core processor, 10.1 inch capacitive touch screen, support QC3.0 fast charging.
2.4GHz&5GHz Dual-Frequency Wi-Fi, the transmission rate is faster than the previous generation.
Support commercial vehicle and passenger car diagnose, Support J2534, CAN FD, DoIP.
Wide mode coverage, powerful and a large number,of diagnostic functions, and accurate test data.
Brand new industrial design, with soft rubber sheath on the four corners of the product, to effectively prevent collision; damping shaft, free adjustment of nearly 180 degrees; support three modes of hanging, support and normal.
Launch X431 PAD V 5 Package List:
1 x X-431 PAD V main unit
1 x X-431 PAD V charging dock
1 x Smartbox 3.0 diagnostic connector
1 x Micro USB cable
1 x Cigarette lighter cable
1 x 5V DC out power adaptor
1 x Battery clamps cable
1 x OBD II extension cable
1 x Non-16pin connector converting cabel
1 x Password envelope
1 x Non-16pin connectors set
https://www.cnautotool.com/category-35-b0-Launch+X431.html
CnAutotool.com – Professional Auto Diagnostic Tools Supplier.If you have any problems, don't hesitate to contact us, send email to sale@cnautotool.com. FREE, Professional & Unlimited Technical Support, Factory Price!