Launch X431 Pro Mini Review 2021
|
X431 PRO MINI is a stylish Android-based vehicle trouble diagnostic tool. It inherits from LAUNCH's advanced diagnosing technology and is characterized by covering a wide range of vehicles, featuring powerful functions, and providing precise test result.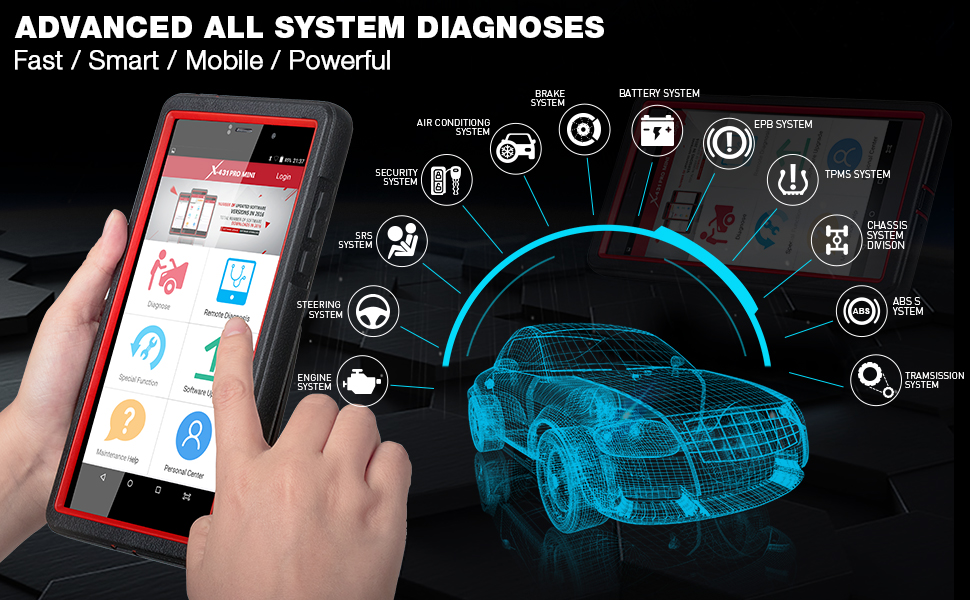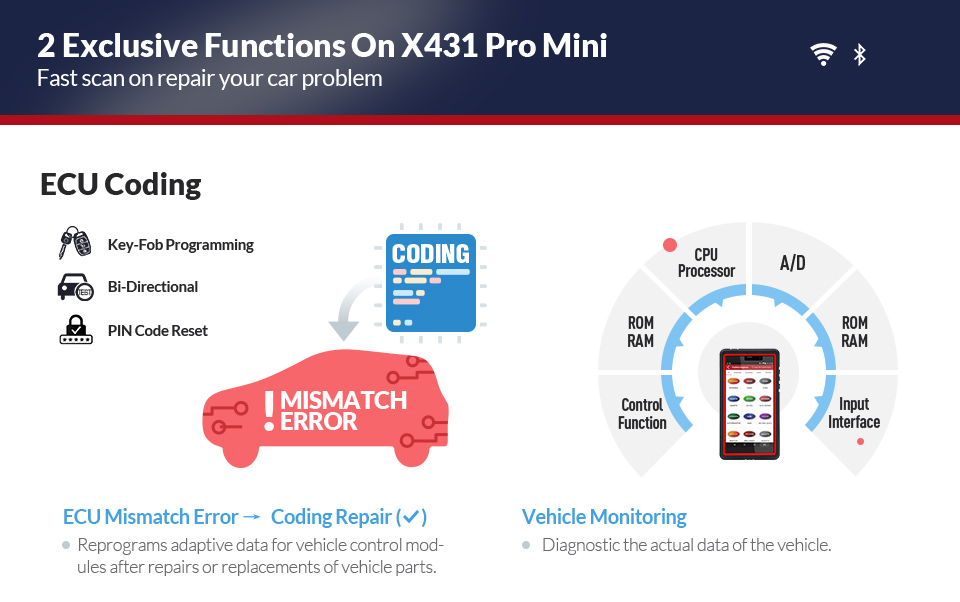 Language:
English, French, Spanish, German, Russian, Japanese, Portuguese, Korean, Italian, Polish, Dutch, Hungarian, Finnish, Simplified, Czech, Turkish, Greek, Arabic, Danish Persian, Romanian, Serbian, Swedish, Chinese Traditional,
 Launch X431 Pro Mini Review 2021
Extensive vehicle coverage
If your automotive scanner has been having compatibility issues, this is the best scan tool to use on different vehicle makes and models. The Launch X431 Pro mini diagnostic tool is compatible with more than 108 vehicle makes and models from the USA, Europe, and Asia. It comes with the Launch X431 pro mini kit with 14 connectors for OBD2 and other kinds of diagnostic standards for the European and Asian vehicle makes.
Wireless functionality
The Launch X431 obd2 scanner is very easy to use. It has Bluetooth and WiFi functions that allow you to use the code reader under the hood or inside the garage. The wireless connection enables you to work wirelessly and in the end, you will save money and time.
Intuitive user interface
Featuring a 6.98-inch touch screen with high-resolution, you will never have a hard time interpreting results using this scan tool. In addition, the icons are clear and you can easily locate the different functions. Apart from that, it has a high-resolution camera that captures still photos
Sturdy construction
The Mini Launch X431 is one of the most durable diagnostic obd2 scanners on the market. It is drop resistant, waterproof, and grease resistant. As a result, you can use it without any problem.
Special functions
Whether you want to perform basic functions like reading and erasing error codes and viewing of freeze frame data or performing special functions like oil reset, battery maintenance, electronic parking brake reset, diesel particulate filter, ABS bleeding, tire pressure monitor system rest, and many more.
All systems diagnosis
Additionally, it is able to diagnose all systems such as transmission, power train, emission system, engine, fuel system, body, and much more. With such system coverage, you will not have to purchase a separate device to perform different functions.
Anti-theft matching
This is a great safety feature. Anti-theft matching has the ability to protect your vehicle from being stolen by clearing lost key data and programming new keys into the ECU database also referred to as keys coding.
Unique and portable scan tool
If you're a mechanic who travels a lot or moves around with their scan tool from one place to another, then the Launch X431 Pro Mini scanner is a great tool for you. It is compact in design and very lightweight. The code reader weighs 7.45 pounds and its dimensions are 15.9 x 11.9 x 4.2 inches. It is almost the same weight as many smartphone gadgets.
launch x431 pro mini scan toolCheck Price
Android operating system
The device operates at a very fast speed and it is very accurate. This can be linked to the Android 5.1 operating system that it comes with. The Android system allows the user to install other Android apps, but they can still use the scanner to diagnose trouble codes.
Free software update
When you register for this scan tool, you will become eligible to download free software updates for 2 years. After 2 years, you will have to pay for the updates. Updating is simple as it can be done online by connecting your device to Wi-Fi.
Outstanding tech support
The launch has one of the best tech support in the industry. If you need support from the Launch team, just send them a one-click recorded video (s) and accurate diagnostic outcomes. Furthermore, the one-click update online is extremely convenient to use. You get the much-needed support and be able to diagnose the problems that your car is facing.
What we didn't like
Beware of counterfeit products – one of the challenges of buying Launch X431 pro mini scan tool is that there are counterfeit products on the market. So, it is important that you purchase a scan tool from an authorized dealer to avoid being duped.
Cumbersome to use – this is not an ordinary scan tool for startup mechanics or DIYers. It is complicated to use as it requires the user to start by registering the gadget. This is time-consuming and you cannot use the scan tool directly from the box.
Summary
The Launch X431 pro mini diagnostic scanner is constructed for professional mechanics and small car repair shops. It performs a wide range of functions and it is compatible with different vehicle makes and models. Moreover, the scanner comes with Bluetooth and Wi-Fi function for a wireless connection.
The scanner functions very fast as it uses the Android 5.1 operating system. The large 6.98-inch touch and high-resolution screen display clear results. It is also portable and compact for easy storage and use. It covers over 108 US, European, and Asian vehicle makes
Launch X431 Pro MINI Obd2 Scan Tool Package Includes: 
1pc x X-431 PRO MINI tablet
1pc x Password envelope
1pc x VCI module (For connecting OBD II vehicles)
1pc x OBD II extension cable
1pc x OBD I adaptor (For connecting the non-16pin diagnostic connector and the
VCI module)
1pc x Battery clamps cable
1pc x Power adaptors
1pc x Non-16pin connectors (For connecting non-OBD II vehicle)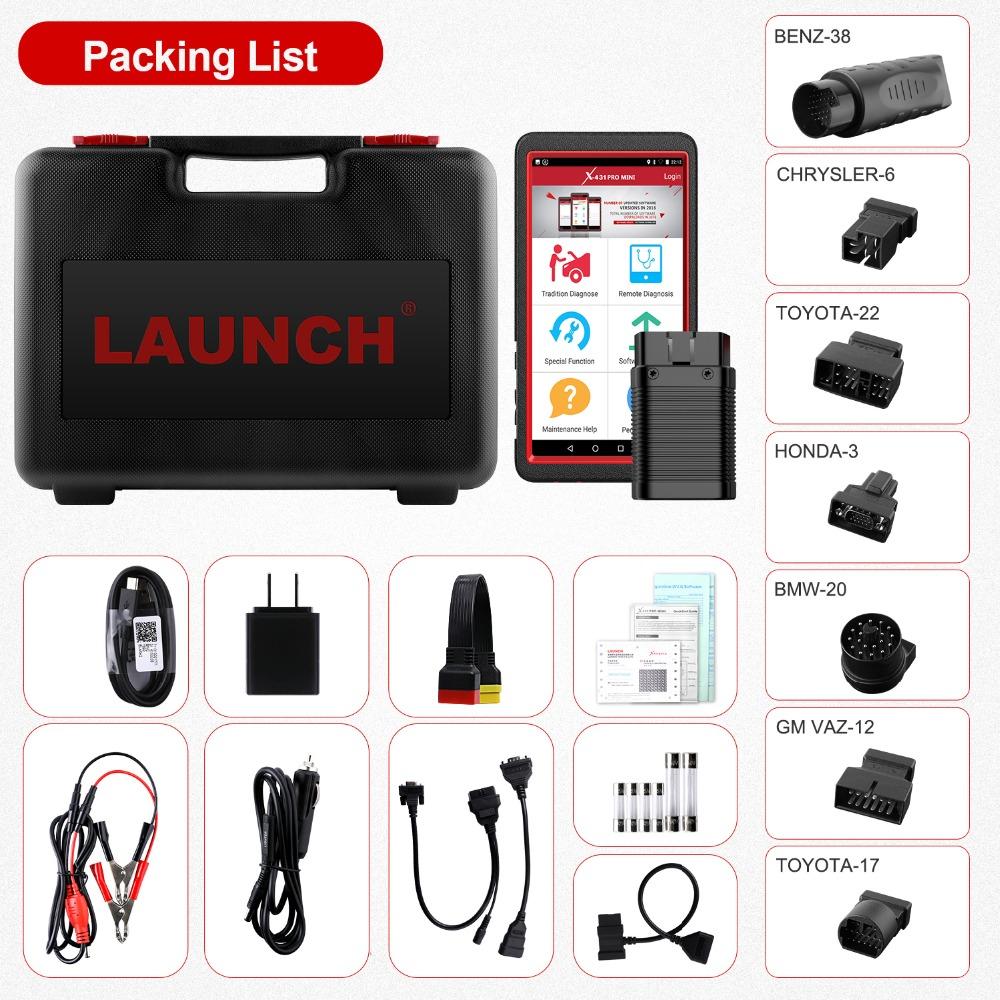 Best Quality Launch X431 Pro Mini,please click https://www.cnautotool.com/category-35-b0-Launch+X431.html