Electronic Data Link V3 All software activated and All system ready to use
|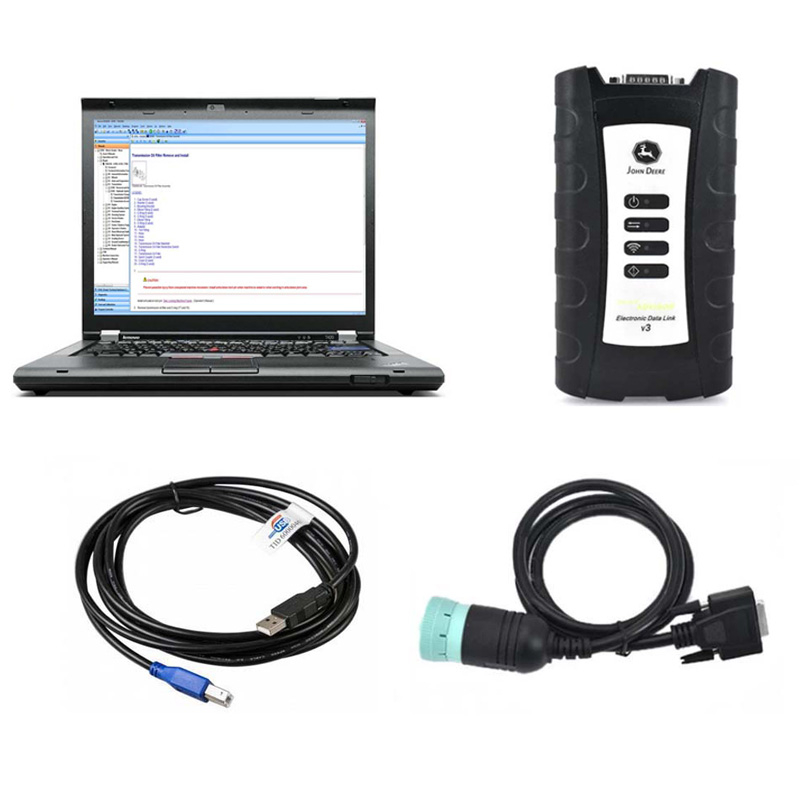 John Deere Service Advisor EDL (Electronic Data Link) heavy duty diagnostic adapter for construction equipment, agriculture, engines John Deere.
EDL v3 Electronic Data Link Adapter with Service Advisor SA 4.2 software. This is the newest adapter from John Deere, and it replaces the EDL v2 for John Deere.
This is the John Deere Service Advisor EDL v3 Adapter. This is the newest adapter from John Deere, and it replaces the John Deere EDL v2.
V5.3 John Deere Service Advisor V5.3 AG + V5.3 CF Software
Supports John Deere vehicles up to 2021
Size: 500 GB SSD
Region: All regions
Type: Service and Repair Information
Version: V5.3
Note: HDD comes in English in default. If you need other language, please contact our customer service before ordering.
(When offline access expired , please change the date of laptop to 2021-01 , restart the software will be working )
Packing list :
1pc x Electronic Data Link V3
1pc x USB cable
1pc x 9-pin Deutsch adapter
1pc x Second Hand Laptop Panasonic CF19 I5 4GB Laptop(All software activated. All system ready to use))
Multi-language available: English, French, Italian, Spanish, Portuguese
John Deere AG Management Solutions, Attachments, Backhoes, Combines and Headers, Cotton Harvestings, Excavators, ForkLifts, Hay and Forages, MAte Hand Cut and Shredderses, Plantings and Seedings, Skid Steers, Sprayers, Sugar Cane Harvesters, Tillages, Tractors, Worksite Pro Attachments.
John Deere Service Advisor CF (Construction and Forestry), workshop service manual, repair manual, diagnostic, electrical wiring diagram, hydraulic diagram John Deere.
John Deere Service Advisor CCE (Commercial and Consumer Equipment)dealer technical assistance, diagnostics, connection readings, calibrations, interactive tests, specification, tools, assemble and disassemble presented all models John Deere Construction Equipment and some models Hitachi, Euclid, Bell and Timberjack.
Top 6 Reasons to get John Deere EDL V3 Adapter:
1) Latest version 4.2 Agriculture & Construction and Forestry,John Deere can support vehicle to year 2016
2) 1 year warranty
3) Online technical service by teamviewer if you have any issue
4) Real test with Jd and 100% work greatly
5) Multi-Languages: English, French, German, Italian, Portuguese, Russian, Spanish.
6) John Deere EDL V3 is compatible with specialize software dealer JD.
What are the the advantages of EDL V3 Data Link?
Improvements on EDL v3
Improved USB connector utilizing automotive grade latching system
Increased memory RAM
Improved vehicle communications processor
Support of multiple 500K baud rate CAN Bus recordings
Longer range wireless connectivity
Improved Bluetooth connection speeds utilizing Bluetooth 2.1 with EDR (J1939 compliant)
Functions and technical capabilities of JD diagnostic adapter:
Troubleshooting;
Setup and Calibration ECU;
Interactive tests;
Computer programming;
Diagnostic Code Reader, and much more.
This scanner is compatible with specialize software dealer JD.
CnAutotool.com – Heavy Duty Diagnostic tools Supplier
Whatsapp: +8615576977825
Email: sale@cnautotool.com