OBDSTAR X300 DP Plus X300 PAD2 is a new Android-based vehicle trouble diagnostic device developed for internet applications. It inherits from OBDSTAR advanced diagnosing technology and it is characterized by covering wide range of vehicles, featuring powerful function, and providing precise result. Through vehicle diagnostic OBD connector and variant mobile intelligent terminals, it achieves vehicle trouble diagnosis for full car model and full system vehicle.
Meanwhile, taking advantage of mobile internet, this device integrates more application and service, such as Maintenance Database, remote assistant, One Key Upgrade etc.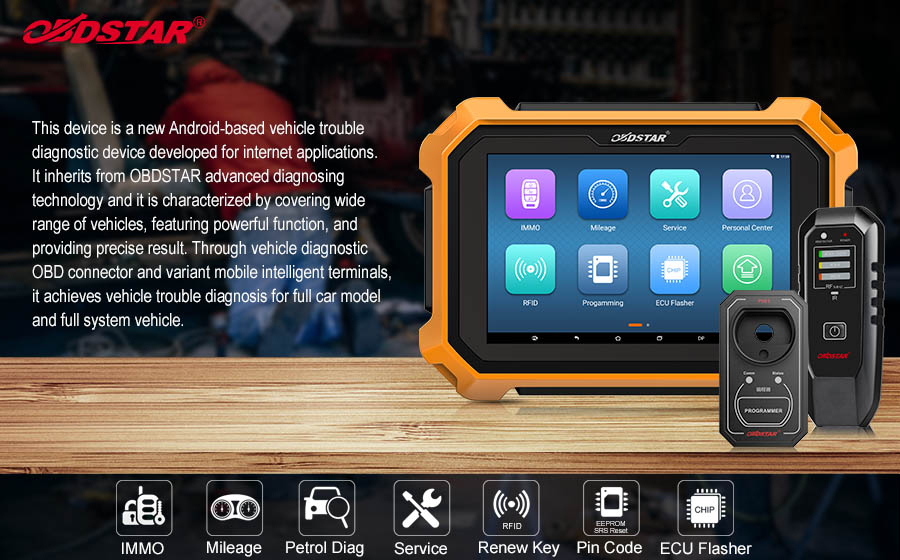 OBDSTAR X300 PAD2 Plus Hardware Features:
1. The built-in VCI box offers more stable communication.
2. The 8″ touch screen offers better vision experience.
3. Allow the user to charge by the OBD port of car. Not like the X300 DP 7″ Pad, which need to be 100% charged before use.
4. With specialized toolkit, high grade and practical.
5. Industrial -grade design, comes with the silicone sleeve
6. The back bracket allows the user to hang it on the steering wheel or stand on the table, which brings great convenience to the operator.
7. Comes with Toyota Lexus Emulators (The first 4 pieces are already released, and the 5th one is under development)
8. The following 3 adapters are integrated into the X300 PAD plus: EEPROM /PIC 2-in-1 adapter, RFID adapter (for VW/Audi 4th / 5th IMMO programming and other cars e.g Porsche, for BMW, Fiat etc.) and Renew Key PCF79XX adapter.
9. Adds the clip for reading SOP 8PIN EEPROM.
10. Adds the cables for reading ECU via OBD (Used to clone ECU and active the switch).
OBDSTAR X300 DP Plus Functions:
Reading DTCs
Clear DTCs
Read data stream etc.
Immobilizer system (Including Toyota Smart Key)
Cluster calibrate
OBDII
EEPROM Adapter
ABS
Battery Matching
CVT learning
EPB
Gear learnig
TPMS(low tire) reset
ECU programming
Steering angle reset etc.
OBDSTAR X300 DP Plus Technical Parameter:
● Operation system: Android 5.1.1
● CPU: Exynos4418  Dual Core ARM Cortex A9 1.4GHz
● Battery: 3700mA, rechargeable polymer lithium battery
● Extension memory card: 32G Micro SD (TF) card supported
● Memory capacity:1GB
● Storage capacity: 32GB
● LCD: 8.0 inch
● LCD resolution: 1280*800
● Touch screen: Capacitive touch screen
●  Camera: 5 mega rear view camera
● Wi-Fi: supported
● Working temperature: -10℃  ~  55℃(14℉  ~  131℉ )
● Storage temperature: -20℃  ~  70℃(-4℉  ~ 158℉ )
● Weight: about 1.0 Kg
● Dimension: 254mm*174*mm*35mm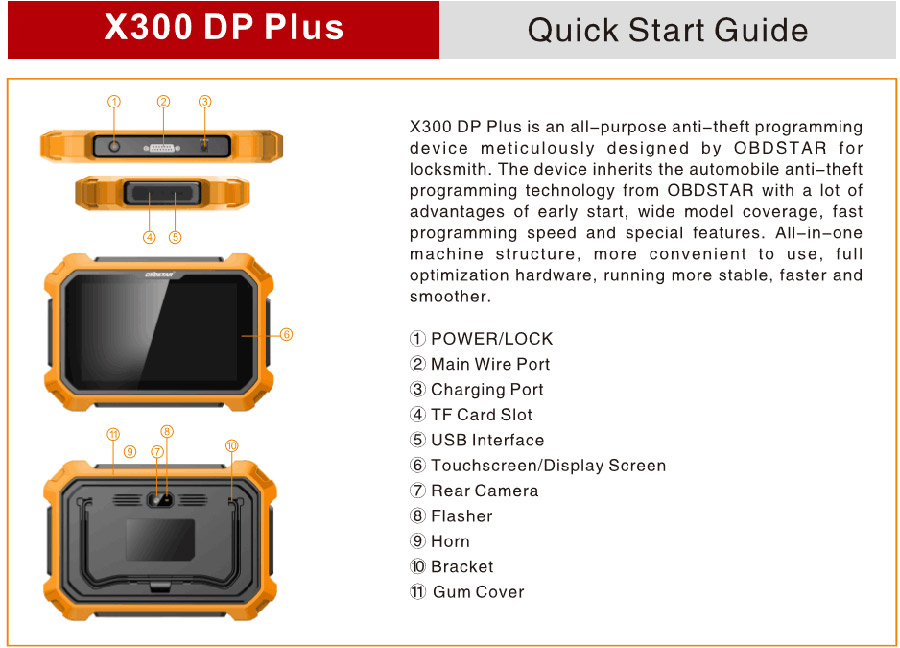 OBDSTAR X300 DP Plus Software Update Instruction:
Tap "One Key Upgrade"  to enter one key upgrade page, as following picture shown: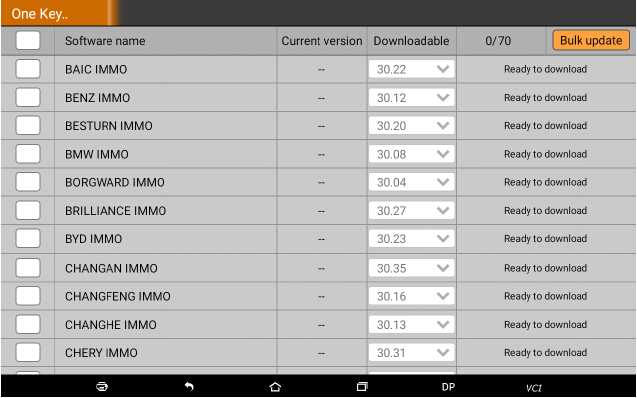 Tap "One Key Upgrade" to start downloading, enter main interface after finishing downloading. (Notes: Ensure internet connection is normal when updating. Besides, because of many software, it may take several minutes, please wait patiently) If need to cancel a software, just tap corresponding Check Box as following picture shown: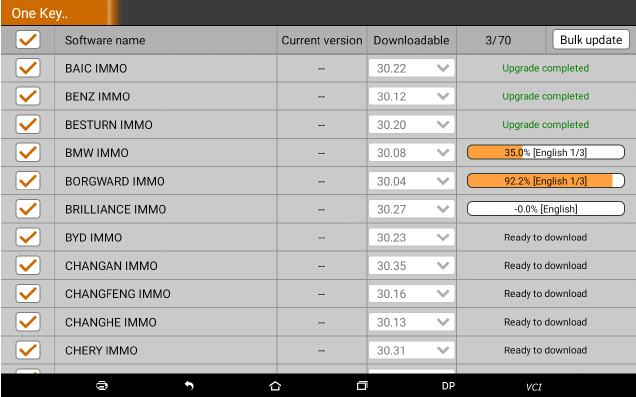 More Update History: http://www.obdstar.com/NewsStd_UpdateInfo.html
CHRYSLER IMMO [V33.09] UPGRADE
1. Increased AFRICA: GRAND VOYAGER 2009-2014 FOBIK, REMOTE
2. Increased AUSTRALIA: 300/300C 2019- PROXIMITY
3. Increased MIDDLE EAST: PACIFICA 2018 PROXIMITY
4. Increased USA-CANADA: VOYAGER 2020 PROXIMITY
CHRYSLER IMMO [V33.08] UPGRADE 
Increased JEEP WRANGLER 2020 SMART KEY
Increased USA GLADIATOR 2020 SMART KEY
DODGE IMMO [V33.09]
1. Increased ASIA: CHARGER 2019- PROXIMITY; DURANGO 2003- 2006 BLADE; DURANGO 2015 PROXIMITY; RAM 2002- 2005 BLADE/ REMOTE
2. Increased AUSTRALIA: RAM 2009-2012 FOBIK
3. Increased SOUTH AMERICA: NEON 2016-2018 BLADE
JEEP IMMO [V33.09]
1. Increased AFRICA: CHEROKEE 2008-2012 FOBIK ; COMPASS 2007-2014 BLADE; LAREDO 2008-2010 FOBIK; RUBICON 2007-2009 BLADE
2. Increased ASIA: COMPASS 2007-2016 BLADE; PATRIOT 2007-2016 BLADE; WRANGLER 2007-2018 BLADE; WRANGLER 2018-2019 PROXIMITY; WRANGLER 2020 PROXIMITY
3. Increased AUSTRALIA: CHEROKEE 2014-2018 FOBIK
4. Increased SOUTH AMERICA: COMPASS 2019-2020 PROXIMITY
5. Increased USA-CANADA: CHEROKEE 2008-2012 FOBIK
FORD IMMO [V34. 08] UPGRADE 
1.Increased ECOSPORT SOUTH AMERICA BLADE 2020
2.Increased ECOSPORT USA PROXIMITY 2019-2020
3.Increased ESCAPE USA BLADE 2019-2020
4.Increased ESCAPE USA PROXIMITY 2020
5.Increased EXPEDITION 2020 Smart Key
6.Increased EXPLORER USA 2020 BLADE
7.Increased EXPLORER 2020 Smart Key
8.Increased F150 2019-2020 Smart Key
9.Increased F250-750 SUPER DUTY BLADE 2020
10.Increased F250-750 SUPER DUTY PROXIMITY 2020
11.Increased FUSION USA PROXIMITY 2019-2020
12.Increased KUGA EUROPE 2019-2020 Smart Key
13.Increased MUSTANG 2020 BLADE
14.Increased RANGER EUROPE BLADE 2019-2020
15.Increased TRANSIT 2020 BLADE
16.Increased TRANSIT CUSTOM EUROPE BLADE 2020
FORD IMMO [V34.10] UPGRADE
(Bypass Pincode)
1.Increased PATS1/2/3/4/5/6 BLADE
2.Increased ECOSPORT USA 2018-2019 BLADE
3.Increased FIGO AFRICA 2018- BLADE
4.Increased KA AFRICA 2002-2008 BLADE
5.Increased RANGER AFRICA 2016-2019 BLADE
6.Increased RANGER AFRICA 2018-2019 PROXIMITY
7.Increased ECOSPORT AUSTRALIA 2012-2017 BLADE
8.Increased ECOSPORT AUSTRALIA 2017-2019 PROXIMITY
9.Increased ECOSPORT AUSTRALIA 2018-2019 BLADE
10.Increased ENDURA 2018- PROXIMITY
11.Increased ESCAPE AUSTRALIA 2018-2019 PROXIMITY
12.Increased RANGER AUSTRALIA 2018-2019 BLADE
13.Increased RANGER AUSTRALIA 2018-2019 PROXIMITY
14.Increased TRANSIT AUSTRALIA 2017-2019 BLADE
15.Increased TOURNEO CONNECT 2018-2019 PROXIMITY
16.Increased TOURNEO CUSTOM EUROPE 2016-BLADE
17.Increased TRANSIT CONNECT EUROPE 2018-2019 PROXIMITY
18.Increased RANGER S.AMERICA 2019 BLADE
19.Increased TRANSIT CONNECT USA-CANADA 2018-2019 BLADE
20.Increased TRANSIT CONNECT USA-CANADA 2018-2019 PROXIMITY
MAZDA IMMO[30.70] UPGRADE (Bypass Pincode)
Increased Mazda 2 / Type 1 / Blade / 2002-2007
OBDSTAR X300 DP Plus X300 PAD2 Package List  :
1.Key Master DP Plus Unit ( A/B/C configuration for your selection)
2.Main Wire
3.12V2A DC Charger
4.KIA-20
5.OBD II-16 Connector
6.HONDA-3
7.HYUNDAI/KIA-10
8.IMMO Induction Coil
9.Muti-functional Jumper
10.P001 Programmer Unit
11.C001/C002 Circuit Board
12.W001
13.W002
14.W003
15.RT100
16.94/D4 TOYOTA Simulation Smart Key
17.Configuration List/Certificate/Quick Start Guide Fold
For more information about OBDSTAR Scanner ,please visit our website sale@cnautotool.com