iQ4bike Diagnostics for Motorcycles Universal Motobike Scan tool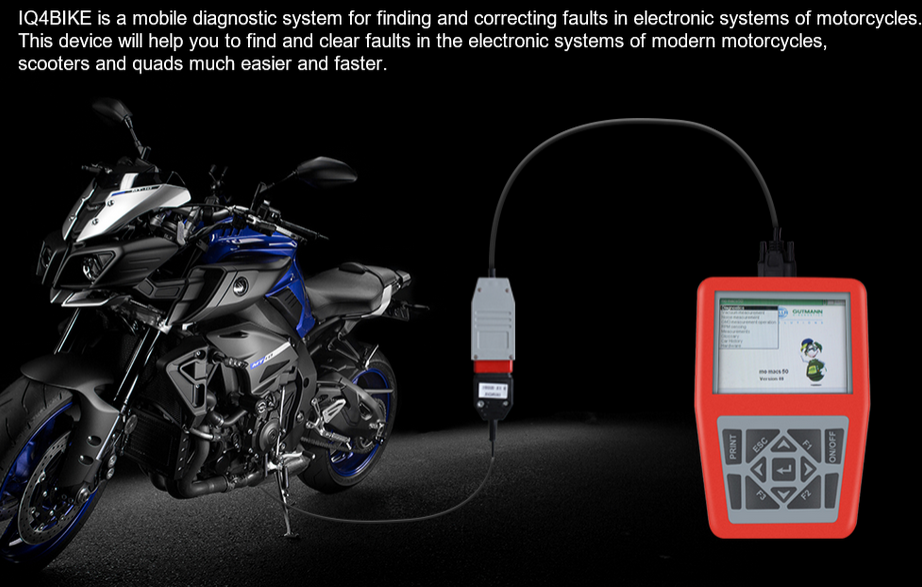 Support two languages: English, German
Top reasons to choose iQ4bike:
1) Support most common brands motocycles in the market. For detailed list, please check description.
2) Handheld scanner, works along, no need PC and software installation.
3)Complete set with full cables which used to diagnose different vehicles.
4) English and German language support more users.
Description:
Support almost all brand motocycles
Support two languages: English, German
Large and clear display facilitates user-friendly operation
With full set adapter cables
iQ4bike
is a mobile diagnostic system for finding and correcting faults in electronic systems of motorcycles. This device will help you to find and clear faults in the electronic systems of
modern motorcycles
, scooters and quads much easier and faster.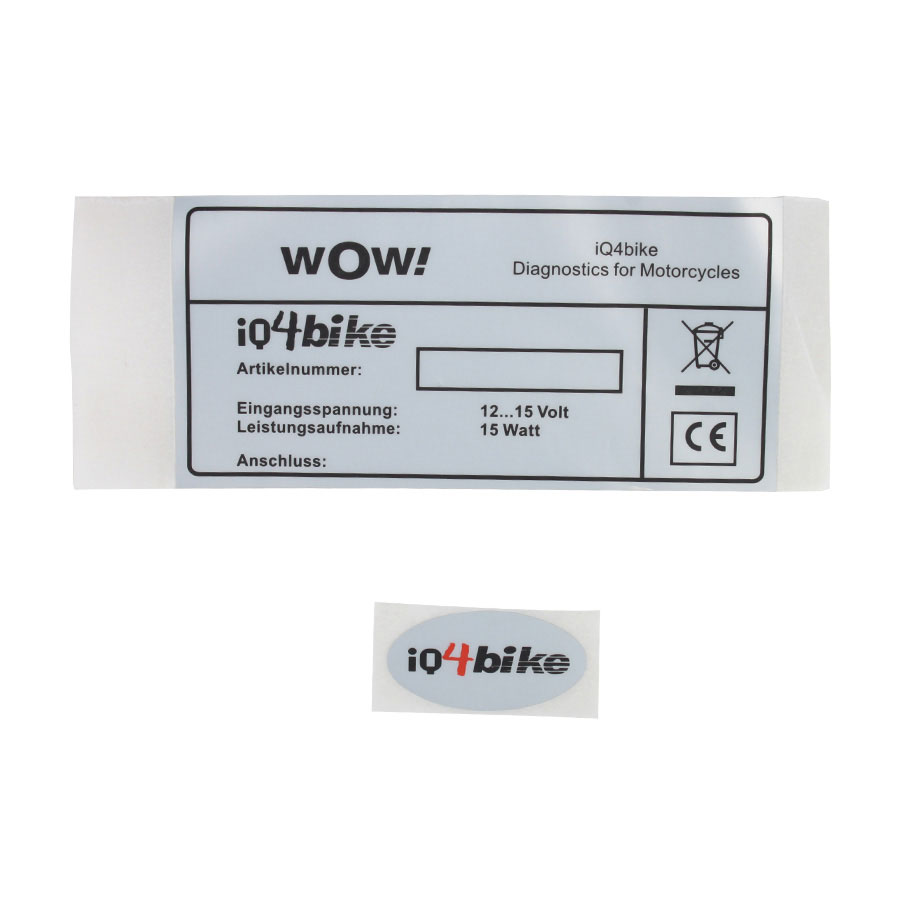 iQ4bike Diagnostics for Motorcycles Universal Motobike Scan tool Feature:
Read/clear fault codes
Parameter representation in figures and graphics
Actuator test
Basic setting (for example: BMW ABS brake test)
Throttle valve synchronisation with external module (4 channels)
2-channel multimeter
2-channel oscilloscope
Supported Motorcycles list:
ADIVA, APRILIA, BENELLI, BIMOTA, BMW, BOOM TRIKE, BRP, BUELL, CAGIVA, DERBI, DUCATI,
G+G Technik, GAS GAS, GILERA, HARLEY-DAVIDSON, HONDA, HUSABERG, HUSQVARNA, HYOSUNG,
KAWASAKI, KTV, KVN MOTORS, KYMCO, LAVERDA, LINHAI, MALAGUTI, MOTOGUZZI, MOTO MORINI,
MV AGUSTA, PEUGEOT, PIAGGIO, SHERCO, SUZUKI, SYM, TrikeTec, TRIUMPH, VESPA, VOXAN, YAMAHA
IQBike -Diagnose V40    
ADIVA        AD    AD250    2005 –
APRILIA        Arrecife    Arrecife 250    2006 –
APRILIA        Arrecife    Arrecife 500    2002 – 2006
APRILIA        Arrecife    Arrecife 500    2006 –
APRILIA        Atlantic    Atlantic 250    2006 –
APRILIA        Atlantic    Atlantic 300    2010 –
APRILIA        Atlantic    Atlantic 500    2002 – 2005
APRILIA        Atlantic    Atlantic Sprint 500    2004 – 2006
APRILIA        Atlantic    Atlantic Sprint 500    2006 –
APRILIA        Dorsoduro    Dorsoduro 750    2008 –
APRILIA        Dorsoduro    Dorsoduro 1200    2011 –
APRILIA        ETV    ETV Caponord    2001 – 2007
APRILIA        Mojito    Mojito 125    2008 –
APRILIA        NA    NA 850 Mana    2007 –
APRILIA        RS    RS 4 125    2011 –
APRILIA        RST     RST Futura    2000 – 2002
APRILIA        RSV    RSV 1000    2004 – 2006
APRILIA        RSV    RSV 1000    2006 –
APRILIA        RSV    RSV Tuono    2006 –
APRILIA        RSV    RSV 4    2009 –
APRILIA        RX    RX 125    2008 –
APRILIA        RXV    RXV 450    2006 – 2008
APRILIA        RXV    RXV 550    2006 – 2008
APRILIA        Scarabeo    Scarabeo 50    2009 –
APRILIA        Scarabeo    Scarabeo 125    2009 –
APRILIA        Scarabeo    Scarabeo 200    2009 –
APRILIA        Scarabeo    Scarabeo 250    2009 –
APRILIA        Scarabeo    Scarabeo 300    2009 –
APRILIA        Scarabeo    Scarabeo 400    2006 –
APRILIA        Scarabeo    Scarabeo 500    2006 – 2008
APRILIA        Scarabeo    Scarabeo 500    2003 – 2005
APRILIA        Scarabeo    Scarabeo 500    2008 –
APRILIA        SL    SL 750 Shiver    2007 –
APRILIA        Sport City     Sport City One 125    2006 –
APRILIA        Sport City     Sport City 250    2006 –
APRILIA        Sport City     Sport City 300    2008 –
APRILIA        SX    SX 125    2007 –
APRILIA        SXV    SXV 450    2005 –
APRILIA        SXV    SXV 550    2005 –
APRILIA        Tuono    Tuono V4    2011 –
BENELLI        TNT    TNT 1130    2004 –
BENELLI        TNT    TNT Sport 1130    2004 –
BENELLI        Tornado    Tornado 898    2001 – 2004
BENELLI        Tornado    Tornado Tre 898    2001 –
BENELLI        Tornado    Tornado Tre RS 898    2001 –
BENELLI        Tornado    Tornado 1130    2006 –
BENELLI        Trek    Trek 1130    2006 –
BIMOTA        DB    DB2    1993 – 1998
BIMOTA        DB    DB5    2006 –
BIMOTA        DB    DB6 Delirio    2006 –
BIMOTA        DB    DB7    2008 –
BMW        C1    C1 125    2000 – 2003
BMW        C1    C1 200    2000 – 2003
BMW        F 650    F650 CS Scarver    2001 – 2003
BMW        F 650    F650 CS Scarver    2003- 2005
BMW        F 650    F650 GS    2003 – 2007
BMW        F 650    F650 GS    1999 – 2003
BMW        F 650    F650 GS Dakar    2003 – 2007
BMW        F 650    F650 GS Dakar    2002 – 2003
BMW        F 800    F 800 R    2009 –
BMW        F 800    F 800 GS    2008 –
BMW        F 800    F 800 S    2006 –
BMW        F 800    F 800 ST    2006 –
BMW        F 800    F 800 / 650 GS    2008 –
BMW        G 650    G 650 Xchallenge    2007 –
BMW        G 650    G 650 Xcountry    2007 –
BMW        G 650    G 650 Xmoto    2007 –
BMW        HP 2    HP 2 Enduro    2005 –
BMW        HP 2    HP 2 Megamoto    2007 –
BMW        HP 2    HP 2 Sport    2008 –
BMW        K 1    K 1 – 4V    1988 – 1993
BMW        K 100    K 100     1987 – 1990
BMW        K 100    K 100     1982 – 1988
BMW        K 100    K 100 LT    1986 – 1991
BMW        K 100    K 100 RS    1983 – 1989
BMW        K 100    K 100 RS 4V    1989 – 1992
BMW        K 100    K 100 RT    1993 – 1989
BMW        K 1100    K 1100 LT    1989 –  1993
BMW        K 1100    K 1100 LT    1993 – 1999
BMW        K 1100    K 1100 RS    1993 – 1996
BMW        K 1100    K 1100 RS    1992 – 1993
BMW        K 1200    K 1200 GT    2006 – 2007
BMW        K 1200    K 1200 GT    2007 –
BMW        K 1200    K 1200 R    2005 – 2007
BMW        K 1200    K 1200 R    2007 –
BMW        K 1200    K 1200 RS    2007 –
BMW        K 1200    K 1200 S    2007 –
BMW        K 1200    K 1200 S    2005 – 2007
BMW        K 1200    K 1200 LT    2001 –
BMW        K 1200    K 1200 LT    1998 – 2001
BMW        K 1200    K 1200 GT    2002 – 2005
BMW        K 1200    K 1200 RS    1996 – 2001
BMW        K 1200    K 1200 RS    2001 –
BMW        K 1300    K 1300 GT    2009 –
BMW        K 1300    K 1300 R    2009 –
BMW        K 1300    K 1300 S    2009 –
BMW        K 1600    K 1600 GT    2011 –
BMW        K 1600    K 1600 GTL    2011 –
BMW        K 75    K 75     1985 – 1988
BMW        K 75    K 75 / 2    1984 – 1996
BMW        K 75    K 75 C    1985 – 1988
BMW        K 75    K 75 RT    1989 – 1996
BMW        K 75    K 75 S    1985 – 1995
BMW        R 1100    R 1100 GS    1994 – 1999
BMW        R 1100    R 1100 R    1995 – 1999
BMW        R 1100    R 1100 RS    1994 – 1999
BMW        R 1100    R 1100 RT    1996 – 1999
BMW        R 1100    R 1100 S    2000 –
BMW        R 1100    R 1100 S    1998 – 2000
BMW        R 1150    R 1150 GS    1999 – 2002
BMW        R 1150    R 1150 GS    2003 –
BMW        R 1150    R 1150 GS Adventure    2002 – 2002
BMW        R 1150    R 1150 GS Adventure    2003 –
BMW        R 1150    R 1150 R    2001 –
BMW        R 1150    R 1150 R Rockser    2003 –
BMW        R 1150    R 1150 RT    2001 –
BMW        R 1150    R 1150 RS    2001 –
BMW        R 1200    R 1200 C    1997 –
BMW        R 1200    R 1200 C Independent    2000 –
BMW        R 1200    R 1200 CL    2002 –
BMW        R 1200    R 1200 GS     2005 –
BMW        R 1200    R 1200 GS Adventure    2006 –
BMW        R 1200    R 1200 GS    2007 –
BMW        R 1200    R 1200 GS    2010 –
BMW        R 1200    R 1200 GS Adventure    2007 –
BMW        R 1200    R 1200 R    2007 –
BMW        R 1200    R 1200 R     2010 –
BMW        R 1200    R 1200 RT    2010 –
BMW        R 1200    R 1200 RT    2007-
BMW        R 1200    R 1200 S    2007 –
BMW        R 1200    R 1200 ST    2007 –
BMW        R 1200    R 1200 RT    2006 –
BMW        R 1200    R 1200 ST    2005 –
BMW        R 850    R 850 GS    1994 – 1999
BMW        R 850    R 850 R    2003 –
BMW        R 850    R 850 R    1994 – 1999
BMW        R 850    R 850 RT    1994 – 1999
BMW        R 850    R 850 RT    2001 –
BMW        S 1000    S 1000 RR    2010 –
BOOM TRIKE        Classic    Chopper    1995 –
BOOM TRIKE        Classic    Family    1995 –
BOOM TRIKE        Classic    Low Rider    1995 –
BOOM TRIKE        Fighter    X11    2000 –
BOOM TRIKE        Fighter    X11    2011 –
BOOM TRIKE        Fighter    X12    2000 –
BOOM TRIKE        Moto Trike    Shadow 750    2008 –
BOOM TRIKE        Moto Trike    MT – 01 1700    2005 –
BOOM TRIKE        Moto Trike    Intruder 1800    2008 –
BOOM TRIKE        Muscle    Family    2000 –
BOOM TRIKE        Muscle    Low Rider    2000 –
BOOM TRIKE        Mustang    ST2    2010 –
BOOM TRIKE        Vario Serie    V1 Automatik    2007 –
BOOM TRIKE        Vario Serie    V2 Automatik    2007 –
BRP        DS    DS 450 EFI
BRP        Outlander     Outlander 400 EFI
BRP        Outlander     Outlander 500 EFI
BRP        Outlander     Outlander 650 EFI
BRP        Outlander     Outlander 800 R EFI
BRP        Outlander Max    Outlander Max 400 EFI
BRP        Outlander Max    Outlander Max 500 EFI
BRP        Outlander Max    Outlander Max 650 EFI
BRP        Outlander Max    Outlander Max 800 EFILTD
BRP        Outlander Max    Outlander Max 800 R EFI
BRP        Renegade    Renegade 500 EFI
BRP        Renegade    Renegade 800 R EFI
BRP        SEA – DOO    ROTAX 1503 DT
BRP        SEA – DOO    ROTAX 1503 NA
BRP        SEA – DOO    ROTAX 1503 SC
BRP        SEA – DOO    ROTAX 1503 SCIC
BRP        SKI – DOO    ROTAX 453 SDI
BRP        SKI – DOO    ROTAX 793 HO
BRP        SKI – DOO    ROTAX 793 SDI
BRP        SKI – DOO    ROTAX 995 SDI
BRP        SKI – DOO    ROTAX V1004
BRP        SKI – DOO    ROTAX V810 RF
BRP        SKI – DOO    ROTAX V810 Yeti
BRP        SKI – DOO    ROTAX V995
BRP        SKI – DOO    ROTAX XR 1203
BRP        Spyder    CAN AM Roadster RS    2008 –
BRP        Spyder    CAN AM Roadster RT    2008 –
BUELL        Blast    Blast    2000 – 2002
BUELL        Cycolone    Cyclone M2    1999 – 2002
BUELL        Firebolt    Firebolt XB 9 R    2003 –
BUELL        Firebolt    Firebolt XB 12 R    2004 –
BUELL        Lightning    Lightning City XB 9 SX    2007 –
BUELL        Lightning    Lightning X1    1999 – 2002
BUELL        Lightning    Lightning Long XB 12 SS    2006 –
BUELL        Lightning    Lightning XB 12 S    2006 –
BUELL        Lightning    Lightning XB 12 S SCG    2005 –
BUELL        Lightning    Lightning XB 12 SS    2006 –
BUELL        Lightning    Lightning XB 12 STT    2007 –
BUELL        Thunderbold    Thunderbold S3 / T    1999 – 2002
BUELL        Ulisses    Ulisses XB 12 SX    2005 –
BUELL        Ulisses    Ulisses XB 12 X    2007 –
BUELL        XBRR    XBRR    2006 –
CAGIVA        Grand Canyon     Grand Canyon     1998 –
DERBI        Boulevard    Boulevard 125    2010 –
DERBI        GP1    GP1 250    2006 -2007
DERBI        GP1    GP1 250    2007 –
DERBI        RAMBLA    Rambla 250    2008 –
DERBI        Sonar    Sonar 125    2010 –
DERBI        Sonar    Sonar 150    2010 –
DUCATI        Classic    MH 900 I.E    2001 –
DUCATI        GPR    DS 16 RR    2008 –
DUCATI        Hypermotard    1100    2007 – 2009
DUCATI        Hypermotard    1100 s    2007 – 2009
DUCATI        Monster    M 620     2005 –
DUCATI        Monster    M 620     2002 –
DUCATI        Monster    M 620     2003 –
DUCATI        Monster    M 620     2004 –
DUCATI        Monster    M 695    2007 – 2008
DUCATI        Monster    M 696     2010 –
DUCATI        Monster    M 696     2008 – 2009
DUCATI        Monster    M 750
DUCATI        Monster    M 795    2010 –
DUCATI        Monster    M 800    2003 –
DUCATI        Monster    M 796     2009 –
DUCATI        Monster    M 800 S 2 R    2005 – 2007
DUCATI        Monster    M 800 S 2 R    2007 –
DUCATI        Monster    M 900    2000 – 2002
DUCATI        Monster    M 900    2002 –
DUCATI        Monster    M S4     2001 –
DUCATI        Monster    M 1000 DS    2005 –
DUCATI        Monster    M 1000 DS    2003 –
DUCATI        Monster    M 1000 S 2 R    2006 –
DUCATI        Monster    M 1000 S 2 R    2007 – 2008
DUCATI        Monster    M 1000 S 4 R     2003 –
DUCATI        Monster    M 1000 S 4 R     2005 –
DUCATI        Monster    M 1000 S 4 R RS
DUCATI        Monster    M 1000 S 4 R RS    2008 –
DUCATI        Monster    M 1100     2009 –
DUCATI        Monster    M 1100 EVO    2009 –
DUCATI        Multistrada    MTS 620    2005 –
DUCATI        Multistrada    MTS 1000    2004 –
DUCATI        Multistrada    MTS 1000    2005 –
DUCATI        Multistrada    MTS 1100     2007 – 2009
DUCATI        Multistrada    MTS 1100 S    2007 – 2009
DUCATI        Sport Classic    GT 1000    2007 – 2009
DUCATI        Sport Classic    Paul Smart 1000    2006 –
DUCATI        Sport Classic    Sport HF    2007 – 2008
DUCATI        Sport Classic    Sport M    2008 – 2009
DUCATI        Sport Touring    ST 4    2003 –
DUCATI        Sport Touring    ST 4    1999 – 2002
DUCATI        Sport Touring    ST 2    1997 – 2002
DUCATI        Sport Touring    ST 3    2006 – 2007
DUCATI        Sport Touring    ST 3    2004 –
DUCATI        Sport Touring    ST 4 S    2004 –
DUCATI        Sport Touring    ST 4 S    2001 –
DUCATI        Sport Touring    ST 4 S ABS    2003 –
DUCATI        Street Fighter    Street Fighter    2009 –
DUCATI        Street Fighter    Street Fighter S    2009 –
DUCATI        Super Sport    620 SS
DUCATI        Super Sport    750 S    1999 – 2002
DUCATI        Super Sport    750 SS    1999 – 2002
DUCATI        Super Sport    800 SS
DUCATI        Super Sport    900 S    1998 – 2002
DUCATI        Super Sport    900 SS    1998 – 2002
DUCATI        Super Sport    1000 SS DS    2003 –
DUCATI        Super Sport    1000 SS DS    2005 –
DUCATI        Superbike    748    1995 – 2002
DUCATI        Superbike    748 Biposto    1998 – 2001
DUCATI        Superbike    748 S    1999 – 2002
DUCATI        Superbike    748 R    2000 – 2002
DUCATI        Superbike    748 SP    1995 – 1997
DUCATI        Superbike    748 SPS    1998 – 1999
DUCATI        Superbike    749    2005 –
DUCATI        Superbike    749    2003 –
DUCATI        Superbike    749 S    2004 –
DUCATI        Superbike    749 R    2004 –
DUCATI        Superbike    748 RS    2002 –
DUCATI        Superbike    848    2008 –
DUCATI        Superbike    848 EVO    2011 –
DUCATI        Superbike    916 Biposto    1995 – 1998
DUCATI        Superbike    996    1998 – 2001
DUCATI        Superbike    998    2002 –
DUCATI        Superbike    996 R    2001 –
DUCATI        Superbike    996 S    2001 –
DUCATI        Superbike    998 S    2002 –
DUCATI        Superbike    998 R    2002 –
DUCATI        Superbike    999    2003 – 2004
DUCATI        Superbike    999    2005 –
DUCATI        Superbike    999 S    2005 –
DUCATI        Superbike    999 R    2005 –
DUCATI        Superbike    1098    2007 – 2009
DUCATI        Superbike    1098 S    2007 – 2009
DUCATI        Superbike    1198    2009 –
DUCATI        Superbike    1198 S    2009 –
DUCATI        Superbike    1098 R    2008 – 2009
G+G Technik         GG Quad    GG Quad 1150    2004 –
G+G Technik         GG Quad    GG Quadster 1200    2006 –
G+G Technik         GG Quad    GG Taurus 1300    2010 –
GAS GAS        ATV    ATV WILD H.P.400    2003 –
GAS GAS        ATV    ATV WILD H.P.450    2003 –
GAS GAS        EC    EC 400 FSE    2002 –
GAS GAS        EC    EC 450 FSR    2007 –
GAS GAS        EC    EC 450 FSE    2002 –
GAS GAS        SM    SM 400    2002 –
GAS GAS        SM    SM 450 FSR    2007 –
GAS GAS        SM    SM 450 FSE    2002 –
GILERA        Fuoco    Fuaco 500    2007 –
GILERA        GP    GP 800    2007 –
GILERA        Nexus    Nexus 125    2007 –
GILERA        Nexus    Nexus 250    2006 –
GILERA        Nexus    Nexus 300    2006 –
GILERA        Nexus    Nexus 500    2006 –
GILERA        Nexus    Nexus 500    2004 – 2005
GILERA        Runner    Runner 50    2003 –
HARLEY – DAVIDSON        DOHC 4    1131    2002 –
HARLEY – DAVIDSON        DOHC 4    1250    2007 –
HARLEY – DAVIDSON        OHV 2    883    2007 –
HARLEY – DAVIDSON        OHV 2    883    2004 – 2006
HARLEY – DAVIDSON        OHV 2    1202    2004 – 2006
HARLEY – DAVIDSON        OHV 2    1202    2007 –
HARLEY – DAVIDSON        OHV 2    1449    2000 – 2005
HARLEY – DAVIDSON        OHV 2    1449    2006 –
HARLEY – DAVIDSON        OHV 2    1584    2007 –
HARLEY – DAVIDSON        OHV 2    1802    2007 –
HONDA        AFS    AFS 110 SH    2011 –
HONDA        ANF    ANF 125    2007 –
HONDA        ATV    TRX 420    2007 –
HONDA        ATV    TRX 680    2006 –
HONDA        ATV    TRX 700    2003 –
HONDA        CB    CB 600 F    2007 –
HONDA        CB    CB 900 Hornet    2002 –
HONDA        CB    CB 1000 R    2008 –
HONDA        CB    CB 1100 X11    1999 – 2001
HONDA        CB    CB 1300    2003 –
HONDA        CBF    CBF 125 M    2009 – 2011
HONDA        CBF    CBF 600    2008 –
HONDA        CBF    CBF 600 S    2010 –
HONDA        CBF    CBF 1000     2006 –
HONDA        CRF    CRF 250 R    2010 –
HONDA        CRF    CRF 450 R    2009 – 2010
HONDA        FES    FES 125    2003 –
HONDA        FES    FES 150    2003 –
HONDA        FJS    FJS 400    2006 –
HONDA        FJS    FJS 600    2006 –
HONDA        GL    GL 1800    2001 – 2004
HONDA        GL    GL 1800    2005 –
HONDA        NC    NC 700 D    2012 –
HONDA        NC    HC 700 S    2012 –
HONDA        NC    NC 700 X    2012 –
HONDA        NHX     NHX 110    2008 –
HONDA        NPS    NPS 50    2005 –
HONDA        NSA    NSA 700 A    2008 – 2009
HONDA        NSC    NSC 50 WH    2011 –
HONDA        NSC    NSC 110 WH    2011 –
HONDA        NSS    NSS 250    2003 –
HONDA        NT    NT 700 V    2006 –
HONDA        PCX    PCX WW 125 EX2    2011 –
HONDA        PES    PES 125    2005 –
HONDA        PES    PES 150     2005 –
HONDA        SCR    SCR 110 WH    2010 –
HONDA        SH    SH 125    2005 –
HONDA        SH    SH 150    2005 –
HONDA        SH    SH 300    2007 – 2011
HONDA        ST    ST 1300    2003 – 2007
HONDA        ST    ST 1300    2008 –
HONDA        VFR    VFR 800    2002 – 2005
HONDA        VFR    VFR 800    2006 –
HONDA        VFR    VFR 1200 F     2010-
HONDA        VFR    VFR 1200 FD    2010 – 2012
HONDA        VFR    VFR 1200 X    2010 – 2012
HONDA        VFR    VFR 1200 X    2012 –
HONDA        VT    VT 750 S    2010 –
HONDA        VT    VT 750 C    2007 –
HONDA        VTR    VTR 1000 SP-1    2000 – 2001
HONDA        VTR    VTR 1000 SP-2    2002 –
HONDA        VTX    VTX 1800 C     2001 – 2003
HONDA        VTX    VTX 1800 C     2004 –
HONDA        XL    XL 125 V    2007 –
HONDA        XL    XL 700 V    2008 –
HONDA        XL    XL 1000 V    2003 –
HONDA        General    1.Coding General
HUSABERG        450    FE 450 e    2009 –
HUSABERG        570    FE 570 e    2009 –
HUSQVARNA        450    SM 450 i.e.    2008 –
HUSQVARNA        450    TE 450 i.e.    2008 –
HUSQVARNA        510    SM 510 i.e.    2008 –
HUSQVARNA        510    TE 510 i.e    2008 –
HUSQVARNA        610    SM 610 i.e.    2008 –
HUSQVARNA        610    TE 610 i.e.    2008 –
HYOSUNG        GT    GT 250    2008 –
HYOSUNG        GT    GT 650i / iR    2010 –
HYOSUNG        GT    GT 650i / iR    2008 –
HYOSUNG        GV    GV 250    2008 –
HYOSUNG        GV    GV 650    2008 –
HYOSUNG        MS3    MS3 125    2008 –
HYOSUNG        MS3    MS3 250    2008 –
HYOSUNG        ST    ST 700i    2010 –
KAWASAKI        ATV    KAF-620    2009 –
KAWASAKI        ATV    KRF – 750     2010 –
KAWASAKI        ATV    KRF – 750     2009 –
KAWASAKI        ATV    RF – 750    2009 –
KAWASAKI        ER    ER-4f    2011 –
KAWASAKI        ER    ER-4n    2011 –
KAWASAKI        ER    ER-6f    2006 –
KAWASAKI        ER    ER-6f    2010 –
KAWASAKI        ER    ER-6n    2010 –
KAWASAKI        ER    ER – 6n    2006 –
KAWASAKI        Estrella    Estrella-250    2008 –
KAWASAKI        GTR     GTR-1400    2010-
KAWASAKI        GTR     GTR-1400    2008 –
KAWASAKI        KLX    KLX-125    2010 –
KAWASAKI        KLX    KLX-250    2010 –
KAWASAKI        KLX    KLX-250    2008 –
KAWASAKI        KX    KX-250    2010 –
KAWASAKI        KX    KX-450    2010 –
KAWASAKI        Quad    KFX-450 R    2007 –
KAWASAKI        Versys    Versys-650    2007 –
KAWASAKI        Versys    Versys-650    2010 –
KAWASAKI        VN    VN-900 Classic    2010 –
KAWASAKI        VN    VN-900 Classic    2006 –
KAWASAKI        VN    VN-900 Custom    2010 –
KAWASAKI        VN    VN-900 Custom    2007 –
KAWASAKI        VN    VN-1500 Classic    2000 – 2002
KAWASAKI        VN    VN-1500 Classic Tourer    2000 – 2003
KAWASAKI        VN    VN-1500 Drifter    1999 –
KAWASAKI        VN    VN-1500 Drifter    2001 – 2002
KAWASAKI        VN    VN-1500 Mean Streak    2002- 2003
KAWASAKI        VN    VN-1600 Classic    2003 –
KAWASAKI        VN    VN-1600 Mean Streak    2006 –
KAWASAKI        VN    VN-1700     2009 –
KAWASAKI        VN    VN-1700 Classic    2010 –
KAWASAKI        VN    VN-1700 Classic Tourer    2010 –
KAWASAKI        VN    VN-1700 Voyager    2010 –
KAWASAKI        VN    VN-2000 Classic    2010 –
KAWASAKI        VN    VN-2000     2004 –
KAWASAKI        W    W-800    2011 –
KAWASAKI        Z    Z-750    2010 –
KAWASAKI        Z    Z-750    2007 –
KAWASAKI        Z    Z-750    2004 – 2006
KAWASAKI        Z    Z-1000    2010 –
KAWASAKI        Z    Z-1000    2007 –
KAWASAKI        Z    Z-1000     2003 – 2006
KAWASAKI        Z    Z-1000 SX    2010 –
KAWASAKI        ZX    ZX-250 R    2007 –
KAWASAKI        ZX    ZX-600    2004 –
KAWASAKI        ZX    ZX-600    2004 –
KAWASAKI        ZX    ZX-600    2005 – 2006
KAWASAKI        ZX    ZX-600    2010 –
KAWASAKI        ZX    ZX-636    2003 – 2004
KAWASAKI        ZX    ZX-636    2005 – 2006
KAWASAKI        ZX    ZX-1000    2004 – 2005
KAWASAKI        ZX    ZX-1000    2004 – 2005
KAWASAKI        ZX    ZX-1000    2010 –
KAWASAKI        ZX    ZX-1200    2000 – 2003
KAWASAKI        ZZR    ZZR-1400    2006 –
KAWASAKI        ZZR    ZZR-1400    2010 –
KTV        690    690 Duke III    2008 –
KTV        690    690 Enduro    2008 –
KTV        690    690 SMC    2008 –
KTV        690    690 Super Moto    2007 –
KTV        690    690 Super Moto Prestige    2007 –
KTV        990    990 Adventure    2006 –
KTV        990    990 Adventure    2007 –
KTV        990    990 Adventure S    2007 –
KTV        990    990 Super Moto    2008 –
KTV        990    990 Super Duke    2007 –
KTV        990    990 Super Duke    2005 –
KTV        990    990 Super Duke R    2007 –
KTV        1190    1190 RC8    2008 –
KVN MOTORS         YAK    YAK 500    2004 –
KYMCO        Downtown    Downtown 125    2009 –
KYMCO        Downtown    Downtown 300    2009 –
KYMCO        Like    Like 200i    2009 –
KYMCO        People    People S200i    2008 –
KYMCO        People    People S250i    2008 –
KYMCO        People    People S300i    2008 –
KYMCO        Venox    Venox 250i    2009 –
KYMCO        Xciting    Xciting 250i    2008 –
KYMCO        Xciting    Xciting 300i    2008 –
KYMCO        Xciting    Xciting 500i    2008 –
KYMCO        Yager    Yager GT 125i    2009 –
KYMCO        Yager    Yager GT 200i    2008 –
LAVERDA        747    750 Sport    1997 – 2002
LAVERDA        747    750 Strike    2000 –
LAVERDA        747    750 S Formula    1999 –
LINHAI        ATV    V2 600    2008 –
MALAGUTI        Blog    Blog 125    2008 –
MALAGUTI        Blog    Blog 125    2008 –
MALAGUTI        Centro    Centro 125    2008 –
MALAGUTI        Centro    Centro 160    2008 –
MALAGUTI        Madison    Madison 3 250    2006 –
MALAGUTI        Password    Password 250    2008 –
MALAGUTI        Spider Max    Spider Max GT500    2004 –
MALAGUTI        Spider Max    Spider Max 500 RS    2008 –
MOTOGUZZI        1200    1200 Sport    2006 –
MOTOGUZZI        1200    1200 Sport 4V    2008 –
MOTOGUZZI        Bellagio    Bellagio 950    2007 –
MOTOGUZZI        Breva    Breva 750     2002 –
MOTOGUZZI        Breva    Breva 850     2004 –
MOTOGUZZI        Breva    Breva 1100    2004 –
MOTOGUZZI        Breva    Breva 1200    2007 –
MOTOGUZZI        California    California EV    2001 –
MOTOGUZZI        California    California EV p.i.    2001 –
MOTOGUZZI        California    California Jackal    1999 – 2001
MOTOGUZZI        California    California Special    1993 – 2001
MOTOGUZZI        California    California Special S    2000 –
MOTOGUZZI        California    California Stone / Metal    2001 –
MOTOGUZZI        California    California Aluminium    2001 –
MOTOGUZZI        California    California Cat    2002 –
MOTOGUZZI        Daytona    Daytona RS    1991 – 1998
MOTOGUZZI        Griso    Griso 850    2005 –
MOTOGUZZI        Griso    Griso 1100    2005 –
MOTOGUZZI        Griso    Griso 1200 8V    2007 –
MOTOGUZZI        Nevada    Nevada 750    2004 –
MOTOGUZZI        Norge    Norge 850     2007 –
MOTOGUZZI        Norge    Norge 850     2010 –
MOTOGUZZI        Norge    Norge 1200    2006 –
MOTOGUZZI        Norge    Norge 1200 4V    2010 –
MOTOGUZZI        Quota    Quota 1100 ES    1998 – 2000
MOTOGUZZI        Sport    Sport 1100i    1994 – 1998
MOTOGUZZI        Stelvio    Stelvio    2010 –
MOTOGUZZI        Stelvio    Stelvio    2008 –
MOTOGUZZI        V10    V10 Centauro    1996 – 1998
MOTOGUZZI        V11    V11 Cat    2002 – 2005
MOTOGUZZI        V11    V11 Le Mans 02    2002 – 2005
MOTOGUZZI        V11    V11 le Mans Tenni    2001 –
MOTOGUZZI        V11    V11 Rosso Mandello    2001 –
MOTOGUZZI        V11    V11 Scura    2001 –
MOTOGUZZI        V11    V11 Sport    1999 –
MOTOGUZZI        V11    V11 Sport Naked    2001 –
MOTOGUZZI        V7    V7 750 Cafe Classic    2008 –
MOTOGUZZI        V7    V7 750 Classic    2008 –
MOTO MORINI        1187    Sport 1200    2008 –
MOTO MORINI        1187    9 1 / 2 1200    2005 –
MOTO MORINI        1187    Granpasso 1200    2008 –
MOTO MORINI        1187    Corsaro 1200    2005 –
MV AGUSTA        B4    B 4 750 S    2001 –
MV AGUSTA        B4    B 4 910 R    2006 –
MV AGUSTA        B4    B 4 910 R    2007 –
MV AGUSTA        B4    B 4 910 S    2007 –
MV AGUSTA        B4    B 4 910 S    2006 –
MV AGUSTA        B4    B 4 989 R    2007 –
MV AGUSTA        B4    B 4 1078 R    2007 –
MV AGUSTA        F4    F4 750    1999 –
MV AGUSTA        F4    F4 1000 R    2006 –
MV AGUSTA        F4    F4 1000 S    2006 –
MV AGUSTA        F4    F4 1000 S    2004 –
MV AGUSTA        F4    F4 1000 R 312    2007 –
MV AGUSTA        F4    F4 1078 R 312    2007 –
PEUGEOT        Elystar    Elystar 50    2003 –
PEUGEOT        Elystar    Elystar 125    2003 –
PEUGEOT        Elystar    Elystar 150    2003 –
PEUGEOT        Geopolis    Geopolis 125    2008 –
PEUGEOT        Geopolis    Geopolis 250    2008 –
PEUGEOT        Geopolis    Geopolis 400    2008 –
PEUGEOT        Geopolis    Geopolis 500    2008 –
PEUGEOT        Jetforce    Jetforce 50    2003 –
PEUGEOT        Jetforce    Jetforce 125    2003 –
PEUGEOT        Jetforce    Jetforce 125 COMP    2003 –
PEUGEOT        Looxor    Looxor 50    2003 –
PEUGEOT        Satelis    Satelis 125    2008 –
PEUGEOT        Satelis    Satelis 125 COMP    2006 –
PEUGEOT        Satelis    Satelis 250    2008 –
PEUGEOT        Satelis    Satelis 400    2008 –
PEUGEOT        Satelis    Satelis 500     2008 –
PIAGGIO    Petrol    Beverly    Beverly 125    2007 –
PIAGGIO    Petrol    Beverly    Beverly Cruiser 250    2007 –
PIAGGIO    Petrol    Beverly    Beverly Tourer 250    2007 –
PIAGGIO    Petrol    Beverly    Beverly 250    2006 –
PIAGGIO    Petrol    Beverly    Beverly 400    2006 –
PIAGGIO    Petrol    Beverly    Beverly Tourer 400    2007 –
PIAGGIO    Petrol    Beverly    Beverly 500    2004 –
PIAGGIO    Petrol    Beverly    Beverly 500    2006 –
PIAGGIO    Petrol    Beverly    Beverly Cruiser 500    2007 –
PIAGGIO    Petrol    Carnaby    Carnaby 125    2007 –
PIAGGIO    Petrol    Carnaby    Carnaby 250    2008 –
PIAGGIO    Petrol    Carnaby    Carnaby 200     2007 –
PIAGGIO    Petrol    Carnaby    Carnaby 300    2008 –
PIAGGIO    Petrol    Fly    Fly 50    2010 –
PIAGGIO    Petrol    Fly    Fly 125    2010 –
PIAGGIO    Petrol    Liberty    Liberty 125    2005 –
PIAGGIO    Petrol    Liberty    Liberty 150    2005 –
PIAGGIO    Petrol    Liberty    Liberty 200    2005 –
PIAGGIO    Petrol    MP 3    MP 3 125    2006 –
PIAGGIO    Petrol    MP 3    MP 3 125     2007 –
PIAGGIO    Petrol    MP 3    MP 3 125 RL    2006 –
PIAGGIO    Petrol    MP 3    MP 3 125 i.e.    2008 –
PIAGGIO    Petrol    MP 3    MP 3 250    2007 –
PIAGGIO    Petrol    MP 3    MP 3 300 i.e.    2010 –
PIAGGIO    Petrol    MP 3    MP 3 400    2007 –
PIAGGIO    Petrol    MP 3    MP 3 500    2007 –
PIAGGIO    Petrol    MP 3    MP 3 500 i.e. Sport    2010 –
PIAGGIO    Petrol    MP 3    MP 3 500 i.e. Tourer    2010 –
PIAGGIO    Petrol    NRG    NRG Pure Jet    2002 –
PIAGGIO    Petrol    X7    X7 250 i.e.    2006 –
PIAGGIO    Petrol    X8    X8 250 i.e.    2006 –
PIAGGIO    Petrol    X9    X9 125    2007 –
PIAGGIO    Petrol    X9    X9 500    2004 –
PIAGGIO    Petrol    X9    X9 500 Evolution    2004 –
PIAGGIO    Petrol    X9    X9 500 SL    2004 –
PIAGGIO    Petrol    Xevo    Xevo 125    2009 –
PIAGGIO    Petrol    Xevo    Xevo 250    2009 –
PIAGGIO    Petrol    Xevo    Xevo 400    2009 –
PIAGGIO    Hybrid    MP 3    MP 3 125 i.e. Hybrid    2008 –
PIAGGIO    Hybrid    MP 3    MP 3 300 i.e. Hybrid    2010 –
PIAGGIO    Electro    Liberty    Liberty@ mail    2011 –
SHERCO        BIKES    2.5I 250    2005 –
SHERCO        BIKES    4.5i 450    2002 –
SUZUKI        AN    AN-250    2006 –
SUZUKI        AN    AN-400    2007 –
SUZUKI        AN    AN-400    2006 –
SUZUKI        AN    AN-650     2004 –
SUZUKI        ATV    LT-A450 X    2007 –
SUZUKI        ATV    LT-A500    2009 –
SUZUKI        ATV    LT-A700    2005 –
SUZUKI        DL    DL-650    2008 –
SUZUKI        DL    DL-650    2004 –
SUZUKI        DL    DL-1000    2004 –
SUZUKI        DL    DL-1000    2005 –
SUZUKI        GSF    GSF-650    2006 –
SUZUKI        GSF    GSF-650    2007 –
SUZUKI        GSF    GSF-1200    2006 –
SUZUKI        GSF    GSF-1250    2007 –
SUZUKI        GSR    GSR-600    2006 –
SUZUKI        GSX    GSX-650 F    2007 –
SUZUKI        GSX    GSX-1300 B-King    2008 –
SUZUKI        GSX    GSX-1300 R    2008 –
SUZUKI        GSX-R    GSX-R600    2004 –
SUZUKI        GSX-R    GSX-R600    2008 –
SUZUKI        GSX-R    GSX-R600    2007 –
SUZUKI        GSX-R    GSX-R750    2004 – 2006
SUZUKI        GSX-R    GSX-R750    2007 –
SUZUKI        GSX-R    GSX-R750    2008 –
SUZUKI        GSX-R    GSX-R1000    2004 –
SUZUKI        GSX-R    GSX-R1000    2006 –
SUZUKI        GSX-R    GSX-R1000    2009 –
SUZUKI        GSX-R    GSX-R1000    2007 –
SUZUKI        GZ    GZ-125    2007 –
SUZUKI        Quad    LT-Z400    2009 –
SUZUKI        Quad    LT-R450    2007 –
SUZUKI        RMZ/DRZ    DRZ-450    2008 –
SUZUKI        RMZ/DRZ    RMZ-450    2008 –
SUZUKI        RV    RV-125    2007 –
SUZUKI        SFV    SFV-650 / Gladius    2009 –
SUZUKI        SV    SV-650    2004 –
SUZUKI        SV    SV-1000    2005 –
SUZUKI        SV    SV-1000    2004 –
SUZUKI        UH    UH-125    2007 –
SUZUKI        UH    UH-200    2007 –
SUZUKI        UX    UX-125    2008 –
SUZUKI        UX    UX-150    2008 –
SUZUKI        VL    VL-800    2005 –
SUZUKI        VL    VL-1500    2005 –
SUZUKI        VLR    VLR-1800    2008 –
SUZUKI        VZ    VZ-800    2005 –
SUZUKI        VZ    VZ-1500    2009 –
SUZUKI        VZR    VZR-1800    2006 –
SYM        Citycom    Citycom 300i    2008 –
SYM        GTS    GTS 250i    2008 –
SYM        GTS    GTS 300i    2008 –
SYM        HD    HD 200i    2008 –
TrikeTec    Petrol    Trike    TRIKEtec C2 (41kW)    2000 – 2003
TrikeTec    Petrol    Trike    TRIKEtec C2 (45kW)    2003 –
TrikeTec    Petrol    Trike    TRIKEtec C2 (60kW)    2003 –
TrikeTec    Petrol    Trike    TRIKEtec C3 (41kW)    2000 – 2003
TrikeTec    Petrol    Trike    TRIKEtec C3 (45kW)    2003 –
TrikeTec    Petrol    Trike    TRIKEtec C3 (60kW)    2003 –
TrikeTec    Petrol    Trike    TRIKEtec V2 (41kW)    2000 – 2003
TrikeTec    Petrol    Trike    TRIKEte V2 (45kW)    2003 –
TrikeTec    Petrol    Trike    TRIKEtec V2 (60kW)    2003 –
TrikeTec    Petrol    TRIKEtec C2    TRIKEtec C2 (41kW)    2000 – 2003
TrikeTec    Petrol    TRIKEtec C2    TRIKEtec C2 (45kW)    2003 –
TrikeTec    Petrol    TRIKEtec C2    TRIKEtec C2 (60kW)    2003 –
TrikeTec    Petrol    TRIKEtec C3    TRIKEtec C3 (41kW)    2000 – 2003
TrikeTec    Petrol    TRIKEtec C3    TRIKEtec C3 (45kW)    2003 –
TrikeTec    Petrol    TRIKEtec C3    TRIKEtec C3 (60kW)    2003 –
TrikeTec    Petrol    TRIKEtec V2    TRIKEtec V2 (41kW)    2000 – 2003
TrikeTec    Petrol    TRIKEtec V2    TRIKEtec V2 (45kW)    2003 –
TrikeTec    Petrol    TRIKEtec V2    TRIKEtec V2 (60kW)    2003 –
TrikeTec    Diesel    Trike    TRIKEtec C2 TCDI (30kW)    2003 –
TrikeTec    Diesel    Trike    TRIKEtec C2 TCDI (30kW)    2003 –
TrikeTec    Diesel    Trike    TRIKEtec V2TCDI (30kW)    2003 –
TrikeTec    Diesel    TRIKEtec C2    TRIKEtec C2 TCDI (30kW)    2003 –
TrikeTec    Diesel    TRIKEtec C3    TRIKEtec C3 TCDI (30kW)    2003 –
TrikeTec    Diesel    TRIKEtec V2    TRIKEtec V2 TCDI (30kW)    2003 –
TRIUMPH        >  2004    Engine digital    -2004
TRIUMPH        2004 >    Engine digital    2004 –
TRIUMPH        2004 >    ABS digital    2004 –
VESPA        GT    GT 60    2006 –
VESPA        GTS    GTS 250ie    2006 –
VESPA        GTS    GTS 250ie ABS    2006 –
VESPA        GTS    Super 300    2008 –
VESPA        GTV    GTV 250ie    2007 –
VESPA        LX    LX 125    2006 –
VESPA        LX    LX 150    2006 –
VESPA        LXV    LXV 125    2006 –
VESPA        LXV    LXV 150    2006 –
VESPA        S    S 50    2006 –
VESPA        S    S 125    2006 –
VOXAN        996    Black Magic    2004 –
VOXAN        996    Charade Racing    2007 –
VOXAN        996    Scrambler    2001 –
VOXAN        996    Street Scambler    2004 –
VOXAN        996    Cafe Racer    1999 –
VOXAN        996    Roadster    1999 –
YAMAHA        FJR    FJR-1300    2001 –
YAMAHA        FZ    FZ-6    2004 –
YAMAHA        FZ    FZ-6 Fazar    2004 –
YAMAHA        FZ    FZ-1     2006 –
YAMAHA        FZ    FZ-1 Fazar    2006 –
YAMAHA        MT    MT 03    2006 –
YAMAHA        MT    MT 01    2005 –
YAMAHA        TDM    TDM-900    2002 –
YAMAHA        VMX    WMX-17    2009 –
YAMAHA        VP    VP-125    2008 –
YAMAHA        VP    VP-250    2007 –
YAMAHA        WR    WR-125R    2009 –
YAMAHA        WR    WR-125 X    2009 –
YAMAHA        XC    XC-125    2009 –
YAMAHA        XF    XF-50    2008 –
YAMAHA        XJ    XJ-6    2009 –
YAMAHA        XP    XP-500    2008 –
YAMAHA        XP    XP-500    2003 – 2007
YAMAHA        XT    XT-660 R    2004 –
YAMAHA        XT    XT-660 X    2004 –
YAMAHA        XT    XT-660 Z    2008 –
YAMAHA        XT    XT-1200 Z    2011
YAMAHA        XV    Road Star Warrior 1700    2003 –
YAMAHA        XV    XV 1900    2006 –
YAMAHA        XVS    XVS-950    2009 –
YAMAHA        XVS    XVS-1300    2001 –
YAMAHA        YBR    YBR-250    2007 –
YAMAHA        YP    YP-125 R    2006 –
YAMAHA        YP    YP-250 R    2007 –
YAMAHA        YP    YP-400 R    2007 –
YAMAHA        YZF    YZF-R125    2008 –
YAMAHA        YZF    YZF-R6    2003 –
YAMAHA        YZF    YZF-R125    2001 –
Packing list:
1pcs x Main control unite
1pcs x Main OBD2 cable
1pcs x power adapter
4pcs x test probe (4pcs)
2pcs x lead test cable (2pcs)
19pcs x Diagnose cables:
FA_BSY01 – SYM
FA_BKT01 – KTM
FA_BBM01 – BMW
FA_BBM02 – BMW
FA_BKY01 – KYMKO
FA_BYA01 – YAMAHA
FA_BHY01 – HYOSUNG
FA_BDU02 – DUCATI
FA_BHO01 – HONDA
FA_BHO02 – HONDA
FA_BSU01 – SUZUKI
FA_BSU02 – SUZUKI
FA_BPE01 – PEUGEOT
FA_BAP01 – APRILIA
FA_BKA01 – KAWASAKI
FA_BKA02 – KAWASAKI
FA_BKA03 – KAWASAKI
FA_BHD01 – HARLEY DAVIDSON
FA_FIA01 – Derli / Gilera / Moto Guzzi / MV Aguta / Piaggio / Vespa