MB SD Connect Compact 4 Star Diagnosis Problem Solutions
|
Purchase Link:https://www.cnautotool.com/category-192-b0-MB+STAR.html
 New MB Compact 4 Features
1. New MB SD Connect Compact 4 Star Diagnosis support wireless diagnose;
2. New MB SD Connect Compact 4 Star Diagnosis not only support K line diagnose and CAN BUS,but also UDS diagnose protocol.
Because old MB STAR C4 main board do not have UDS chip, so old MB STAR C4 can not support it;
3. Multiplexer now use Lan cable to connect
4. Connector adopt Military quick swap technology, it can support 10,000 times pull plug, more stable;
5. All core accosseries adopt original new packing chip, and 24hours test, guarantee the quality of the products;
1. About computer system requirement
Q: Blue screen after insert SD C4 Dell D60 hard disk into the computer and open it.
A: Make sure Dell D630 computer is integrated video card and with 1GB memory, because the D630 of discrete video card is easy to have blue screen or shutdown and restart, restart and shutdown.
Q: When click "Diagnostic" to find "Fingerprint ID" of MB SD C4 2021.01, got an error" Internal error (3.17) – 3.89 You must contact the user help Desk ". (Shown picture below)
A: Check whether computer is compatible with mb sd connect compact 4 star diagnosis 2019.07 software. If choose d630 hard disk, it needs to work with Dell D630 computer with integrated video card and 1GB memory; if choose movable hard disk, it's requirement to the computer is: CPU 2.0GHZ or above, 2GB memory or more, Windows XP professional.
2. About languages available
Q: Is DAS available with 21 languages and optional to reset? Or only English available?
A: The DAS on the desktop is only English available, after enter into Xentry you are allowed to set the language you want. Just enter into Xentry whatever car models you want to diagnose, and if the car model should be diagnosed and programmed in the DAS but you enter Xentry, it will automatically switch into DAS and the DAS language will be as the same as the Xentry language.
3. About Software update
Q: MB SD C4 Connect Compact 4 Star update error: the software update was aborted. Please repeat the update process. (662)
A: do not update MB SD Connect Compact 4. You are allowed to update hardware version to 2.02, not 2.2.
At present, the lastest version software for MB STAR C4 version 2021.1 , Here we have HDD and SSD for choice : https://www.obd2tool.com/goods-2890-MB+SD+Compact+4+Update+to+Latest+version+201605.html
4.About activation/code
Q1: When Set up MB SD connect Compact 4 hard disk, while got a message reading "No access authorization code! Please contact the Star diagnosis call center.
A1: It needs activation, please send us Hardware fingerprint, LAN-ID and HW-ID, then we will help you active.
Our engineer can support you via teamviewer.
MB Star SD Connect C4 Wire Connection Picture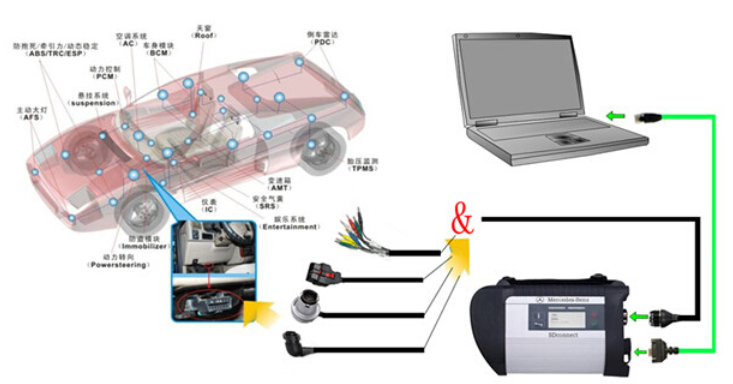 MB SD C4 Wireless Connection Picture