How to solve 2018 Multi-Diag Access J2534 "Feature transfer error"
|
Some customers get trouble in 2018 Multi-Diag Access J2534 Pass-Thru device "Feature transfer error". Here share the solution to solve this problem, hope it is helpful.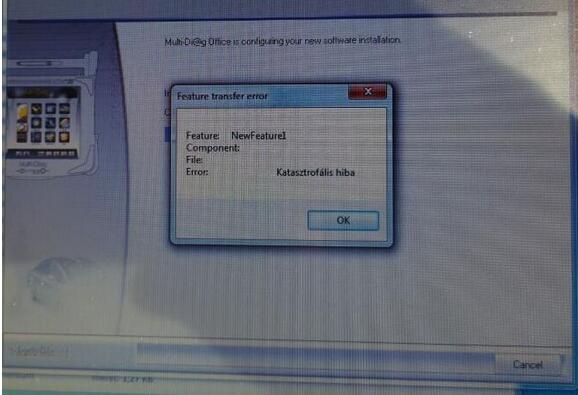 Cardiagtool.co.uk solution:
1.Please try again, make sure your laptop is not connect with internet or WIFI when install the software
2.If cannot use successfully, it indicates the software is broken, please download and install again
Free download link
Password: u9zjqf
Important! Don't connect to Internet or WiFi when open software to use, it will cause the software damage
Main steps to install:
Step 1: Install DAEMON Tools Lite
Step 2: Install V2018.03 Multi-diag on Win7 or XP system (Win7 32-bit system is confirmed ok)
Step 3: Follow the installation instruction called "INFO-MUST READ" to operate step by step
1.Run ACTIA_NET_BLOCK.bat (Run as administrator if possible)
2.Run Activation MAJ MD 033918/keyUpdate (Run as administrator if possible)
3.Install Actia Multidiag Standard Profile (use S/N: 033918 instead of xxxxxx)
4.Go to C:/ACTIA/Portal
5.Remove Wget.exe
6.Go to control panel->uninstall or change a program->there are 3 drivers made by ACTIA. Remove all 3 drivers.
7.Install I+ME-ACTIA-PassThru-XS2G-Driverpack-2.8.1.14.exe