CGDI Prog BMW MSV80 BMW CGDI Prog Car Key Programmer
Top 7 Raisons To Get CGDI Prog BMW MSV80:
1.High outil technique qui soutient principalement le diagnostic automatique, la programmation et la maintenance de sécurité 3 en 1.
2.Programmation des clés 2.Support pour BMW CAS1 / CAS2 / CAS3 et compatibilité avec les clés et toutes les clés perdues pour CAS4 / CAS 4+;
3.Support BMW Key Programming avec fonctions OBD
4. Réponse rapide au logiciel, programmation à court terme et nouvelle percée en sécurité opérationnelle et assistance technique.
5. Langues supportées: chinois, anglais
6. Certification: CCC, CE, GS, CCC, CE, GS, ISO
7. Garantie: 1 an
NOTICE:3 mois par une fois activée,Six mois après le tarif de mise à niveau est de 10 USD par mois, le premier trimestre est de 30 USD
CGDI Prog newly add bmw FEM\BDC functions, you need to pay 160euros  to get this authorization.
CGDI Prog BMW MSV80 Main Function:
Auto diagnose
Programming
Security maintenance
CGDI MSV80 BMW Car Key Programmer Support Module list:
1.BMW CAS1/CAS2/CAS3/CAS3+/key increasing matching,KEY all lost matching,CAS computer replace,CAS3+/P4X above version
can directly downgrade by OBD in 5 minus 100% safety.
2.BMW CAS4/CAS4+/Support key matching,support key all lost matching.
3.Support BMW key inspection,can check key what status in
CGDI BMW Key Programmer Support Model list and Woking Time: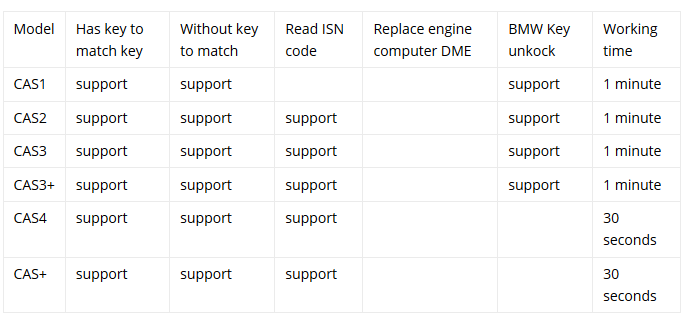 CGDI MSV80 BMW Car Key Programmer CGDI Functions:
1.Update in real time,products updated in zero cycle time,support model added in real time.
2.BMW CAS3/CAS3+Data repair–support change replace and split CAS computer,BMW MSV80/MSV80.0/MSD80/MSD80.0/MSD85/engine
change computer,ISN code reading and writing.
3.Equipment security greatly enhanced, the hardware anti-crack,anti-software copy.
CGDI Prog BMW MSV80 Support Model list:
CGDI Prog BMW MSV80 Read MSV80 specification:
Method 1: can read directly ISN code in the car,pls be assure car voltage is 12V above,directly connect OBD to operate–time about 5 minus.
MSV80/D80/D85/wiring in the experimental bench
CGDI Prog BMW MSV80Package includes:
1pc x CGDI Prog BMW MSV80 Main unit
1pc x Adapter
1pc x USB line
Methods 2: can directly split engine computer (DME) to operate–connectline as follows: