Best Quality BMW ICOM BMW ISIS ISID A+B+C 2017.09 Engineers Version
|
Software version:
V2017.07
ISTA-D 4.04.12
ISTA-P 3.60.2.001
VIN: 2017.09.13
Not connected 9000 days remaining
BMW ETK: 2017.9
BMW KSD 09.2017 Multilanguage
With free BMW Engineer Software (INPA, NCS, WinKFP, E-Sys 3.27.1, Psdzdata 59.0), BMW FSC code generator and BMW AiCoder
Multi-language available in diagnosing, programming and TIS diagram circuit: American English, British English, German, Spanish, French, Italian, polish, Portuguese, Turkish, Czech, Swedish, Dutch, Indian, Greek, Russian, Simplified Chinese, Traditional Chinese, Japanese, Korean and Thai.
System Requirements:
Dual-core processor, better above I3; over 4G of memory
Support Model:
It is recommended to use Lenovo ThinkPad: T61, T400, T410, T420, T430, X61, X200, X201, X220 X230 and other laptop with Intel chipset, such as I3 I5 / I7 series.
Highlights of BMW ICOM:
1. Support Vehicles: BMW Cars, BMW Motorcycle, Rolls-Royce, Mini Cooper
2. Support BMW All Series Diagnose and Programming
3.With Bonus Engineer Programming Software
4.BMW ISTA-D&ISTA-P 2 in 1 Develop Version, Newest Database Version Can Recognize BMW Vehicle VIN Number Which Produce in 2016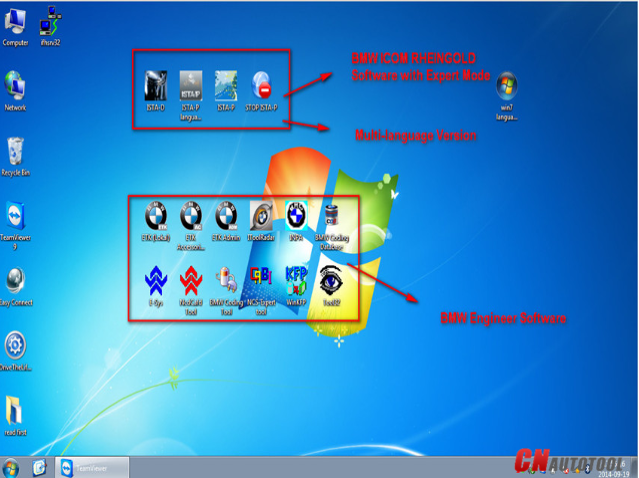 ICOM-A, B and C-modules for BMW can processed with All BMW series cars.
ICOM A+B+C include 6 components. 3 main units:  ICOM A (Basic component), ICOM B (Most interface), ICOM C (20PIN interface), and the network cabls, extensition cable, USB cable.
1.ICOM A  (16PIN interface)
ICOMA is the basic component. In physical terms, it would provide the vehicle diagnostic interface OBD II interface, and to provide adaptive integration to the repair shop network interfaces required. Computer through an efficient core, which is responsible for testing as a protocol converter device and vehicle control unit and connected to the data exchange between the measurement techniques required for signal processing. Supply voltage by KL30 by vehicle interface. ICOM A requirement of the electrical operation of a minimum voltage of 8V. Only the supply voltage exceeds the minimum limit in order to ensure a stable function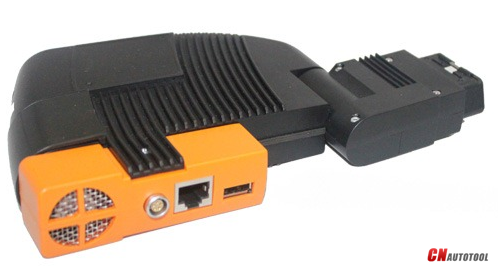 2.ICOM B function (MOST interface)
ICOM B is the external ICOM A MOST (Multimedia Transmission System) interface. It is through the USB cable to connect with ICOM A. Supply voltage provided by ICOM A through USB. Only when the lowest of the ICOM A supply voltage of 8V, when, ICOM B would only be ready to run the electrical side of the vehicle through a standard ICOM B MOST interface.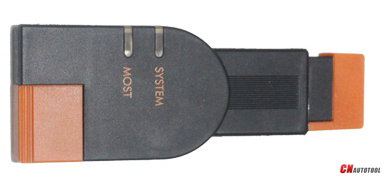 3. ICOM C function (20PIN interface)
ICOM C is an intelligent interface converters that allows OBD II socket and BMW round match. As the lengthening of the auxiliary module, it will ICOM A and non-OBD II vehicle interface connections. Supply voltage from the vehicle side of the circular socket by KL30 provided. ICOM C electrical operation provides for a minimum voltage of 8V. KL30 on the voltage sent to the OBD II device on the inside, and thus to ICOM A power supply. Only when the vehiclea€?s battery voltage exceeds the minimum limit in order to ensure stability of the two devices interact.
4.ICOM A Extension Cable (16PIN Interface extension cord)
ICOM A was due to different models and different models and their own weight, a direct connection OBD-II diagnostic blocks are susceptible to loss and poor contact, the use of extension cords, connecting reliable, easier to use.
BMW ICOM / ISIS / ISID BMW new detector (off-line programming support) BMW ICOM / ISIS (including computers, a complete set of configuration, support for off-line programming, diagnostics).
5.Network cable
Network cable used to connect the BMW ICOM A module and the computer network port.
6.USB Cable
USB Cable used to connect the BMW ICOM A module and B module.
Package List:
1pc x BMW ICOM A Moudel
1pc x BMW ICOM B Moudel
1pc x BMW ICOM C (BMW 20pin Cable)
1pc x USB Cable
1pc x OBD2 Cable
1pc x LAN Cable
1pc x BMW ICOM 2017.03V HDD Fit All Computer For BMW ICOM & ICOM A2(If you select it with software)