JPRO Professional Truck Diagnostic Scan Tool is awesome !
|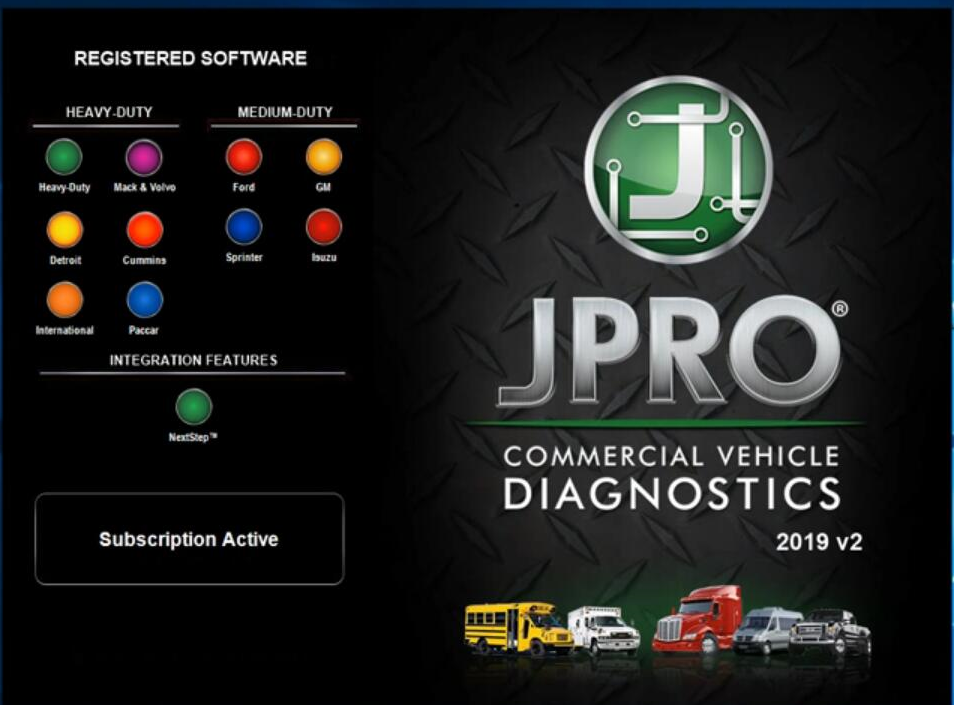 JPRO Professional is the #1 in-shop diagnostic and repair solution. With coverage of all makes and models, plus industry-leading bi-directional controls, JPRO helps technicians find and fix all issues on a truck.

JPRO software includes an embedded troubleshooting module, Fault Guidance, and customers have the option to add NextStep Repair(notice ,you need buy nextStep Repair software then could use ), a repository of repair manuals and step-by-step instructions for repairing fault or symptom-based issues across all engine makes and models.
This release helps techs quickly identify performance and health-related issues on vehicle systems that affect the cost of ownership or could later sideline an otherwise healthy vehicle,"
Heavy Duty Truck Scanner JPRO's latest release offers similar user-friendly features and design to help technicians diagnose issues related to coolant, oil, and fuel systems. These interactive screens present live key data points in diagrams to help uncover irregularities, the company says.
It enhanced JPRO's ability to submit vehicle repair information to third-party databases to create cases and begin warranty submissions. Starting with this release, authorized users can submit information to Trimble's TMT/TMW service, in addition to existing databases such as Decisiv, Bendix and others. The release also features updated coverage and new bi-directional tests for many major component manufacturers, including emerging advanced driver safety assistance (ADAS) systems.
If you buy this with the laptop .you can operate by yourself .if without the laptop .pls contact with us .we will help you to install and activate it .thanks .
Jpro Packing list :
1.Second Hand Laptop Lenovo T420 Laptop (With JPRO Professional Diagnostic Software)
2.JPRO DLA+ 2.0 Adapter Cable
3.Heavy-Duty Vehicle Cables Type 2 Vehicle Cables (6-Pin & 9-Pin)
4.Medium-Duty Type-B OBDII Cables (Ford, GM, Sprinter/Hino/Isuzu, Mack & Volvo)
5.USB Cable
6.DVD(JPRO Software with keygen+ins)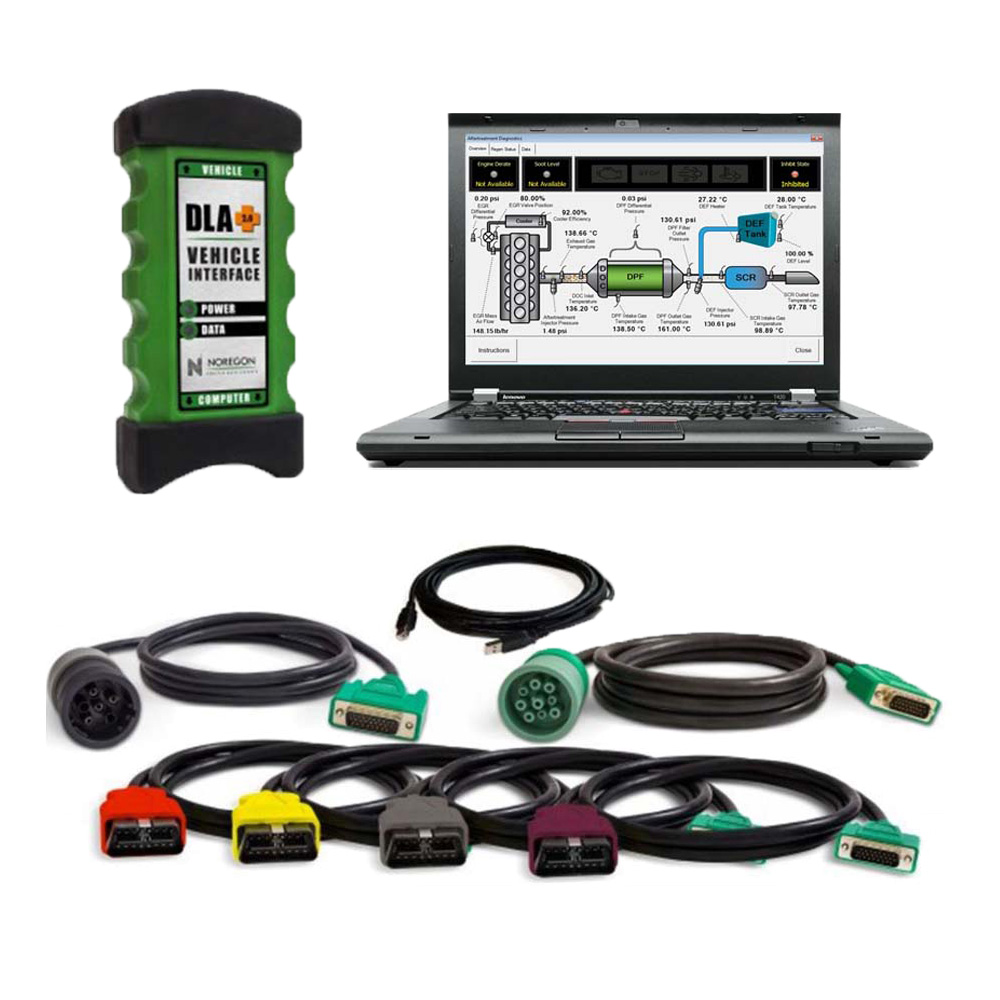 Second Hand Laptop Lenovo T420 Laptop Specification :
Brand: Lenovo
Condition: Used
Type:  Laptop/Notebook
Screen Size:  14.0
Processor Type:  Intel (R) Core(TM) I5-2520M CPU
Processor Speed:  2.50 GHz
Processor Configuration:  Dual Core
Memory: 4GB
Compared with other laptop, this one is better quality and run faster.
JPRO Truck Diagnostic Tool Features:
1.Includes Heavy-Duty Modules: Mack, Volvo, Cummins, Detroit Diesel, International & PACCAR
2.Includes Medium-Duty Modules: Ford, GM, Isuzu & Sprinter
3.Bi-Directional Controls – Perform parameter changes (Mack & Volvo), DPF Regens (Mack, Volvo, Cummins, Detroit Diesel, International & PACCAR) & bi-directional tests with proprietary data & faults
4.OE Level Fault Code Information – Display over 99% of Heavy-Duty & Medium-Duty fault codes with detailed OEM level component and trailer descriptions
5.Fault Management – Clears faults and diagnoses all vehicle components in a single, easy to use application
6.Vehicle Reporting – View and print log files, including: Vehicle Health, Trip Reports & LOV Reports
7.Store & Save Data – Record data log files for playback at a later time, even away from the truck
8.Total Vehicle Health Status – See the entire vehicle in one pass on one screen + Up-to-Date – Provides 99% coverage of all heavy-duty truck DTCs through 2020

JPRO Professional Diagnostic Basic Coverage includes the ability to read & clear codes on the following list. You can also view all live data and perform basic diagnostics.
Body and Chassis: 
Bluebird, Ford, Freight liner, GM, International, Kenworth, Mack, Peterbilt, Sprinter, Sterling, Thomas Built, Volvo, and Western Star
Engines:
CAT, Cummins, Detroit, Ford, GM, International, Mack, Mercedes, PACCAR MX, Sprinter, Volvo
ABS:
Bendix, Ford, GM, Haldex, Sprinter, Wabash, WABCO
Transmission:
Allison, Detroit, Eaton, Ford, GM, Mack, Sprinter, Volvo, ZF
The software will now perform the following bi-directional commands:
Cummins – Bi-directional support for the following:
Cylinder cut-out for EPA 2002 to Current (ISB, ISC, ISL, ISM, & ISX)
DPF Stationary Regen for EPA 2007 to Current (ISB, ISC, ISL, ISM, ISX)
Trip Reset for EPA 2007 to Current (All ECUs)
After treatment reset for EPA 2007 to Current (All ECUs)
Fuel Injector Reset for EPA 2013 to Current (All ECUs)
Fuel Leakage Test for EPA10 to Current
Fuel Injector Calibration EPA 2007 & EPA 2010 (All ECUs)
VGT Actuator Installation & Calibration EPA 2010 to Current
VGT Hysteris Test for EPA 2010 to Current
DEF Doser Pump Override for EPA 2010 to Current
Change road speed, cruise speed, & idle shut down timer for EPA 2007 to Current
DEF System Leak Test (EPA 10 ISB/ISC/ISL/ISX & EPA 13 ISB/ISL/ISX)
Detroit Diesel – Bi-directional support for the following:
Cylinder cut-out for 2000 to 2014
DPF Service Regen for EPA 2007 to Current
SCR System Output Component Tests for EPA 2010 to 2013
SCR ADS Self Check for EPA2013 to Current
DPF Ash Accumulator Reset for EPA 2010 to Current
Idle Shut Down Timer EPA 2010 to Current
Cruise Speed Limit Changes for EPA 2010 to Current
Road Speed Limit Changes for EPA 2010 to Current
DEF Quantity Test for EPA 2010 to Current
Mack & Volvo – Bi-directional support for EPA 2007 to Current:
Cylinder cut-out
DPF Stationary Regeneration
DPF System Reset
Learned data reset
Setting parameters (Cruise min/max, speed limits, idle shut-down times, and enable/disable cruise)
Trip reports & life of vehicle reports (Only Volvo 2012 & Newer and Mack 20007 & Newer)
Enable/Disable Driver Cruise Control
EGR Function Test (EPA 2013 to Current)
VGT Function Test (EPA 2013 to Current)
VGT Monitor Test (EPA 2013 to Current)
DEF Pressure System Test (EPA 2013 to Current)
International – Bi-directional support for EPA 2007 to Current:
Cylinder Cut Out Test (All MaxxForce & N-Series Engines)
DPF Stationary Regeneration
After treatment Reset for EPA 2007 & 2010 MaxxForce 11/13
DOC/DPF Replacement for EPA 2013 N-Series Engines
KOER Standard Test for all MaxxForce and N9/N10 Engines
SCR Faults Reset for EPA 2013 N-Series Engines
Fuel Shutoff Valve for EPA 2010 MaxxForce 11/13
Fuel Doser Actuator for EPA 2010 MaxxForce 11/13
ETV Position Actuator for EPA 2010 MaxxForce 11/13 and N13 SCR Engines
EGR Position Actuator for EPA 2010 MaxxForce 11/13 and N13 SCR Engines
Air Management Test for all MaxxForce, N9, and N13 SCR Engines
DEF Doser Pump Override Test for N9, N10, & N13 SCR Engines
KOER Injector Tests for all MaxxForce & N9/N10 Engines
Fuel Pressure Adaption Reset (EPA 2007 to Current MaxxForce 7)
Idle Shutdown Time (EPA 2007 & 2010 MaxxForce 7, DT, 9, 10, 11, 13, & 15)
Road & Cruise Speed (EPA 2007 & 2010 MaxxForce 7, DT, 9, 10, 11, 13, & 15)
PACCAR MX Engines (Does not cover GHG17 Engines)
Automated Cylinder Performance Test
DPF Service Regen
Install a New/Cleaned DPF Filter command
DEF Pressure System Test (EPA 2013 & Newer)
Isuzu – Supports 2008-2017 Isuzu trucks with either the 5.2L (4HK1) or 3.0L (4JJ1) engine in both North America
Cylinder Cut Out
DPF Service Regen
Ford – Supports 2004 to 2018 Ford models F-Series, E-Series, Transit Connect, and Transit Vehicles
Gives users the ability to read and clear faults, read freeze frames, read sensor data, and display emission test results
Enables users to run diagnostic test son components such as Key On Engine Off (KOEO) On Demand Self Test
GM - Supports 2002 to 2018 GM models GMC & Chevy 1500, 2500, 3500, GMC Express & Chevy Savana, all GM Medium Duty Vehicles
Gives users the ability to read and clear faults, read freeze frames, read sensor data, and display emission test results
Supports cylinder cut-outs on all diesel & gasoline engines on years 2002 to 2018 (Except for CAT engines)
Tests for 2010 to 2012 Express/Savana with 6.0L gas engines
DPF Service Regen for 2010 to 2018 with 6.6L, 2017 GMC Savana, and Chevy Express with 2.8L
Sprinter – Supports 2007 to 2015 Sprinter vehicles
Sprinter module gives users the ability to read and clear faults, rear sensor data, and display emission test results
Supports EPA 2007 & newer engine tests: Cylinder cut-out, compression test, DPF regen, injector quantity adjustment, mass air flow sensor initialization, and initialize rail pressure
Supports instrument clustomer (2007-2015) tests: Oil change reset, display dimmer test routine, gauge sweep test, LCD display test routine, and speaker test routine
Supports tire pressure monitor – Tire pressure sensor test
WABCO ABS
ABS Lamp Test
Wheel Speed Chart Test
Wheel Speed Window Test
Bendix ABS
ABS Lamp Test
Wheel Speed Chart Test
Wheel Speed Window Test