LAUNCH ICARSCAN VS LAUNCH Easydiag VS Launch X431 idiag VS Launch M-Diag
|
What is the different between LAUNCH ICARSCAN Auto diagnostic tool and LAUNCH X431 Easydiag , LAUNCH M-DIAG, LAUNCH X431 IDIAG Auto scanner ? Check the list below: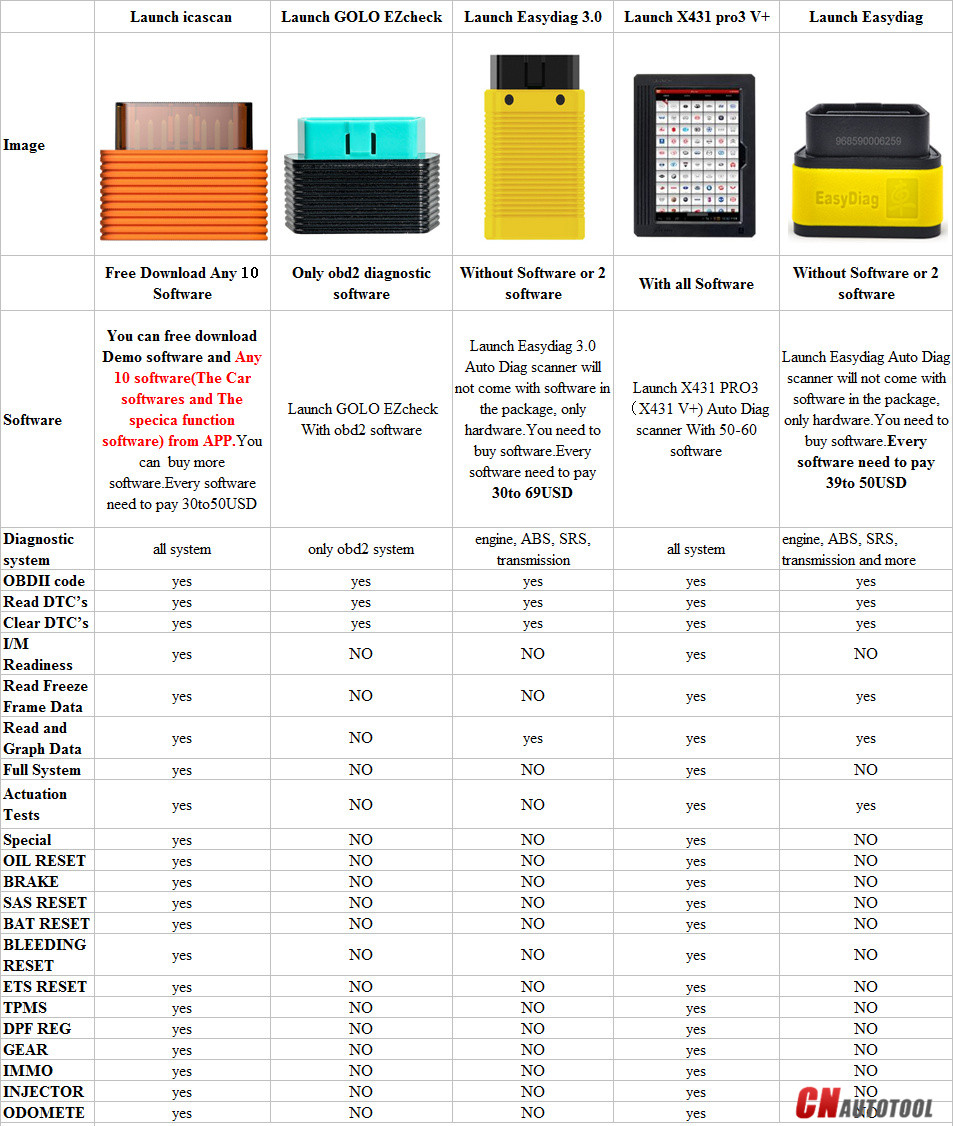 In Conclusion:
1. LAUNCH Icarscan VCI is the update version of LAUNCH X431 Easydiag , LAUNCH M-DIAG, LAUNCH X431 IDIAG
2. ICARSCAN Build-in bluetooth, easily connects with Android/ios smartphone
2. LAUNCH ICARSCAN Full systems and complete function dignosis for the most extensive coverage of OE-level diagnostics, LAUNCH Easydiag V3.0 only support 4 system.
3. User are allowed to free download 10 software for Launch iCarScan, but iDiag auto scanner requires to buy software per brand.
4. Launch iCarScan improved some features that iDiag does not support, such as ECU coding & key programming, oil reset, other special function, etc.
LAUNCH iCarScan Main Features:
1. Cover Up to 115 major car software and 16 kinds of reset service
2.support car full system diagnostic,including Airbag,SRS,Engine,Gearbox,AT,and more…
3.EOBD2, DEMO  and 5 car Software All free
After activating the device, you will get DEMO +EOBD2+ 5 car software. you can select any 5 of the manufacturer software in iCarScan APP and you can use them free for one year.
if u need more ,pls buy software on the application.
Manufacturer Software Price for Each: $39.95/year
Reset Software Price for Each: $49.95/year
4.Bluetooth connect with Phone ,app name is : icarscan
5.Plug icarscan into the OBD port, open icarscan App on the smartphone to do the vehicle diagnosis.
Launch iCarScan Scanner vehicle list:
1.Car Software Brand List:
America car List:
USAFORD, Chrysler, GM.
European Car List:
ABARTH, BENTLEY, BENZ, BMW, BUGATTI, CITROEN, FERRARI, FIAT, JAGUAR, LANCIA, LANDROVER, MASERATI, MAYBACH, MINI, OPEL, PEUGEOT, PORSCHE, RENAULT, ROLLSROYC, ROMEO, ROVER, SAAB, SEAT, SKODA, SMART, SPRINTER, VOLVO, VW, AUDI
Asia Car List:
ACURA, DAEWOO, DAIHATSU, HOLDEN, HONDA, HYUNDAI, INFINITI, JPISUZU, KIA, LEXU, LUXGEN, MAZDA, MITSUBISHI, NISSAN, PROTON, SSANGYONG, SUBARU, SUZUKI, TOYOTA
China Car List:
QIRUI_TY, FLYER, HAOQING, CHANGCHENG, TRUMPCHI
2.ICARSCAN Special function Software Brand List:
RESET SAS, RESET BMS, RESET BLEED, RESET BRAKE, RESET DPF, RESET ETS, RESET GEAR, RESET IMMO, RESET INJEC, RESET OIL, RESET TPMS