JMD Handy Baby II OBD Diagnosis, Odometer, IMMO and MQB Vehicle List
|
JMD OBD adapter for JMD Handy Baby II key copy machine soon release VAG MQB odometer correction.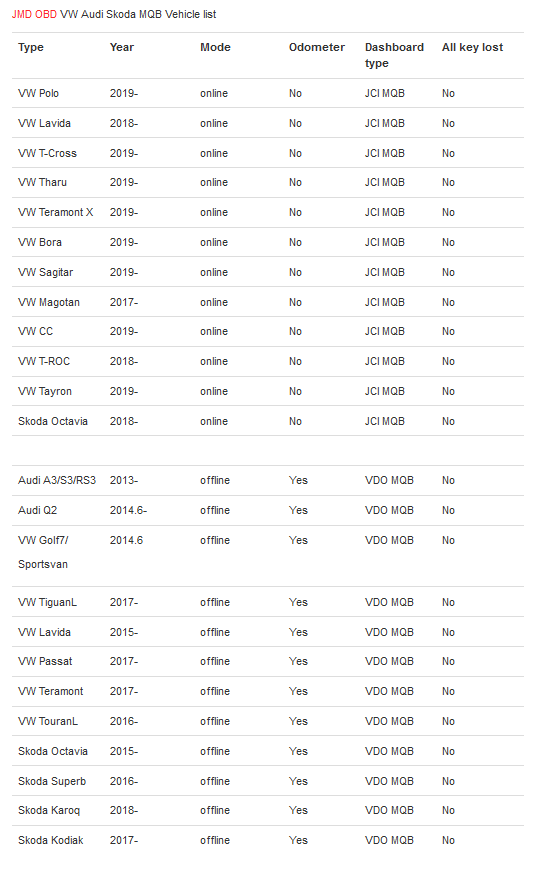 Note:
MQB function requires JMD OBD adapter. The adapter only works with Handy baby II.
Handy baby ii cannot do MQB all keys lost.
Handy baby 2 OBD does not support JCI dashboard offline programming, always do it online. Online need extra token.  Offline programming does not require token.
After you get the OBD,send us your OBD ID to open the MQB function.
JMD OBD Adapter Function:
All JMD Assistant function
OBD Programming
Automobile diagnosis
Odometer correction
Remote control manual programming
VW/Skoda/Audi MQB
MQB token list
1. Magotan MQB
2. Golf 7 MQB
3. Lamando MQB
4. Skoda Octavia MQB
5. Tango MQB
6. VW Touran MQB
7. Passat pre-2019 MQB all keys lost
8. Audi A3 MQB
9. Audi TT MQB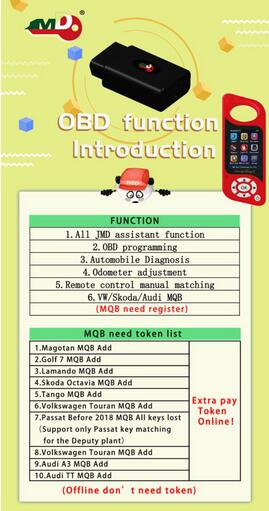 JMD OBD vs. old JMD Assistant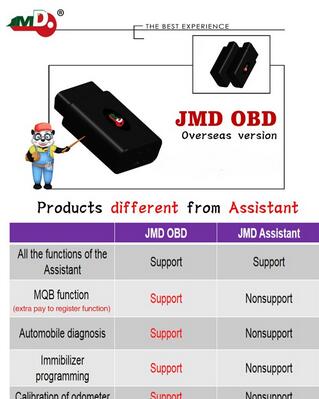 JMD OBD Diagnostic Car List
VW
Audi
Honda
Toyota
Nissan
Citroen
Suzuki
Buick
Chevrolet
Ford
Mazda
Dongfeng Aeolus
Haima
JMC
Brilliance auto
Chery
Southeast
Mitsubishi
Great Wall
Geely
Englon
JAC
Changhe
BYD
MG
LIFAN
ZOTYE
SGMW
LOTUS
HAFEI
ZXAUTO
CHANGFENG
Land Rover
Renault
Dodge
Subaru
Jeep
BMW
Benz
Ssangyong
Opel
Jaguar
Lincoln
JMD OBD Remote Programming Car List
VW
Audi
Buick
Chevrolet
Cadillac
Kia
Hyundai
Roewe
Ssangyong
Renault
Porsche
Ford
Nissan
Infiniti
Smart
Land rover
Skoda
Mazda
Great Wall
FAW BESTURN
Geely
GMC
Jeep
Chrysler
Jaguar
Dodge
JMD OBD IMMO programming car list
VW
Audi
Hyundai
Buick
Chevrolet
Honda
JINBEI
Brilliance Auto
Citroen
Peugeot
Dongfeng Nissan
Kia
DFL-FX
Toyota
TJFAW
Southeast
Chery
ZZNissan
Mazda
Leopaard
Ford
Changan
Changhe
Ceely
HAFEI
JAC
JIANGLING
Great Wall
HAWTAI
MAPLE
LIFAN
ZOTYE
FAW BESTURN
YOUNG LOTUS
SAIC ROEWE
HAIMA
SAIC MG
Chrysler
Renault
Subaru
Jaguar
Cadillac
Land rover
Lexus
Mitsubishi
Infiniti
Ssangyong
Jeep
Dodge
BYD
Smart
Luxgen
Baojun
Beijing Auto
Fiat
Trumpchi
Yema
FAW JIABAO
GMC
Hummer
Iveco
Maserati
Suzuki
Isuzu
DS