Super Version ICOM A2+B+C for BMW Diagnostic & Programming & Coding Tool with Software
|
Top 3 Reasons to Get for BMW ICOM A2:
1. Hardware and Software Perfectly Match
Software version:
ISTA-D 4.10.20
ISTA-P 3.64.0.600
VIN: 2018.02.26
9000 remaining days
BMW ETK: 2018.04
BMW KSD: 2018.03 Multilanguage
BMW FSC Navigation Code Generator
BMWAiCoder for BMW Coding
With free BMW Engineer Software (INPA5.00, NCS3.5.1, WinKFP5.2.3, E-Sys 3.27.1 e-sysplus 4.09.13, tool32 61.5, BMW FSC code generator, newly added Dr.gini B020 diagnostic software, BMW AiCoder.
Dr.gini B020 diagnostic software requires Ediabas properly installed and functional with a communication interface ( ICOM, ICOM Next, ENET, PASSTHRU or K+DCAN ),
2.Newest bmw icom software 2018.9
3.Perfect version ICOM Diagnostic and Programming Tool.
1.The Software install very easy, compatible with D630, D620, E6420, E6400 E49, E420, E430, G570, X201, X200, X201T, T60, T61, T400, X61T, X60, X60 computers. No time limiation for use. Once insert hard disk into your computer can automatically install.
2. Fast running speed. This version ICOM A2, software running speed increase 30%.
3. Fully-new Serial Numbers (S/N), work stably.
4. Powerful engineer software: Reflash the hidden function of all BMW AG models, separately program each module,  program and decode for the old parts that need to replace, change Human Machine Interaction (HMI) language (Note: The operator need to be very well qualified-like BMW engineer)
For BMW ICOM connection guide: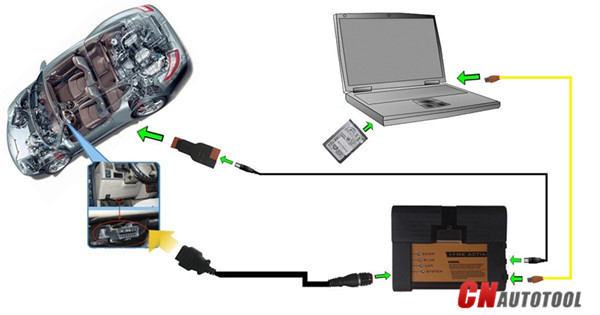 Super Version for BMW ICOM A2+B+C Function:
A2- OBD diagnostic supporting MOST, D-CAN and K-CAN protocols
B – diagnostic via MOST bus, and have connection to A-interface via USB connection.
C – 20-pin cable for old models.
Package List:
1pc x BMW ICOM A2 Interface
1pc x BMW ICOM B Most
1pc x BMW 20pin Cable
1pc x USB Cable
1pc x OBD2 Cable
1pc x LAN Cable
1pc x 2018.9 Version HDD
FAQ:
Q: Does it support print function?
A: Yes, our engineer said it supports, you can just connect your computer to printer.
Q: Any good machine for programming BMW ecu (computer)?
A; choose the item bmw icom