MaxiSYS Pro MS908P Description:
The MaxiSys Diagnostic Platform is an evolutionary smart solution for specialized automotive diagnosis and ECU
programming. Designed with the DNA of Autel's diagnostics family, the MaxiSys is built to offer many of the prestigious qualities of the MaxiDAS DS708 with extreme ease of use and powerful diagnostic performance. However the MaxiSys has evolved far beyond the original capabilities. Utilizing an A9 quad-core 1.40GHz processor that offers 50% increase in speed versus competing products, a 9.7" LED screen with a resolution of 1,024 x 768 capacitive touch screen, the revolutionary multitask-capable Android Operating System, combined with the best possible coverage of OE-level diagnostics, the MaxiSys is the perfect diagnostic solution for shops and technicians who demand unrivalled smart technology and smart repairs.

Advantages of AUTEL MS908P :
1. Language: English ( Defult language is English, also supports French, German, Portuguese, Polish, Swedish, Russian, change language need 120USD, English and Spanish can't change between each other)
2. Software version: Every Car Model Software Has A Different Version.
3. Update: Online Update. (Free for One Year, after one year 1200 USD/year)
4. With Wifi The VCI connects wirelessly to the main unit with Long-Range Class 1 Bluetooth
5. Complete capabilities for codes, live data, actuation tests, adaptations, coding and ECU programming
6. Internal reliable and fast 32GB Solid State Drive for better performance.
7. Autel Maxisye Pro can do online programming, at the same time it's compatiable for diagnosis and online programming for part of the original software.
Kindly Notice:
1. Spanish need custom made, cannot exchange English to Spanish, If you want Spanish Language, we can ship English+Spanish Language.
2. Newly added Russian language, but when you register the country, do not choose Russia, need choose another country name
3. The package do not contains BENZ 14PIN adpter, if you need it, contact our customer service after place order.
4. MS908P can support Malaysia proton and Perodua, do not including AU Holden
5. The device can not sell to Korean
MaxiSys Pro 908P Vehicle List:
AUDI, BENZ, BMW, DACIA, EU FORD, AU Ford, Ford, Holden, LANDROVER, MINI, OPEL, PEUGEOT, RENAULT, SEAT, SKODA, VW, VOLVO, SMART, JAGUAR, BENZ SPRINTER, SAAB, FIAT, ABARTH, LACIA, ALFA ROMEO, VAUXHALL, MAYBACH, BENTLEY, BUGATTI, PORSCHE,GM, CHRYSLER, FORD,SUZUKI, KIA, DAWEOO, ISUZU, TOYOTA, SUBARU, SCION, NISSAN, MITSUBISHI, LEXUS, INFINITI, HYUNDAI, HONDA, ACCURA, MAZDA.
Autel MaxiSys Pro 908P Features:
Hardware:
1. Extensive vehicle coverage for more than 80 US, Asian and European vehicle makes
2. Complete function capability for codes, live data, actuation tests, adaptations, coding, and even ECU programming
3. Extraordinarily powerful Cortex-A9 quad-core processor
4. 9.7 inch 1,024×768 LED-backlit glossy widescreen Multi Touch display with IPS technology
5. Built-in 5-megapixel rear camera with autofocus; Virtual on-screen keyboard· Wi Fi wireless to access your favorite web resources & automatically update new software
6. Unique shop tough ergonomic design features strong rubber protection and housing
7. Built-in rechargeable lithium-ion battery for up to 8 hours of continuous operation
8. USB, audio, and auxiliary ports make it easy to connect accessories
9. Internal Reliable and fast 32GB Solid State Drive for better performance
10. The VCI connects wirelessly to the main unit with ultra-range Bluetooth
Software:
1. Open source Android Operating System for fast boot-up and multitasking
2. Easy and intuitive navigation makes finding what you need simple and fast
3. Displays live data in text, graph and analog for easy data review and analysis
4. Configure live data display options, set alarms, record, and playback data frames with one touch
5. Records and playbacks live data to pinpoint troubles of sensors and components
6. Cloud-based Data Manager saves customer and vehicle records, scanner data and technician notes
7. Remote technical support for convenient demonstration, training and increased customer satisfaction
8. Intelligent memory of vehicles for easy and quick diagnosis of tested vehicles
9. Prints out recorded data anytime and anywhere with Wi-Fi technology
10. Automatic Wi-Fi updates available in new software releases
Autel 908P Main unit :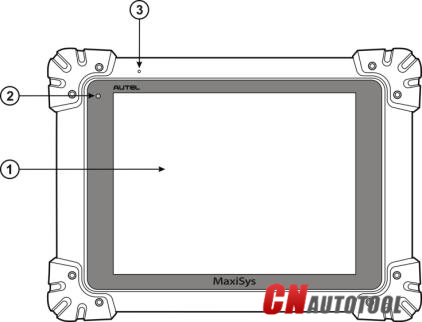 1. 9.7" LED Capacitive Touch Screen
2. Ambient Light Sensor – detects ambient brightness
3. Microphone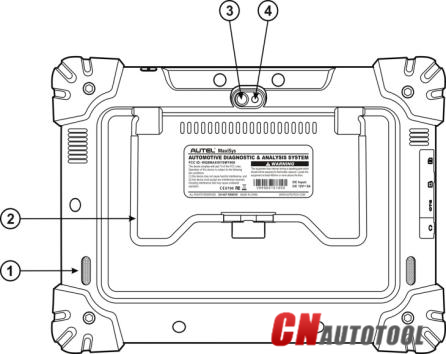 1. Audio Speaker
2. Collapsible Stand – extends from the back to allow hands-free viewing of the display tablet at a 30 degree angle
3. Camera Lens
4. Camera Flash
1. Mini SD (secure digital) Card Slot – optional module
2. Mini USB (universal serial bus) OTG Port
3. Head Phone Jack

1. DC Power Supply Input Port
2. Ethernet Port
3. HDMI (high-definition multimedia interface) Port
4. USB Port
5. VGA (video graphics array) Port
6. Lock/Power Button – turns the MaxiSys tool on and off with long press, or locks the screen with short press
J2534 Functional Description:

1. Ethernet Port
2. USB Port
3. Power LED – illuminates solid green when powered on
4. Error LED – illuminates solid red when serious hardware failure occurs
5. Bluetooth LED – illuminates solid green when connected with the MaxiSys display tablet through Bluetooth
communication
6. Ethernet LED – illuminates solid green when connected with the MaxiSys display tablet or an existing LAN via the Ethernet serial cable
7. USB Status Light — illuminates solid green when the device is properly connected and communicating with the MaxiSys display tablet or the PC via the USB cable
8. Vehicle LED – flashes green when communicating with the vehicle's network
IMPORTANT: Do not disconnect the reprogramming device while this status light is on! If the flash reprogramming procedure is interrupted while the vehicle's ECU is blank or only partially programmed, the module may be unrecoverable.
9. Bluetooth Antenna
10. DC Power Supply Input Port
11. Vehicle Data Connector (DB26-Pin MVCI)
12. External Programming Voltage Output Port
13. A/D Input Port
AUTEL MS908P MAXISYS Pro itself has already supported ECU programming function for BENZ and BMW cars, if you need to get support for more car models, you must use J2534 device along with OEM software to implement this function. J2534 DEVICE can not only use with AUTEL MAXISYS Pro , but also can work on other OEM software.



Using additional OEM software, the MaxiFlash Pro can be used as a Pass-Thru diagnostics tool as well, which allows users to read and clear Diagnostic Trouble Codes (DTCs) and data log PIDS, collect sensor data and log generic OBDII data etc.