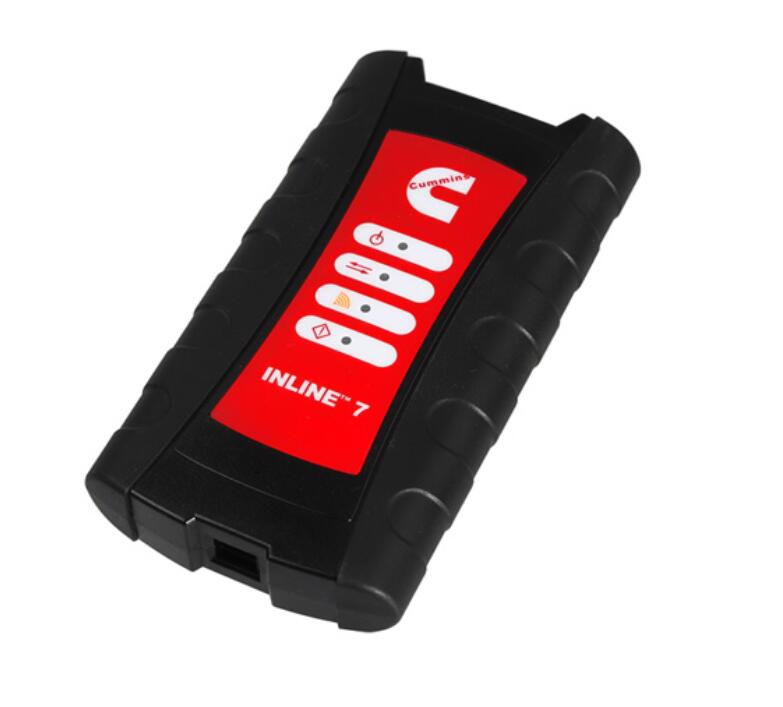 Cummins INLINE 7 Data Link Adapter description :
1.Hardware: Cummins INLINE 7 Data Link Adapter
2.Software: Cummins Insite 8.5/8.7
3.Update Method: update by CDs
4.Multi-language: English(united states)/ Chinese(simplified)/ Danish/ Dutch/ Finnish/ French/ German/ Italian/ Japanese/ Korean/ Norwegian/ Portuguese/ Russian/ Spanish/ Swedish/ Turkish
5.Suggest Operating System: Win7 32 Bit System
6.Connection Method: WIFI/ Bluetooth/ USB
Turbocharge your Electronic Control Module downloads and uploads with Cummins new INLINE 7 Datalink Adapter. INLINE 7 has a faster processor, more robust algorithms, larger memory buffers and more sophisticated filtering, while simultaneously accessing multiple vehicle data channels.
INLINE 7 supports USB, WiFi and Bluetooth technologies in a single device, and communicates with your PC. It's designed for future capability with mobile products.
ONE ADAPTER. MANY APPLICATIONS.
The INLINE 7 Datalink Adapter is designed to function with a wide array of Cummins, OEM and third-party service and information tools, including Cummins INSITE™ and Cummins PowerSpec.
INDUSTRIAL-STRENGTH DESIGN.
Cummins INLINE 7 Datalink Adapter incorporates strain relief secure cables for a robust connection. The rugged carrying case provides extra protection for the most demanding service environments. The main unit comes with a full one-year warranty against software and hardware malfunction.
EVERY DETAIL. COVERED.
Everything you need is included in the complete INLINE 7 kit, including locking USB cable, 6-Pin and 9-Pin Deutsch Wye adapter with security chip, and rugged storage case.
The Cummins INLINE 7 DataLink Adapter is designed to function with a wide array of Cummins, OEM and third-party service and information tools, including the following:
Cummins INSITE
Cummins PowerSpec
Detroit Diesel Diagnostic Link
CAT Electronic Technician (On-Highway only)
Navistar® -ServiceMaxx Fleet Pro
Volvo PTT
VCAD Elite Mack/Volvo
V-Mac Service Tools
Allison DOC® For PC Service Tool
Allison DOC® for Fleets (1000/2000/3000/4000)
Eaton ServiceRanger
Bendix ACom
WABCO Toolbox
Freightliner ServiceLink
International DLB, Intune, and IPC v2.02
International ServiceMaxx
PF-Diagnosis
and many more!
Cummins INLINE 7 Supports several other protocols:
such as J1708, J1587, ISO 15765, ISO 9141 (K and L line)
Tips to activate & use Inline 7 Iniste 8.5 Software?
1. Inline7 runs the same driver as Inline6
2. Software activation is done via server. Need to confirm by server and it may take some time, after success, the software is combined with your computer.
3. Do not directly open the Inline 8.5 after installed, you need to go through the server software and use Inline 8.5.
4. After Inline 8.5 is authorized successfully, users can use 3 years for free for 70 times, generally the user is supposed to get authorization every month (that is within 3 years, after the times is used up, users can get authorization by themselves). After 3 years, you need to pay extra license.
5.After activation, users are not allowed to change laptop motherboard, RAM and CPU. If you change them, you have to submit the Inline 7 serial number to the seller for activation.
6. The Calibrations in the Inline 7 U disk can be used for 6 months only, after 6 months later you can search "Inline Calibrations" online and download to use.
7.If you install Chinese version insite 8.5, then you have to run "Cummins License Configuration tool" in Chinese; if you choose the other language to install insite 8.5, then run the "Cummins License Configuration tool" in English, because the dealer code is not the same.
Chinese dealer code: 010C
English dealer code: 086N
8.After input Dealer code and serial number, please click on " Payment success", then provide the dealer with the serial number for processing in the server. When it is done, click on " Payment success" again and you will receive a message indicating success.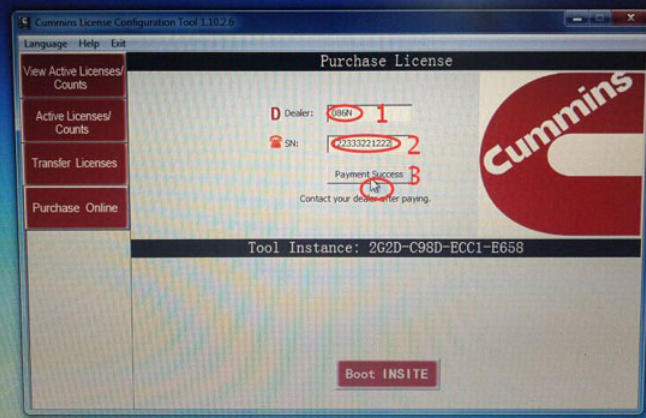 If you have any request , please check our website www.cnautotool.com